Activity
You will go on an Ice Cave tour, take a Glacier Hike, go Whale Watching and experience everything Iceland has to offer
Difficulty
Easy to Moderate
Safety
Your guide will take care of your safety throughout your trip around Iceland
Information
Sightseeing, fun activities, accommodation included on this unforgettable guided tour
Overview
Hop on board this unique minibus journey around Iceland, exploring for six full days the country's most popular destinations from Reykjavík and visit Iceland's most beautiful sites all around the Ring Road, including the Golden Circle, South Coast, as well as a few hidden gems in the North.
Tour Description
This is the perfect tour for those who want to discover Iceland's rich variety of natural wonders in-between the capital Reykjavík and the 'Capital in the North' Akureyri as this 6 days tour takes you to the must-see Golden Circle route with all its unique sites. You will see the unbeatable Gullfoss waterfall, Geysir geothermal area, and of course, the UNESCO World Heritage Site, Thingvellir National Park. Next, you will be heading to the much-talked-about South Coast, where you will explore the unique black sand beach, Reynisfjara, and Jökulsárlón glacier lagoon. After exploring the East fjords, Lake Mývatn awaits in the North with its unique surroundings; you will explore Dimmuborgir lava pillars and then carry on the journey to the capital of the North Akureyri. From there, you will head down south to the capital. 
The nights are a perfect opportunity to search for the breathtaking Auroras in the starry night sky. 
While you enjoy this versatile tour, you will be able to book extra tours and activities along the way to make your experience even more unique, such as Horseback Riding.
Itinerary
day 2
South Coast & Glacier Hike
day 3
Glacier Lagoon & Ice Caving
day 4
Exploring The East Fjords
day 5
Exploring North-East Iceland
day 6
Exploring North Iceland
The Golden Circle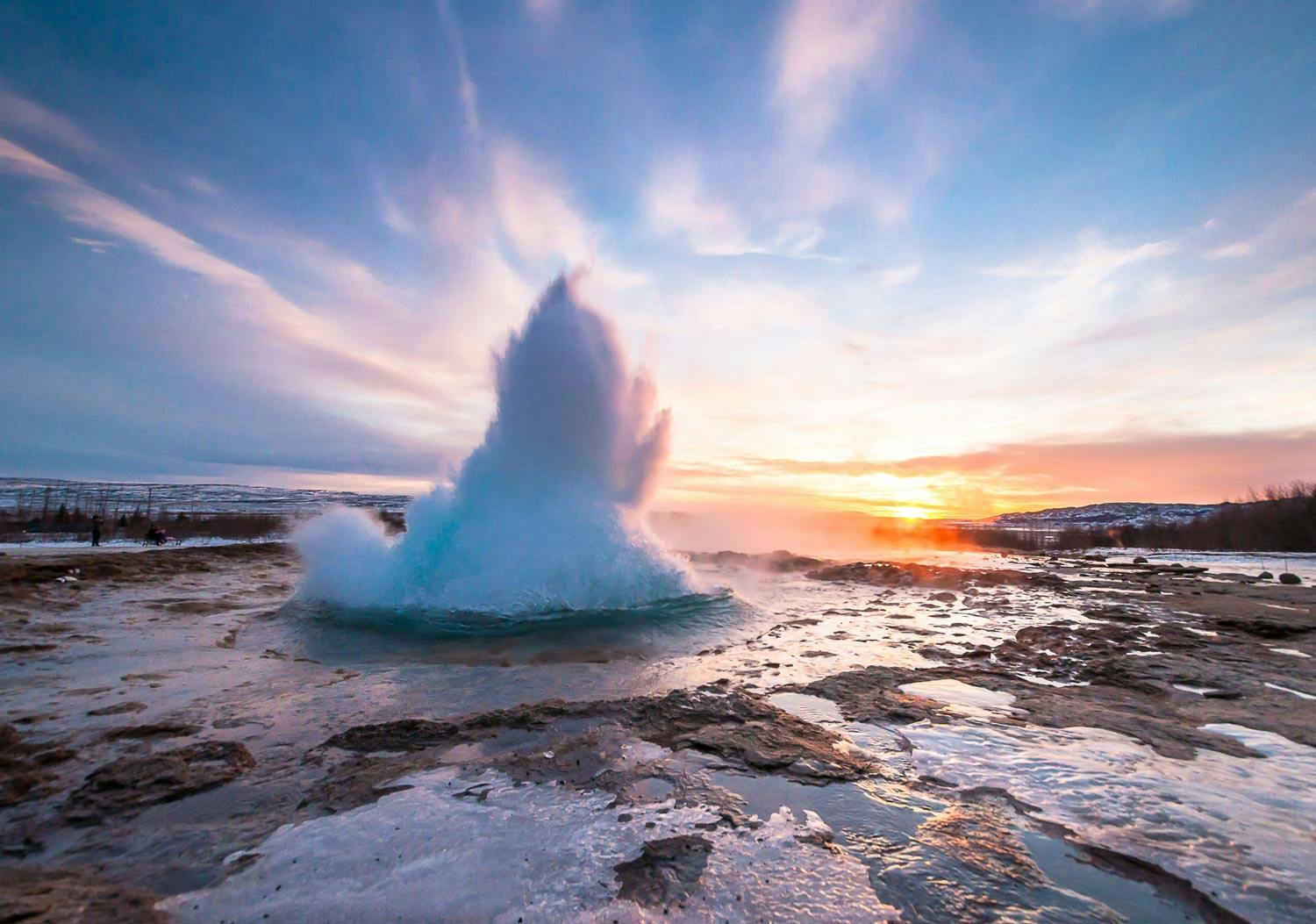 Highlights...
✓ Certified glacier guide
✓ 5 night accommodation in a hotel with breakfast and private bathroom
We Guarantee....
Fast & Secure Payment
No booking fees
Best Price Guarantee
24 Hours Cancellation Refund
Professional guide
Included
(in the price)
5 Night Accommodation
FREE Breakfast & Private Bathrooms
FREE
Glacier Hike
We will go to Explore a GLACIER in South of Iceland
FREE
Glacier Equipment
ALL necessary Glacier Equipment will be provided
FREE
Ice Cave
Go with a Super Jeep & Enter an ICE CAVE
FREE
Super Jeep
Explore ICELANDIC WILDERNESS
FREE
Small Group
Few people on every tour for maximum comfort
FREE
Wi-Fi On Board
No Internet? No worries! Free & Secure WI-FI
FREE
English Speaking Guide
Learn about ICELAND
FREE
Extras
(optional)
*Select the Extras during the checkout
Horseback Riding
Explore the wilderness on an Icelandic Horse
Vök Baths
Nourish your body and soul in natural THERMAL BATHS
Waterproof Jacket
For keeping your upper body warm and dry
Waterproof Pants
For keeping your lower body warm and dry
Support Shoes
For keeping your ankles safe to prevent injuries