ICELAND's RING ROAD
THE ICELANDIC JOURNEY OF A THOUSAND MILES BEGINS WITH A SINGLE STEP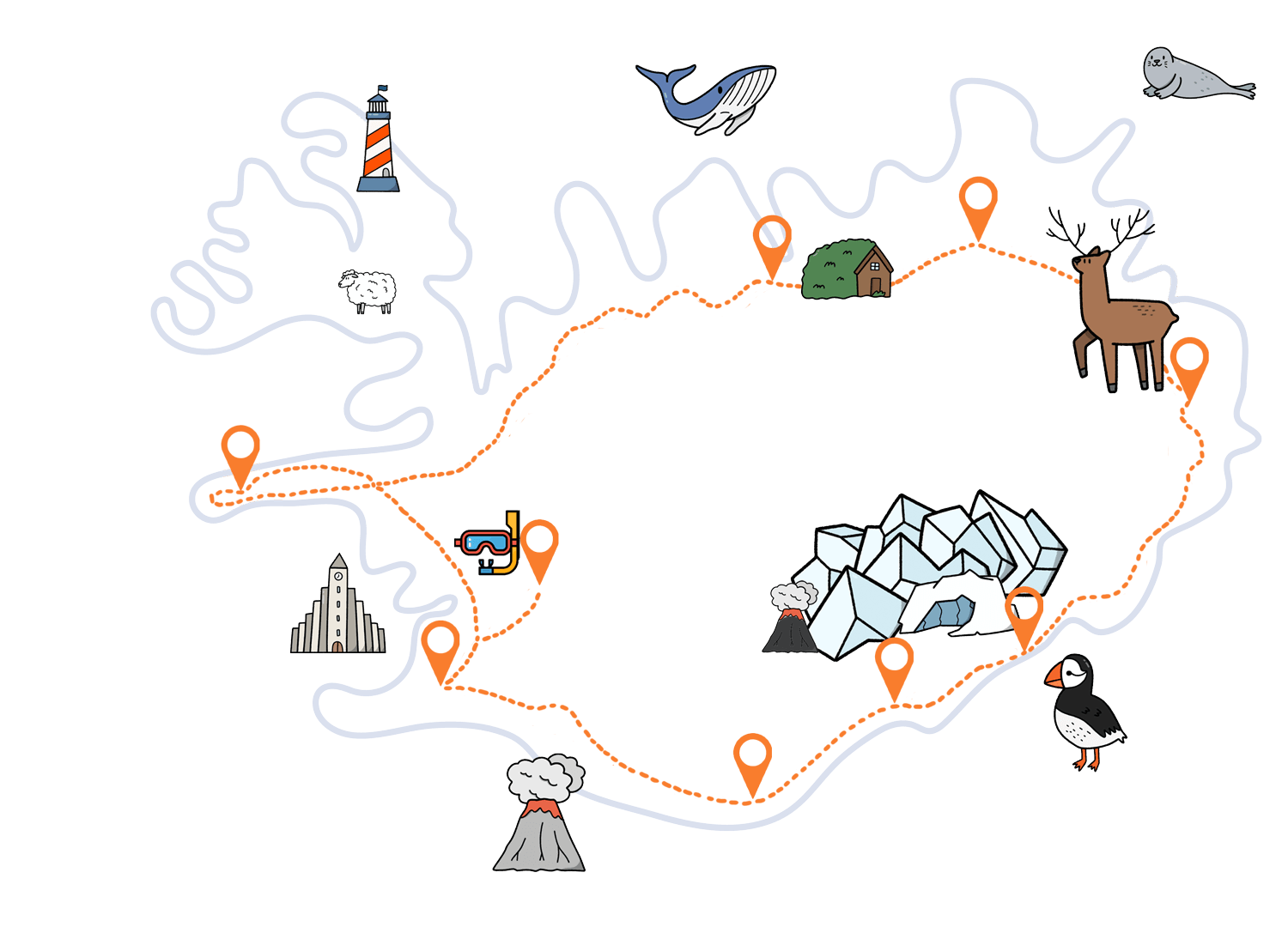 Ring Road Iceland
If you're looking for a scenic drive around Iceland, the Ring Road is definitely worth checking out. The Ring Road winds its way around the country, and it's definitely one of the most popular tourist destinations in Iceland. On the road, you'll come across beautiful mountains, glaciers, waterfalls, and much more!
6-Day Tour with Tröll Expeditions
Watch the video to learn more
8-Day Tour with Tröll Expeditions
Watch the video to learn more
Included
(in the price)
Accommodation
FREE Breakfast & Private Bathrooms
FREE
Ice Cave
Go with a Super Jeep & Enter an ICE CAVE
FREE
Glacier Hike
We will go to Explore a GLACIER in South of Iceland
FREE
Super Jeep
Explore ICELANDIC WILDERNESS
FREE
Boat Tour
Reach gigantic ICEBERGS in a Glacier Lagoon
FREE
Whale Watching
BOAT TOUR to see largest mammals on Planet Earth
FREE
Wi-Fi On Board
No Internet? No worries! Free & Secure WI-FI
FREE
Small Group
Few people on every tour for maximum comfort
FREE
Ring Road - Car vs Tour
You can easily travel all the way around the Ring Road in about 6-8 days, although some people choose to take two weeks or more to explore all of the different tourist sites along the ring road. Of course, you could also take a longer tour of the ring road by car or by motorcycle if you prefer, but keep in mind that you'll need plenty of gas if you're planning on driving the entire route. The Ring road is about 1322 kilometers long in total (828 miles).
As it circles the island, you will be able to reach the different parts of Iceland (except the highlands and Westfjords).
You can find great accommodation all around Iceland, but we really recommend our Troll Villa in Hof which you can find here.
One of the best things about the ring road is that it gives you the chance to really experience all of the country's natural beauty. You'll pass through many beautiful small towns throughout the trip, and you'll even get the chance to see geothermal pools and hot rivers in action.
Read more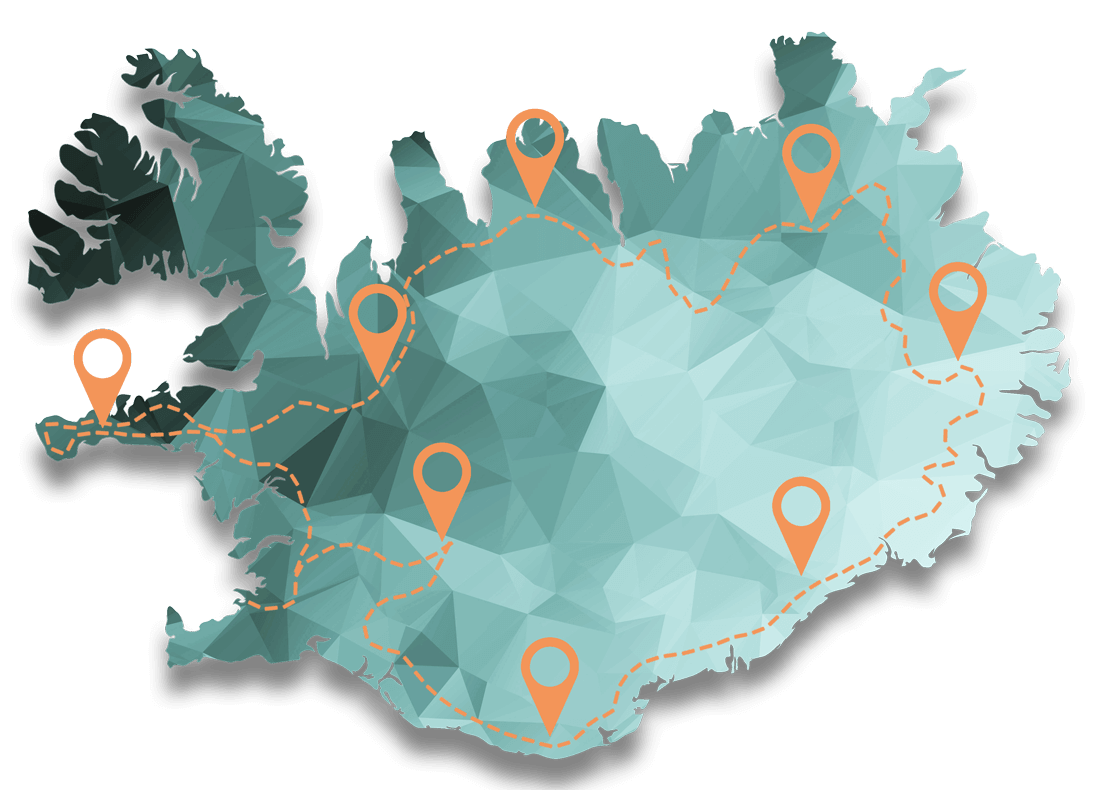 Day 1: Golden Circle
Start the day off to see Thingvellir National Park, then go to Haukadalur Geothermal Area where you will see the famous Geysir, the original one that has named all other geysers in the World. Then go to Gullfoss, where water from the glacial river Hvítá rushes down two tiers of a 32 meters fall.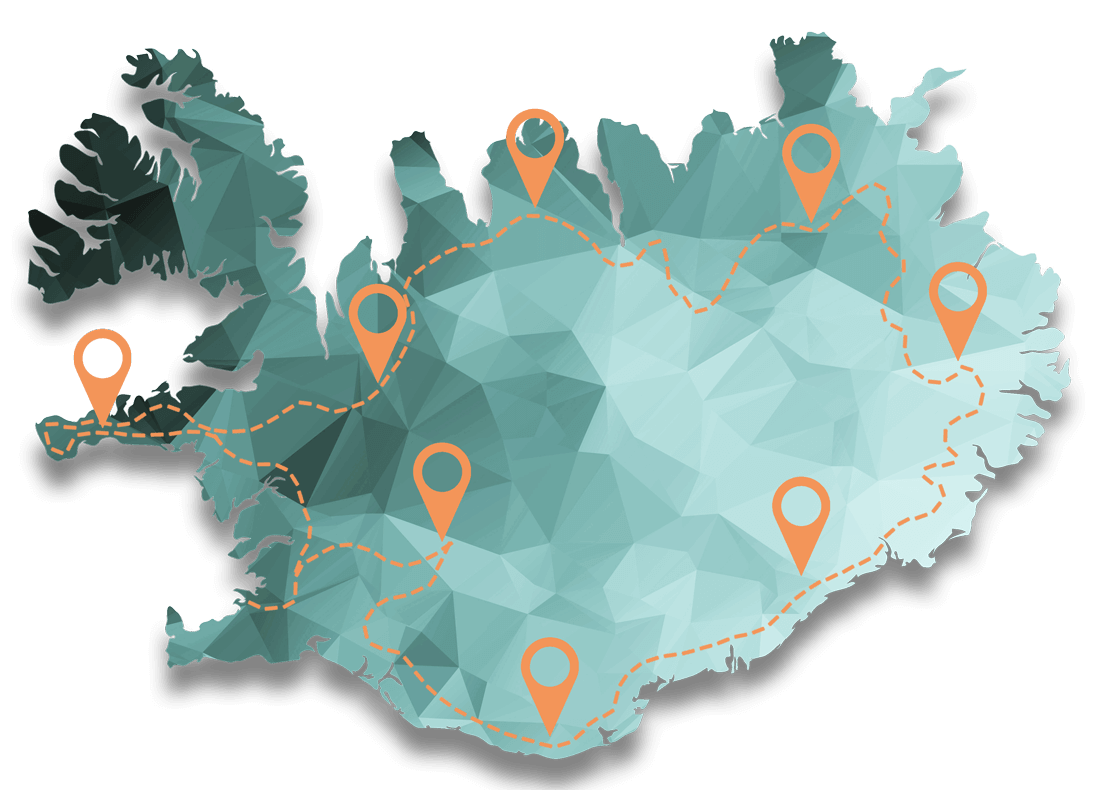 Day 2: The South Coast
Continue your journey heading to the South Coast towards magnificent Seljalandsfoss, with a 65 meters drop. If you have not had enough waterfalls, you can move on to another one, Skógafoss which is one of the largest waterfalls in Iceland. You could also go on the Katla Ice Cave tour with a Super Jeep ride starting in Vík.
To end the day, you would visit the famous Black Sand Beach, Reynisfjara. One of the most popular Icelandic places to visit with truly amazing nature surrounded all around you.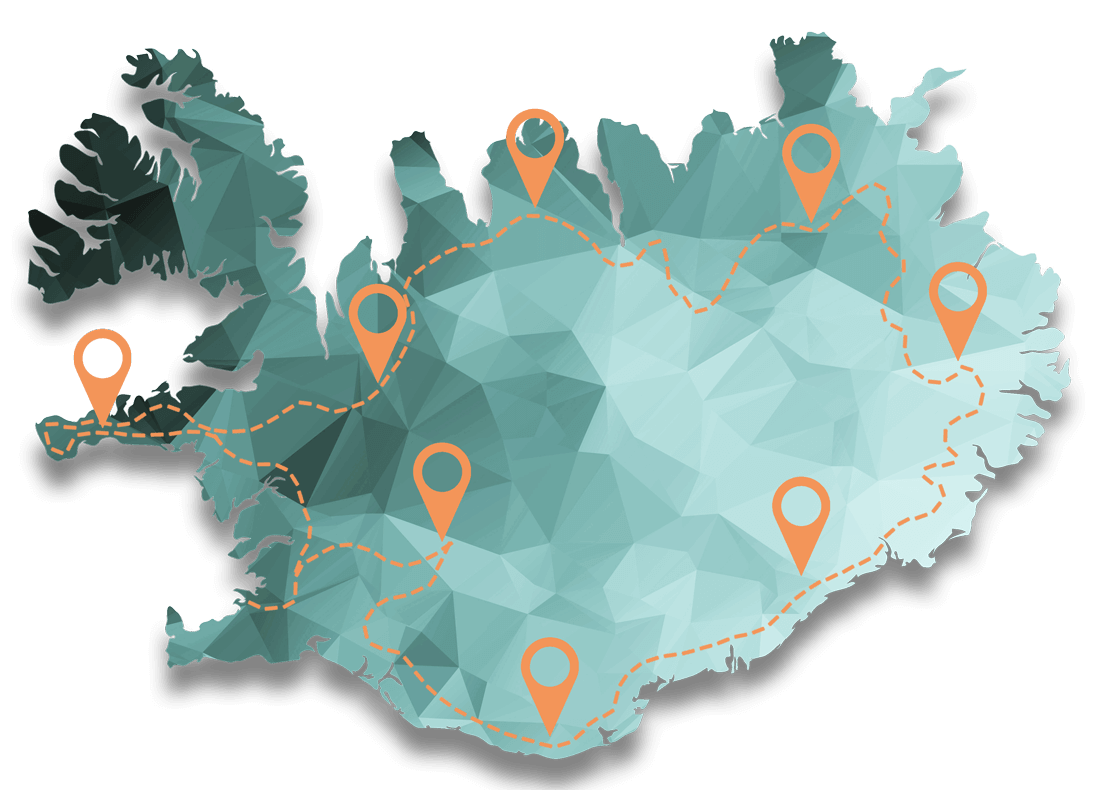 Day 3: The South - East
Start the day with a Glacier Hike on Sólheimajökull where you will be surrounded by one of the largest glaciers in Europe. After that you will go to Jökulsárlón where you can take an unforgettable boat ride around Jölsárlón Glacier Lagoon, where you will get a chance to get close to floating icebergs. Next to the Glacier Lagoon, only a few minutes away, you have the Diamond Beach, where the icebergs strand on the sand and resemble crystals as they lie on the black satin beach.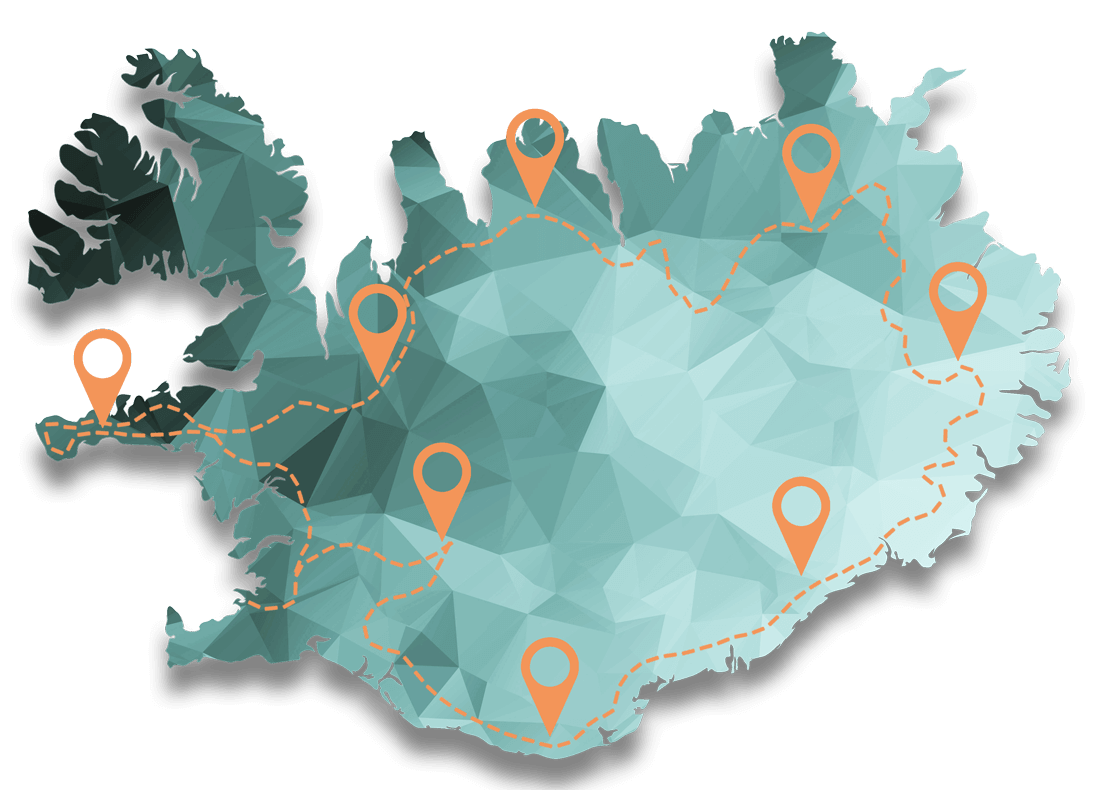 Day 4: The East Fjords
Explore amazing and rare wildlife in the east of Iceland. This is the only place in Iceland where you might see wild Reindeer sometimes. With high mountain ridges and Icelandic history in peaceful fishing villages, you will experience Icelandic culture. This is a great place to try out the famous Icelandic horse by going on a horseback riding trip. You could also take a nice geothermal bath in VÖK Baths which will give you the opportunity for complete relaxation and a chance to experience the geothermal nature of Iceland up close.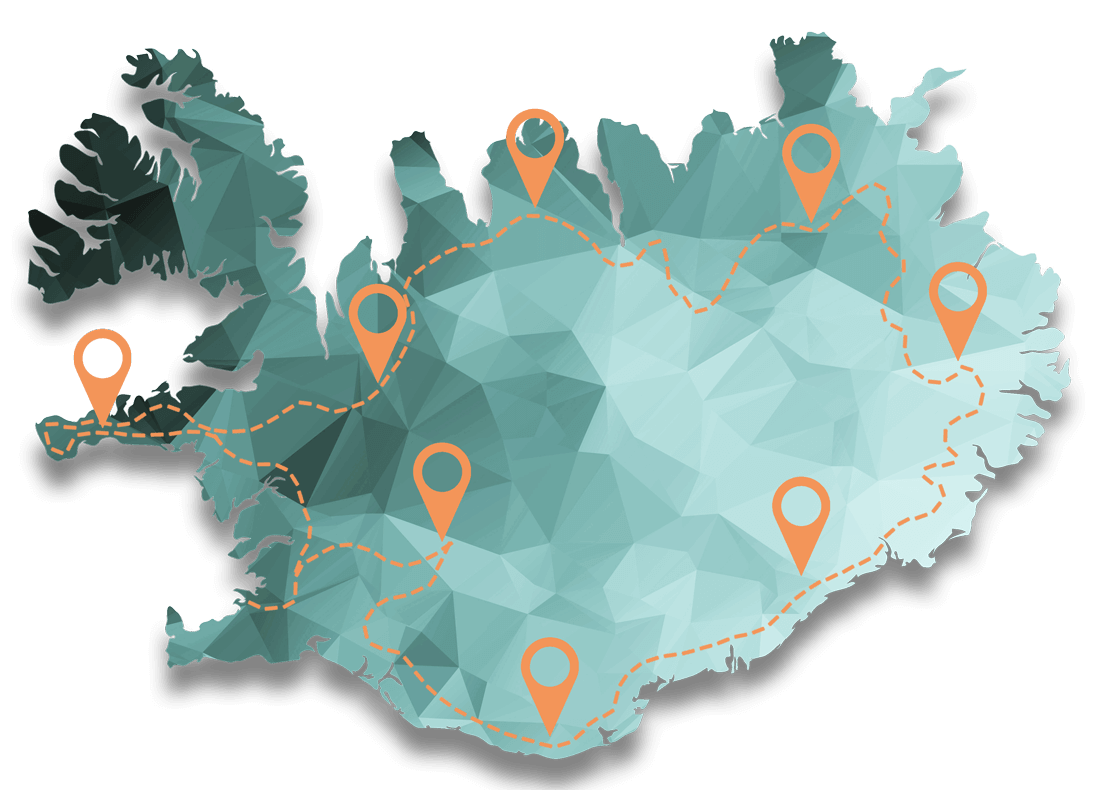 Day 5: The Mývatn Area and Dettifoss
Lake Mývatn and its beautiful surroundings are next up. You will explore the geothermal region around the Lake. This day is packed with further amazing sightseeing locations: Námaskarð pass, a high temperature geothermal area where the earth boils and gurgles; Dimmuborgir, a field of peculiar shaped lava pillars that rise from the earth; the majestic Dettifoss waterfall from the Prometheus movie opening scene, with a 100 meters wide and 44 meters high fall into the Jökulsárgljúfur canyon; the old forest Ásbyrgi situated in a horseshoe-shaped canyon, the phenomenal waterfall Goðafoss, important in Christian Icelandic history.
On the way to Akureyri, your next overnight stop, we'll pass through the fishing village Húsavík, now famous for being The Hometown of the movie Fire Saga: Eurovision and some resourceful elves.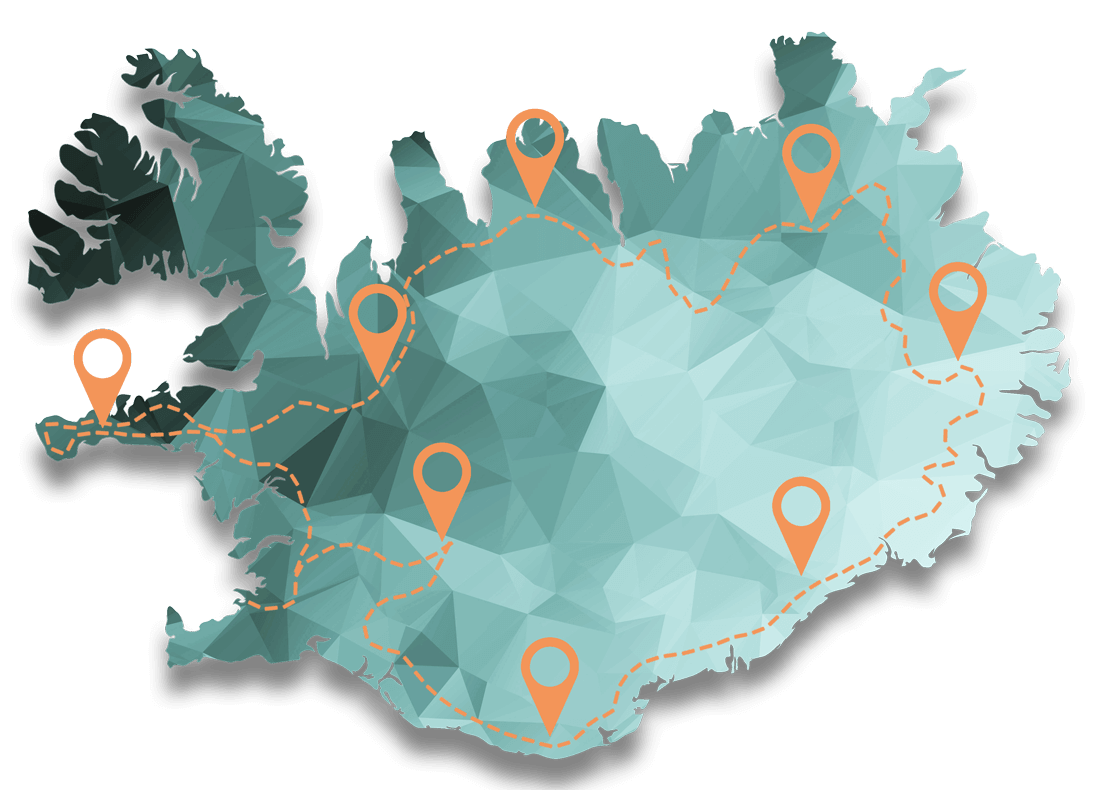 Day 6: North Iceland
North Iceland - Explore Akureyri, the largest town in the north of Iceland, and the nearby villages. Whale watching is a great option to do there.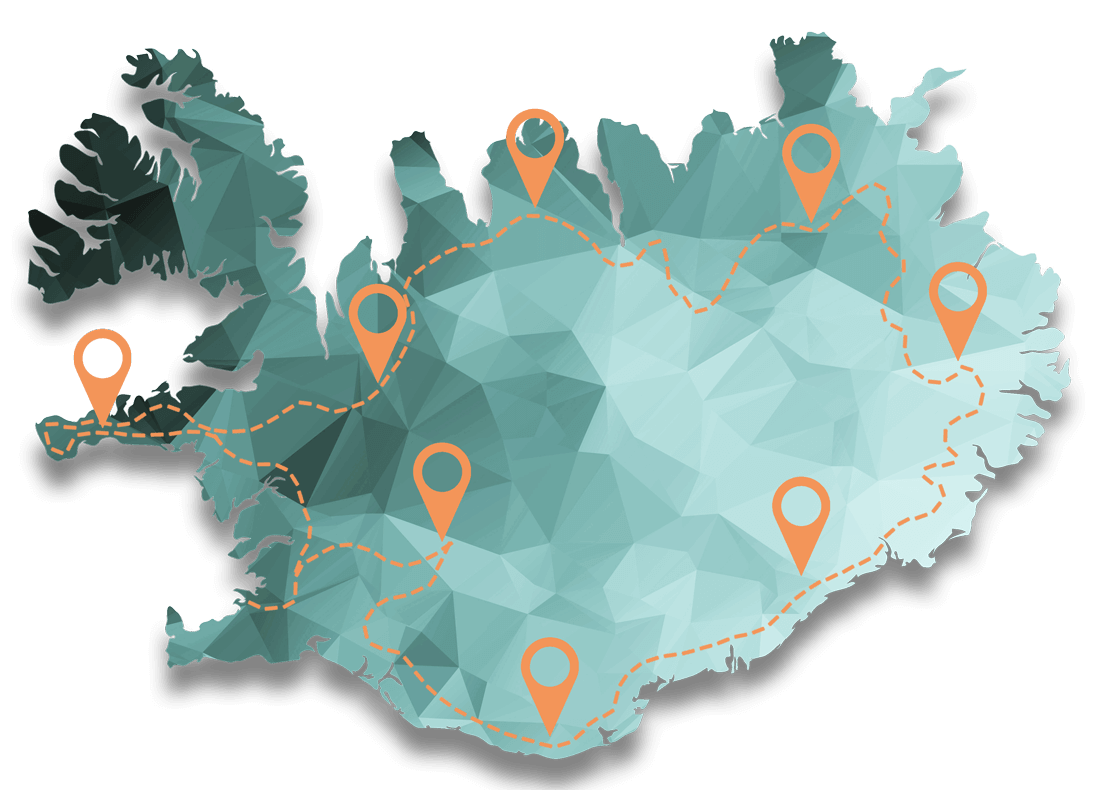 Day 7: Snæfellsnes Peninsula
Move on to the magnificent Snæfellsnes Peninsula, it welcome you with its world of cliffs, mountain capes, unique wildlife and ancient fishing settlements.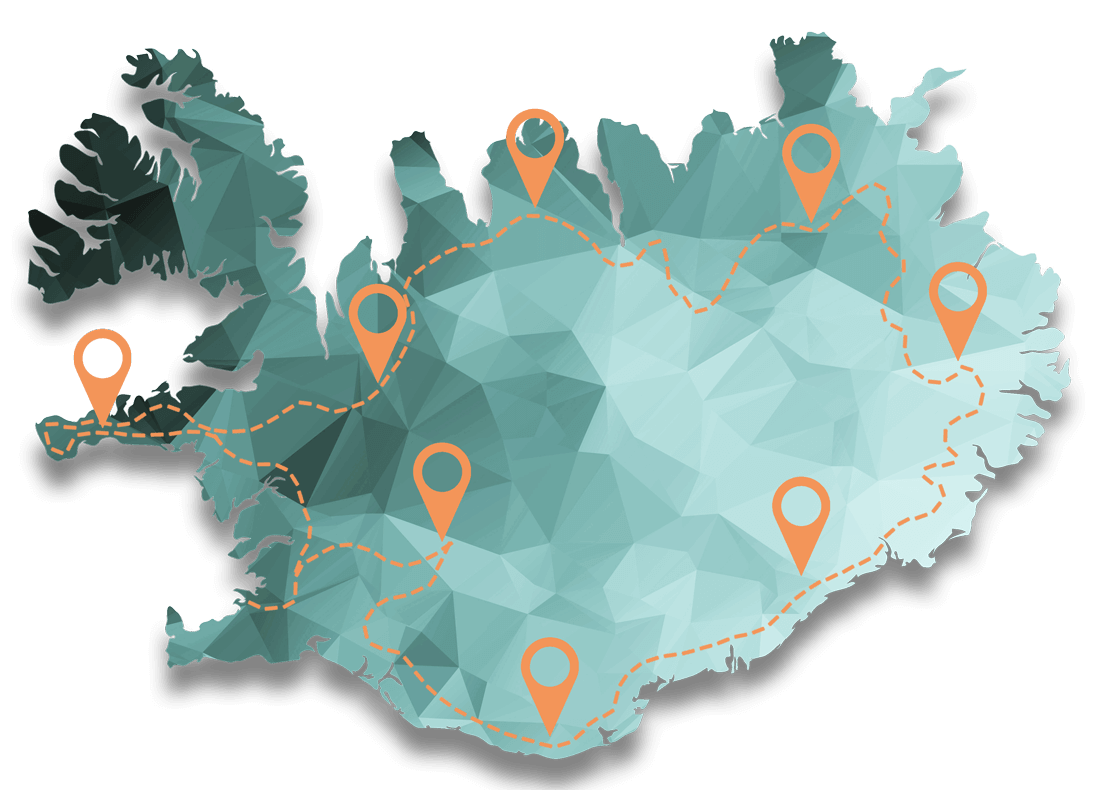 Day 7: West Iceland
West Iceland - Your first stop will be Deildartunguhver, which is the most powerful hot spring in Europe and you can see the hot steam and boiling water bubbling from the ground. The surface around the hot spring has taken a red color from the minerals and steam that surrounds it. 
Your next stop will be Reykholt, a location that holds a significant historical heritage as it was the home of Snorri Sturluson. After that you will visit two very different but equally special waterfalls - Hraunfossar and Barnafoss. 
Choose an Around Iceland Tour
Summer Tour vs Winter Tour
Difference between Ring Road's Summer Tours vs winter Tours:
Summer Tours:
Day light is never-ending, therefore we have a lot of time to explore Iceland at slower pace.
Boat Tour in Jökulsárlón to see gigantic icebergs is only open during summer months
Winter Tours:
The hours of day light are short, but you have very high chances of seeing northern lights
Crystal Blue Ice Cave is opened only during winter months