ICELAND
WHERE WILL YOUR NEXT BIG ADVENTURE TAKE YOU?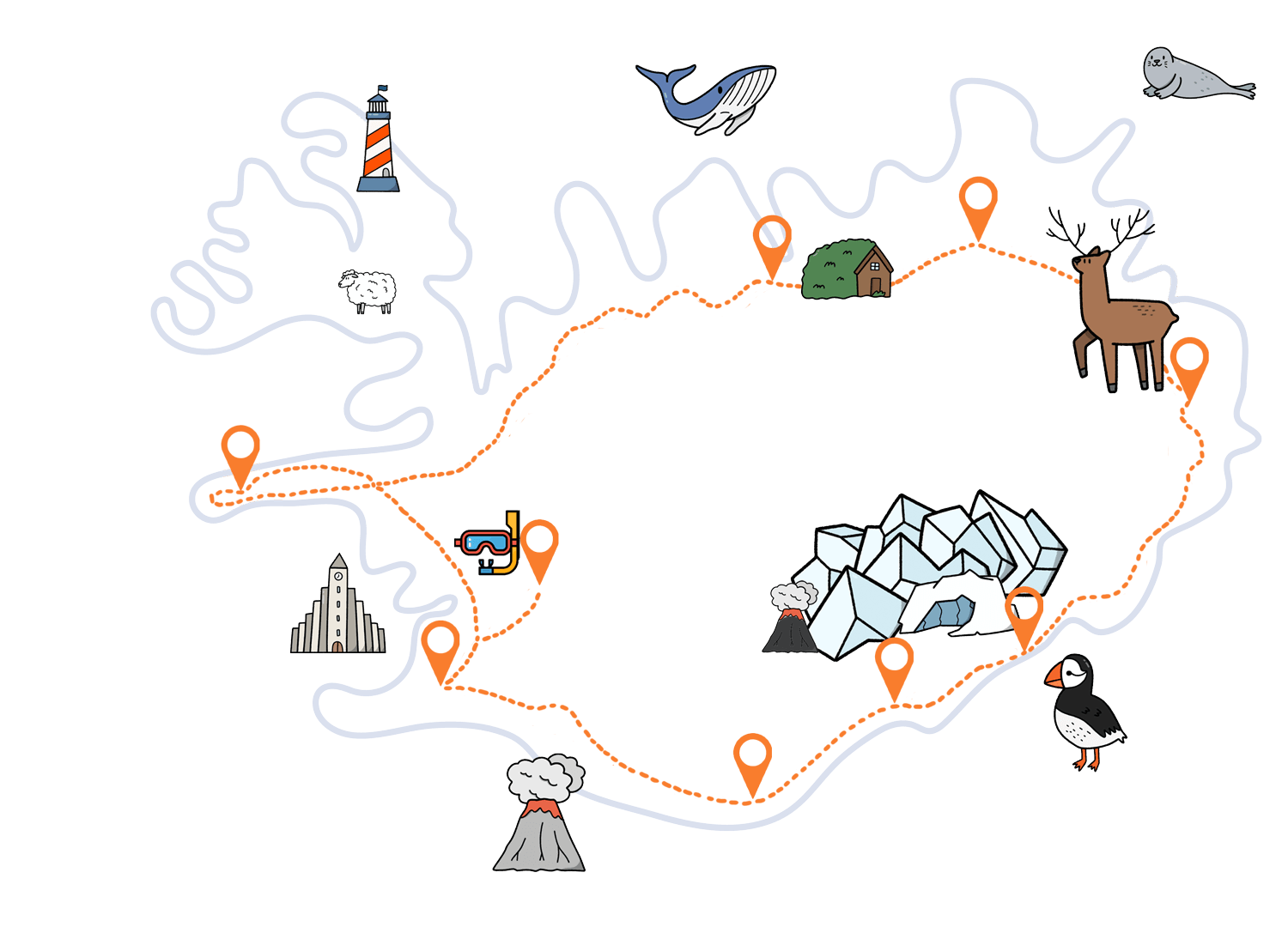 Find Your Bus Stop
Are you unsure of which Bus Stop to use? Utilize this map to find the most suitable stop for you and then update your pick-up location in Manage My Booking.
Tröll and the tourism in Iceland aims to keep the city center a pleasant and safe place for everyone, minubuses are only allowed in few streets and can only stop and designated BUS STOPS.
The stops are located in and around the city center and are easily accessible. You should find one in close proximity to your accommodation. If you are staying out of the city center you can usually look up your hotel and we pick you up from there.
Please note that we do not Pick up out of Reykjavik and we can not drive a full bus more then 10 minutes detour from the route the trip is taking.
Examples of Hotels and their nearest Bus Stop
100 Iceland Hotel - Pick up Bus Stop 9 Snorrabraut
101 Guesthouse - Pick up Bus Stop 9 Snorrabraut
101 Hótel - Pick up Bus Stop 6 The Culture House
101 Skuggi Guesthouse - Pick up Bus Stop 14 - Skúlagata
1912 Guesthouse - Pick up at Bus Stop 1 - City Hall
22 Hill Hotel - We can drive to this address
27 Soley - Pick up at BSI Bus Terminal
4th Floor Hotel - Pick up Bus stop 9 - Snorrabraut
A Part Of Reykjavik Apartments - We can drive to this address
Alba Guesthouse - We can drive to this address
Alda Hotel Reykjavik – Pick up Bus Stop 9 - Snorrabraut
Alva Hotel - We can drive to this address
Apotek Hotel by Keahotels - Pick up at Bus Stop 3 - Lækjargata
Atlantic Apartments and Rooms - We can drive to this address
B14- Hostel - We can drive to this address
Black Pearl Hotel - Pick up at Bus Stop 1 - City Hall
Black Tower - Pick up Bus Stop 14 - Skúlagata
Brim Hotel - We can drive to this address
Bus Hostel - We can drive to this address
Cabin Hótel - We can drive to this address
Canopy Reykjavík | City Centre - Pick up Bus Stop 6 - The Culture House
Centerhotel Arnarhvoll - Pick up Bus Stop 6 - The Culture House
Centerhotel Grandi - Pick up at Bus Stop 15 - Vesturbugt
Centerhotel Klöpp - Pickup at Bus Stop 14 - Skúlagata
Centerhotel Laugavegur - Pickup at Bus Stop 9 - Snorrabraut
Centerhotel Miðgarður - Pick up at Bus Stop 13 - Rauðarárstígur
Centerhotel Plaza - Pick up Bus Stop 1 - City Hall
Centerhotel Skjaldbreið – Pick up Bus Stop 6 - The Culture House
Centerhotel Thingholt -Pick up Bus Stop 3 - Lækjargata
Central Apartments -Pick up Bus Stop 1 - City Hall
Central Guesthouse - Pick up Bus Stop 1 - City Hall
Centric Guesthouse - Pick up Bus Stop 3 - Lækjargata
Circle Hostel - We can drive to this address
City Center Hotel - Pick up Bus Stop 1 - City Hall
Dalur - Hi Hostel - We can drive to this address
Downtown Reykjavik Apartments - Pick up at Bus Stop 13 - Rauðarárstígur
Eric The Red Guesthouse - Pick up at Bus Stop 8 - Hallgrímskirkja
Fosshótel Barón - We can drive to this address
Fosshótel Lind - Pick Up at Bus top 13 - Rauðarárstígur
Fosshótel Rauðará - Pick Up at Bus Stop 13 - Rauðarárstígur
Fosshótel Reykjavík - Pick up at Bus Stop 12- Höfðatorg
Galaxy Pod Hostel - We can drive to this address
Gest Inn - Pick up at Bus Stop 8
Grand Hótel Reykjavík - We can drive to this address
Gray Tower - Pick up Bus Stop 14 - Skúlagata
Guesthouse Álfhóll - Pick up at Bus Stop 1 - City Hall
Guesthouse Anna - Pick up at BSÍ Bus Terminal
Guesthouse Aurora - Pick up Bus Stop 8 - Hallgrímskirkja
Guesthouse Baldursbrá - Pick up Bus Stop 8 - Hallgrímskirkja
Hilton Reykjavík Nordica - We can drive to this address
Hostel B47 - Pick up at Bus Stop 8 - Hallgrímskirkja
Hótel Borg - Pick up Bus Stop 3 - Lækjargata
Hótel Frón – Pick up Bus Stop 6 - The Culture House
Hótel Holt - Pick up Bus Stop 6 - The Culture House
Hótel Ísland - We can drive to this address
Hótel Lotus - We can drive to this address
Hótel Óðinsvé - Pick up Bus Stop 8 - Hallgrímskirkja
Hotel Reykjavík Saga - Pick up at Bus Stop 3 - Lækjargata
Hotel Vera- Pick up at Bus stop 9
Hótel Von- Pick up at Bus Stop 9
Iceland Parliament Hotel - Pickup at Bus Stop 1 - City Hall
Icelandair Hotel Reykjavik Marina - Mýrargata 2 - Blue bus stop
Icelandair Hótel Reykjavík Natura - We can drive to this address
Igdlo Guesthouse - Pick up at Bus Stop 8 - Hallgrímskirkja
Ísland Apartments – Pick up Bus Stop 14 - Skúlagata
KEX Hostel - We can drive to this address
Klettur Hótel - We can drive to this address
Kvosin Hotel - Pick up Bus Stop 1 - City Hall
Loft Hostel - Pick up Bus Stop 6 - The Culture House
Loki 101 Guesthouse - Pick up Bus Stop 8 - Hallgrímskirkja
Luna Hotel Apartments - Pick up Bus Stop 3 - Lækjargata
Natura Hotel Reykjavik - We can drive to this address
Ocean Comfort Apartments - Pick up at Bus Stop 1 - City Hall
Oddsson Hotel - We can drive to this address
OK Hotel – Pick up Bus Stop 9 - Snorrabraut
Radisson Blu 1919 Hotel - Pick up at Bus stop 3, Lækjargata
Rey Apartments - Pick up Bus Stop 6 - The Culture House
Reykjavík Centrum Hótel - Pick up Bus Stop 1 - City Hall
Reykjavik Downtown Hostel - Pick up Bus Stop 1 - City Hall
Reykjavík Edition Hotel - Pick up at Bus Stop 5 - Harpa
Reykjavik Hostel Village - Pick up at Bus Stop 13 - Rauðarárstígur
Reykjavik Konsulat Hotel - Hafnarstræti 17-19 - Pick up at Bus stop 3 - Lækjargata
Reykjavik Lights Hotel - We can drive to this address
Reykjavik Marina - Pick up at Bus Stop 15 - Vesturbugt
Reykjavik Residence Hotel – Pick up Bus Stop 6 - The Culture House
Reykjavik Residence Suites – Pick up Bus Stop 6 - The Culture House
Reykjavík4You Apartments Bergstaðastræti - Pickup at Bus Stop 1 - City Hall
Sand Hotel - Pick up Bus Stop 14 - Skúlagata
Skuggi Hótel – Pickup at Bus Stop 9 - Snorrabraut
Stay Apartments Einholt - Pick up at Bus Stop 13 - Rauðarárstígur
Stay Apartments Bolholt - We can drive to this address
Stay Apartments Grettisgata - Pick up Bus Stop 8 - Hallgrímskirkja
Stay Apartments Laugavegur – Pick Up at Bus stop 13
Storm Hotel - Direct pickup
Sunna Guesthouse - Pick up at Bus Stop 8
The Swan House Reykjavík Apartments - Pick up Bus Stop 14 - Skúlagata
Tower Suite Reykjavik - Pick up at Bus stop 12
Travel Inn - Pick up at BSÍ Bus Terminal
Villa Guesthouse - Pick up at Bus Stop 8 - Hallgrímskirkja
Vintage hotel Apartments – Pick up Bus Stop 14 - Skúlagata