GLACIER TOURS
BOOK A GLACIER ACTIVITY TO EXPLORE ICELAND'S MOST UNTOUCHED NATURE IN A SAFE AND MEMORABLE WAY! EXPERIENCE A FULLY-GUIDED GLACIER TOUR WITH FUN & PROFESSIONAL GUIDES, WHICH WILL GIVE YOU PRICELESS MEMORIES, A DEEPER UNDERSTANDING OF GLACIERS & PLENTY OF PHOTO OPPORTUNITIES. CRAMPONS, HARNESSES, ICE AXES AND HELMETS IS WHAT YOU NEED AND IT'S ALL INCLUDED IN THE PRICE!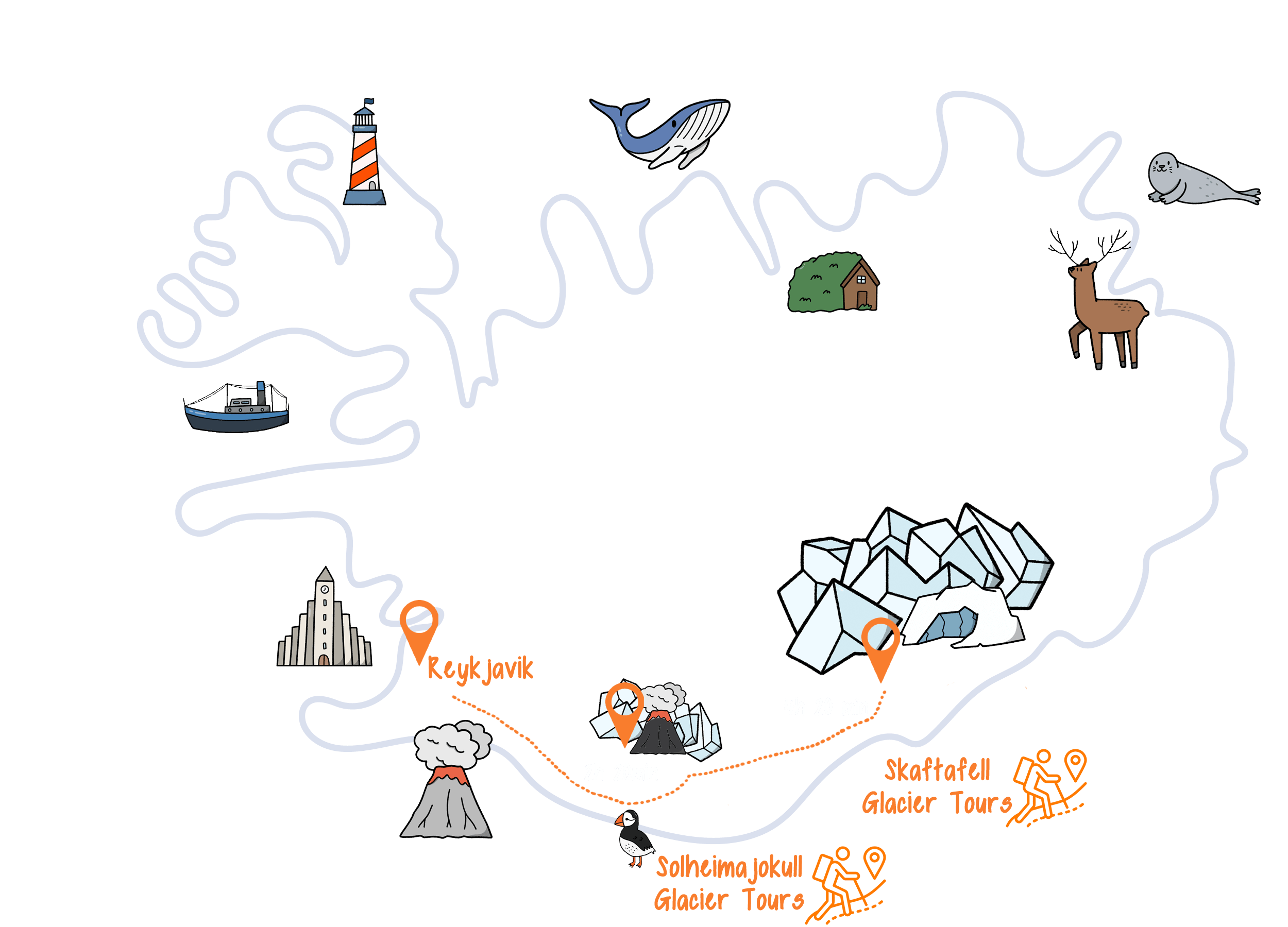 Why should I book a Glacier Tour?
Are you passionate about hiking in the nature but have never been on a glacier before? Are you an experienced hiker and want to sense the adrenaline of discovering Iceland's most remote landscapes in an adventurous walk on a glacier? Glacier hikes & activities is what will make your trip to Iceland unforgettable, no matter your level of experience!
Join us to experience the feeling of stomping your feet on thousand-year-old ice, enjoy the "crunchy" sound of each step you take, and make the most out of your adventure in Iceland!
WHICH GLACIER TOUR SHOULD I CHOOSE? We run glacier tours at two different locations:
The Skaftafell nature reserve glacier area:
4 hours & 30 minutes drive from Reykjavik, is part of the majestic Vatnajokull National park, named after the largest glacier in Europe: The Vatnajokull. Joining a glacier activity here will give you the extraordinary opportunity to hike on Falljökull (the falling glacier): a stunning outlet glacier, which expands out of the Vatnajökull ice cap. Falljökull is a giant frozen waterfall, whose dramatic landscape have been naturally carved over thousands of years: it offers unique views over the glacier falls, spectacular moulins & beautiful crevasses.
Sólheimajökull glacier:
A couple of hours away from Reykjavik, with its stunning views, crevasses, and ice walls, Sólheimajökull is one of the most hiked glaciers in Iceland; it offers terrain for every level of difficulty: beginners & professionals. Its strategic location makes it easy to take a round-trip drive from Reykjavik to this destination in the same day.
Included
(in the price)
Crampons
For making it possible to walk on ice
FREE
Ice Axe
For support & stability while hiking on a glacier
FREE
Climbing Harness
To ensure safety at all times while exploring a glacier
FREE
Helmet
To ensure safety in case of a fall or any other incident
FREE
Guide
English Speaking Guide
FREE