GLACIER TOURS
HIKE AND EXPLORE ICELAND'S MOST BEAUTIFUL GLACIERS. NO PREVIOUS EXPERIENCE NEEDED!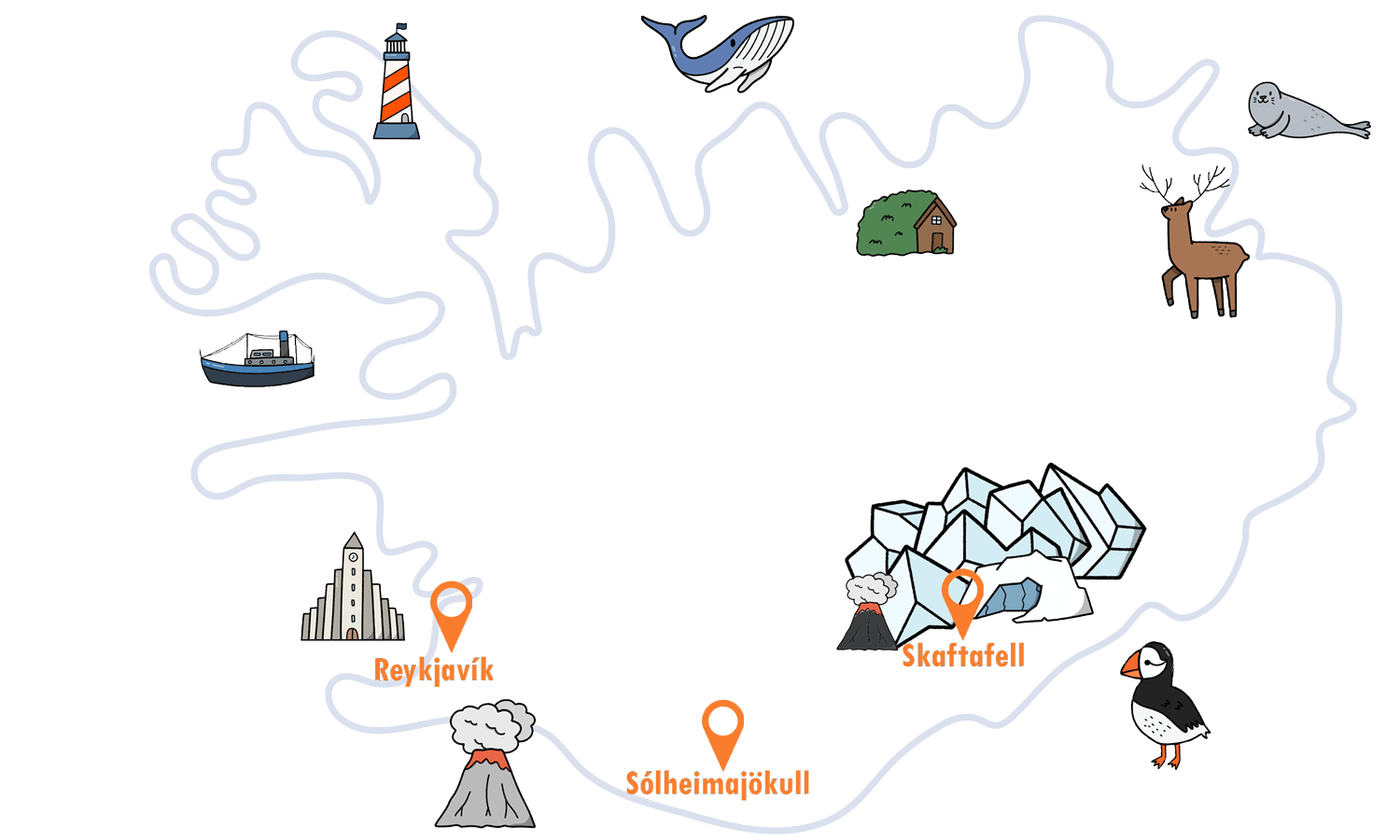 Skaftafell Glacier Tours
Skaftafell is a beautiful nature reserve in south-east Iceland, filled with spectacular natural wonders. You will explore one of these wonders on a glacier outlet of the Vatnajökull glacier.
Sólheimajökull Glacier Tours
Sólheimajökull is one of the most visited glaciers in Iceland by ice climbing enthusiasts & professionals, as it offers spectacular ice walls, in a super location – just a few hours away from Reykjavík.
Glaciers in Iceland
Iceland is a land of glaciers! If you're looking for a scenic, adventurous destination with plenty of nature to explore, look no further than Iceland. Located in the middle of the North Atlantic, Iceland is a volcanic island that's covered in rugged terrain - perfect for hiking and exploration. One particularly special area to visit is the glacial landscape - a beautiful landscape made up of hundreds of beautiful blue lagoons, waterfalls, and mountains that are covered in ice and snow year-round.
At Troll Expeditions, we offer a variety of tours that depart from Reykjavik that allow you to explore the beautiful Icelandic countryside at your leisure.
There are 269 named glaciers in Iceland. The biggest glacier in Iceland is Vatnajökull - it covers over 8,100 square meters! It's the largest glacier in Europe and it forms over two thirds of the country's ice caps. Under the glacier there are seven volcanoes, including 4 of the most known and active volcanoes in Iceland: Grimsvotn, Bardarbunga, Kverkfjoll, and Oraefajokull. Standing over 2000 meters tall in some places, it's an impressive sight to behold. Hiking around the icebergs of this beautiful icy landscape is a must-do activity for visitors to Iceland. If you're looking for an adventure like no other, a trip on the Vatnajökull glacier is definitely for you!
READ MORE
Glaciers in Iceland
Watch the video to learn more about Glacier Hiking Tours
Included
(in the price)
Crampons
For making it possible to walk on ice
FREE
Ice Axe
For support & stability while hiking on a glacier
FREE
Climbing Harness
To ensure safety at all times while exploring a glacier
FREE
Helmet
To ensure safety in case of a fall or any other incident
FREE
English Speaking Guide
Learn about ICELAND
FREE
Sólheimajökull Glacier
This beautiful glacier is one of the most visited glaciers in Iceland, as it is located only a couple of hours away from Reykjavík.
On this glacier, adventurous traveler can go ice climbing and glacier hiking.
Skaftafell Glacier
Nestled within Vatnajökull National Park, Skaftafell Glacier stands as a magnificent icy expanse that captivates visitors with its awe-inspiring beauty. Located in southeastern Iceland, this glacier is a part of the larger Vatnajökull, Europe's largest glacier.
On this glacier, adventurous travelers can go ice climbing, glacier hiking, and visit the impressive Blue Ice Cave.
Going on a glacier alone
It is HIGHLY recommended to never go on a glacier if you do not have knowledge on how to hike on a glacier.
Glaciers are extremely dangerous, since there are moulins and crevasses in which one can easily fall into. Special safety equipment are also extremely important to have.
If you do not have any experience on glaciers, it is highly recommended to go with a certified glacier guide, who could take care of your safety throughout your time on the glacier.