VOLCANO TOURS
SKIP THE HASSLE, EMBRACE THE ADVENTURE: JOIN OUR GUIDED VOLCANO TOUR FROM REYKJAVÍK FOR AN UNFORGETTABLE ERUPTING VOLCANO EXPERIENCE!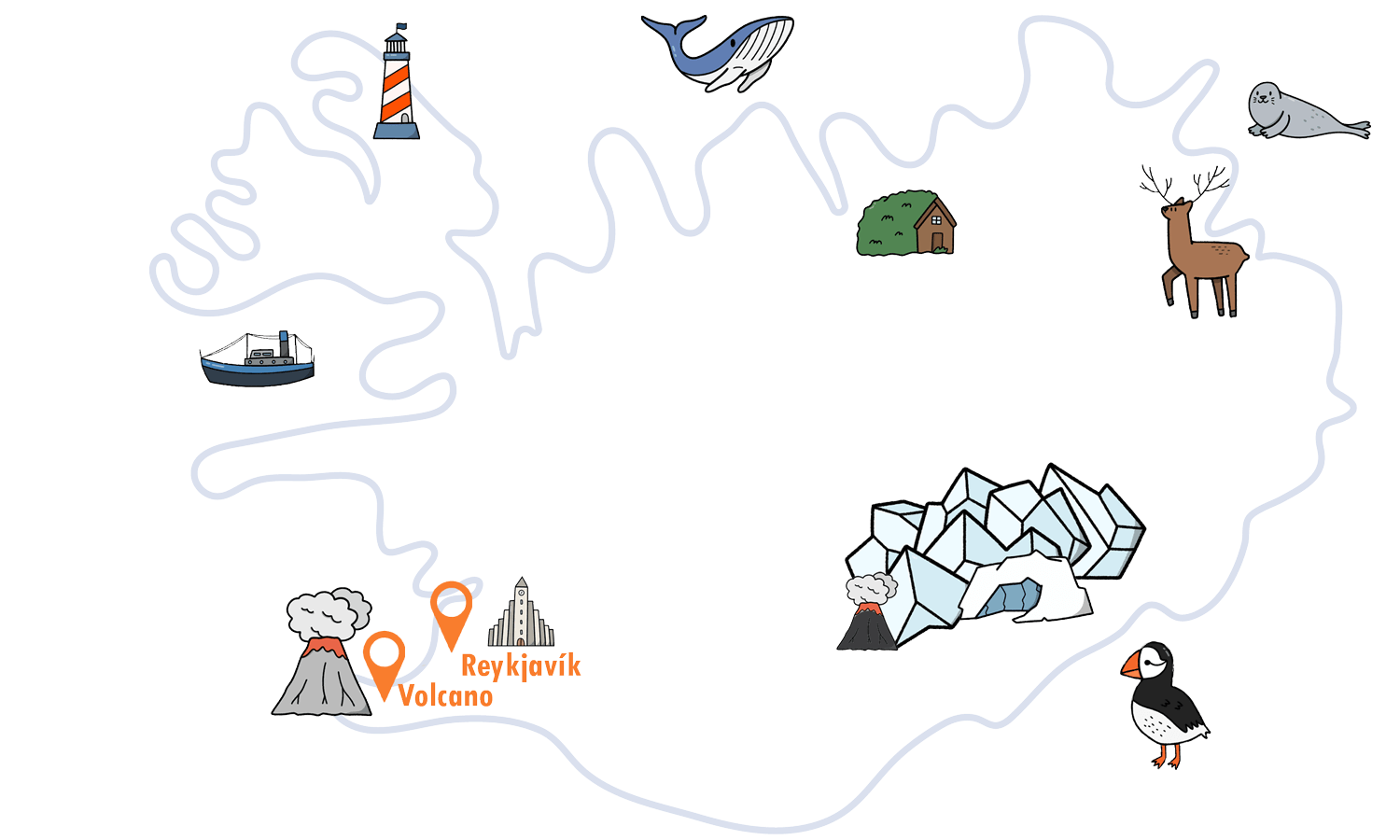 Volcanoes in Iceland
Iceland is a land of volcanoes, and for good reason. With over 100 active volcanoes, this island nation is a geological wonderland. The landscapes here are steep and rugged, with snow-capped peaks soaring above the ocean. If you're planning a trip to Iceland, make sure you check out the volcanoes while you're there!
First of all, it should be mentioned that Iceland has way more geothermal activity than any other country on earth. There are nearly 1,500 hot springs on the island, which means that a lot of heat gets trapped beneath the ground. This is why Iceland has so many volcanoes - the heat underneath the ground has a way of pushing itself to the surface, which is why there are so many volcanoes here! Some of these volcanoes have erupted multiple times in the past, and they're ready to do it again!
In Iceland, there is an incredible diversity in the types of volcanic eruptions. Here there will be eruptions under a glacier, in the sea, mud eruptions, fluvial eruptions and explosive eruptions of all shapes and sizes. It also happens that soda changes e.g. from igneous eruption or explosive eruption to lava eruption. It happened, for example, in the Surtseyjar eruption, to begin with it was a powerful igneous eruption in the sea, but when an island had formed, lava began to flow - to the great satisfaction of scientists and others because it strengthened the island a lot against the invasion of the sea.
Our newest volcano started on 3. August 2022 and is in Merardalir, near the one that erupted in 2021 (Fagradalsfjall). It took several eruptions over a period of days to reach eruption phase.
Included
(in the price)
Hraun Chocolate
Replenish your energy with Hraun Chocolate Bar.
FREE
Guide
English Speaking Guide
FREE
Small Group
Few people on every tour for maximum comfort
FREE
Wi-Fi
Internet access on board our minibus
FREE
Is there currently an active volcano in Iceland?
There are many volcanoes in Iceland, however at the moment there are no active volcanoes where you could see magma coming out of the volcano. Stay updated on the news
Is it safe to visit Fagradalsfjall volcano in Iceland?
It is definitely safe to visit most of the volcanoes in Iceland, but keep track of the news for any changes.
Is it hard to reach Fagradalsfjall volcano?
It is not hard to get close to the volcano, however it is recommended to have good hiking shoes and be used to different types of terrain. Always bring water and some snacks with you, the hike is a little long.