Tours
ICE CAVES IN ICELAND
Check the map to find where you can find Ice Caves in Iceland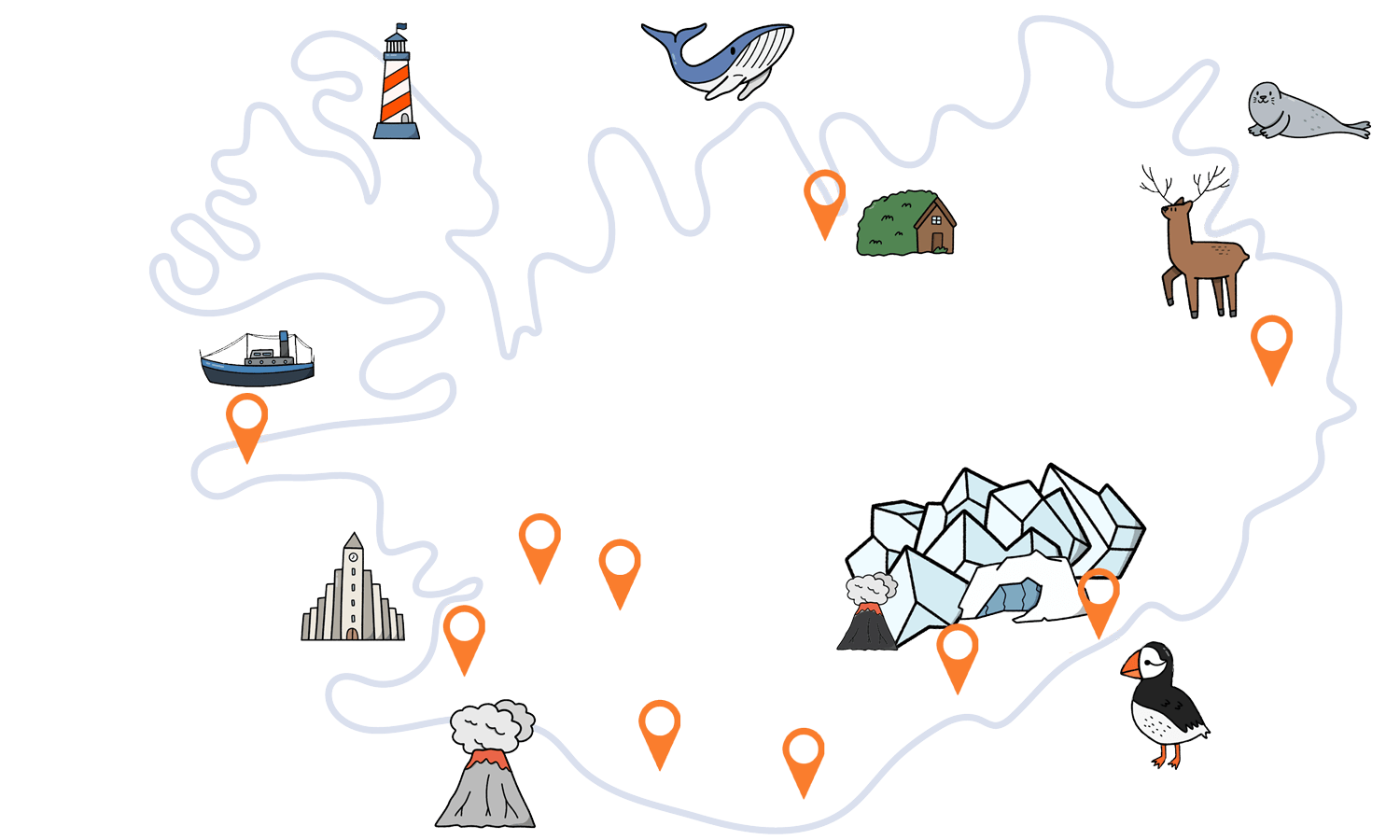 Map
Golden Circle Iceland
If you're looking for a sensational travel experience, look no further than the amazing Golden Circle in Iceland. With just a short drive from Reykjavik, you can visit the three most iconic attractions in Iceland: Thingvellir National Park, Gullfoss waterfall, and the Geysers.
This UNESCO World Heritage Site is home to some of the most stunning natural wonders on Earth, including geysers, waterfalls, tectonic plates, and mountains.
The Golden Circle is by far Iceland's most famous attraction. To get the most out of your visit, you can book a minibus tour with Troll! Each tour departs from Reykjavik and covers the major sights of the Golden Circle in one easy day. You can choose between visiting a beautiful country farm or going to Silfra to snorkel on your day trip with Troll. No matter what you choose, you'll experience the very best of Iceland's unique landscape and culture on this unforgettable journey.
The golden circle is an area in Iceland that comprises three main tourist attractions – Thingvellir National Park, Gullfoss waterfall, and Strokkur Geyser. While each of these attractions is amazing on its own, the spectacular views they offer are even more spectacular when viewed together.
Thingvellir National Park is a UNESCO World Heritage site that offers visitors a glimpse of where the North American and European tectonic plates meet. If you choose the Golden Circle with Snorkel, you will go to the famous Silfra there and snorkel. Silfra is a glacial lake situated between the American and Eurasian tectonic plates and is renowned for its crystal clear waters. The underwater visibility in Silfra can reach up to 100 meters making it one of the best locations in the world for diving and snorkeling. The park also features beautiful hiking and mountain biking trails where you can soak up the natural beauty of the area.
Gullfoss Waterfall is the highest waterfall in Iceland and is visible for miles around. It is a popular tourist attraction. The water plunges down 32 meters into a narrow crevice, forming a beautiful veil as it flows down the rocks. Visitors can get a great view of the waterfall by walking across the path near its base.
Lastly, Strokkur Geyser is the largest hot spring in Iceland and is one of nature's great spectacles. It erupts every few minutes, shooting a column of water as high as 30 meters into the air.
Geysir is home to a number of incredible natural hot springs. One of these hot springs is known as Strokkur Geyser, whose eruptions can reach heights of up to 60 feet! For the best views of the surrounding scenery, be sure to stop at Geysir geothermal park to see the famous hot spring Strokkur geyser in action.
The Golden Circle is perfect for all ages, including children. It's fun for the whole family and makes for an unforgettable vacation experience! One of the best things about the Golden Circle is that you can visit all the attractions in a single day or spend a few days exploring them in depth. No matter which option you choose, you're sure to return home with some amazing memories that will last a lifetime!
How far from Reykjavík is the Golden Circle?
Þingvellir is about 45 minutes drive from Reykjavík, Gullfoss is about a 1,5 hour drive and Geysir is about 1 hour and 20 minutes from Reykjavík.
Do I need to wear hiking boots for the Golden Circle?
What should I wear for the Golden Circle Iceland?
What should I take with me for the tour?
When is the Golden Circle available?
It is available all year round!
What types of Golden Circle tours are available?
There are two types of tours - Golden Cirlce and Snorkeling, where you snorkel between two continents - and Golden Circle and Farm visit where you taste local Ice Cream straight from the Farm.