Tours
ICE CAVES IN ICELAND
Check the map to find where you can find Ice Caves in Iceland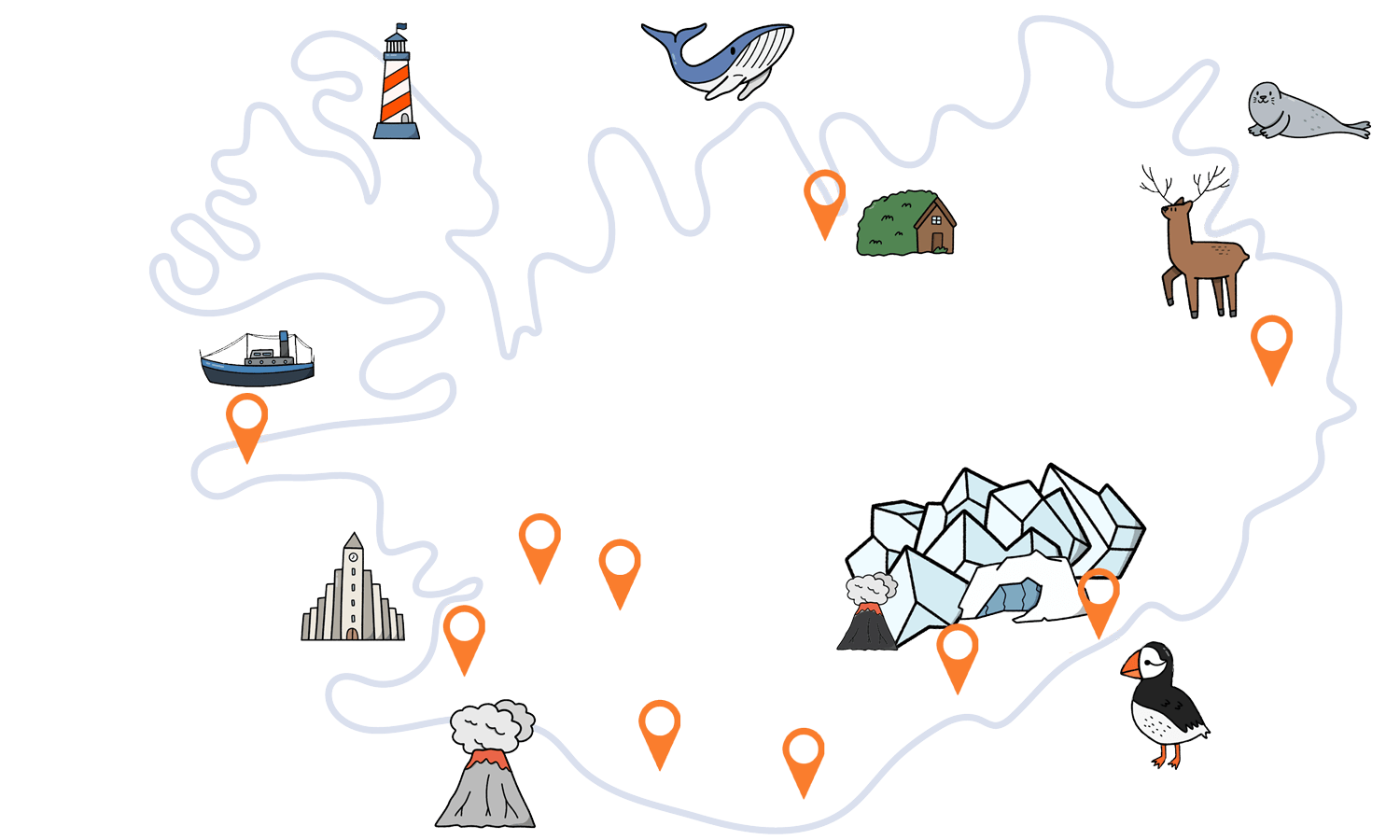 Map
Diamond Beach Iceland
There's something about Diamond Beach that makes it one of the most iconic places in Iceland. The sheer beauty of the white sand beach, crystal clear waters and natural cliffs towering overhead is hard to resist. In fact, Diamond Beach has even been compared to the Grand Canyon! If you're thinking of going to Iceland soon, you should definitely check out Diamond Beach. Here's why...
It's not your average beach - Diamond Beach features black volcanic sand surrounded by dramatic natural cliffs and rock with clear, blue-tinted icebergs that look like diamonds. The area is also home to abundant birdlife and you can even spot dolphins in the surrounding ocean if you're lucky!


It looks amazing in photos - A lot of people come to Diamond Beach just for the scenery. The natural beauty of the place makes for some incredible photographs and it's just so picturesque that it's often used as a backdrop for photo shoots. You're bound to get some great Instagram shots when you visit Diamond Beach!


It's just a short drive away from the capital - Reykjavik is just a couple of hours away from Diamond Beach so you could easily visit both on your trip to Iceland! And if you're traveling by bus, it's a pleasant drive along the coast and you'll have great views of the surrounding area on the way. If you drive from Reykjavik you can see all the amazing sights of the country as you make your way down the east coast. It's a great way to get an overview of the country while learning about its history and culture.
The "diamonds" on Iceland's Diamond Beach refer to pieces of 1,000-year-old icebergs that calved off from the Breiðamerkurjökull glacier, which is an outlet glacier of the largest icecap in Europe – Vatnajökull.
The beauty of Diamond Beach is that it is a 365-day-a-year phenomenon. The ice in the lagoon and the glacier is constantly breaking away into the sea, meaning that there are always new ice diamonds being washed up on the shore. This means that you can go there any time of the year and find brand-new crystals.
A lot of tours that Troll Expedition offers, will take you to this amazing natural wonder. Your professional guide will tell you everything about the area.  This is a must destination if you are traveling the south coast.
Where is the Diamond Beach in Iceland?
Diamond Beach is located near the Glacier Lagoon on the South Coast of Iceland.
Glacier lagoon vs Diamond beach
The good thing about those places is that they are so close by, that you can visit them both on one trip! Its only a few minutes walk from the Glacier Lagoon to the Diamond Beach.
Is Diamond beach a black sand beach?
Yes. The Diamond Beach is a strip of black sand belonging to the greater Breiðamerkursandur glacial plain.