Activity
Explore Iceland's South Coast and hike on a Glacier!
Safety
You won't have to worry about a thing because your professional guide will tell you all about the safety precautions.
Information
During this tour you will learn and explore the most beautiful places in the South of Iceland
Overview
Join an expedition to the South Coast & hike on the Sólheimajökull glacier. You'll visit Seljalandsfoss waterfall, the majestic Skogafoss, the mighty waves of Reynisfjara beach, also known as The Black Sand Beach, and walk on top of Sólheimajökull.
✓ South Coast's most beautiful Waterfall
✓ Black Sand Beach & Diamond Beach
✓ Glacier Hike on Sólheimajökull
About the Tour
Watch the video to learn more about South Coast & Glacier Hike tour with Tröll Expeditions
Tour Description
Contact us at info@troll.is if you wish to book a Private Tour
Join this unforgettable day tour to the South Coast with a hike on Sólheimajökull glacier. One of the best day tour options available as it includes a lot of amazing sights and tops it off with the glacier hike on one of Icelands glaciers.
We make stops at the Kodak-moment machine Seljalandsfoss waterfall, its neighbour the majestic Skogafoss, then we head to the mighty waves of the Atlantic Ocean at Reynisfjara beach, also known as The Black Sand Beach. Did we mention we will also walk on top of Sólheimajökull glacier? Wait no more and book this private option for your group up to 14 passengers.
Included
(in the price)
Glacier Hike
We will explore a Glacier
FREE
Glacier Equipment
All glacier equipment included
FREE
Guide
English Speaking Guide
FREE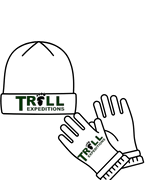 Beanie and Gloves
Buy our Troll Beanie and Gloves to keep you warm
FREE
We Guarantee....
Fast & Secure Payment
No Booking Fees
Best Price Guarantee
72 Hour Cancellation Refund
Professional Guide