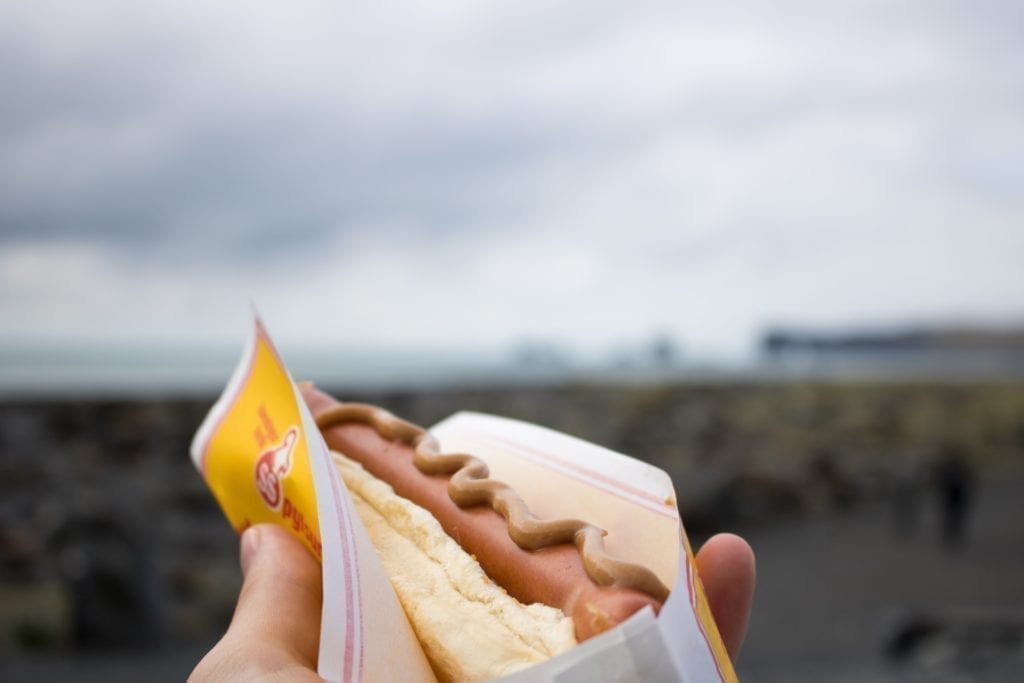 Where to eat in the South of Iceland
Many travelers in Iceland explore the South Coast each day and all of them need to eat something, whether you bring something along with you or check out the local restaurants on the way. But how do you know where you should go when there are so many places to visit? In this article you can learn about different restaurants to check out after a long day of exploring the South Coast.
The Service Hub for the South Coast
On your way further East, you can′t help but drive through Selfoss, this town is a hub for services and stores for most of the South Coast where you can find major supermarkets, the alcohol store and other services. The roads there also combine Þingvallavatn with Selfoss and the small villages Eyrarbakki and Stokkseyri. So, if you are coming from a swim in the Silfra fissure such as with the Trolls, you can pass by Selfoss to have a bite to eat.
If you want to eat something fancy then the Riverside Restaurant at Hotel Selfoss offers a wide range of international and traditional cuisine, such as soups, fish and meat and vegan options. In the evening there is a dinner buffet. The restaurant is situated right in front of the Ölfusá river and offers a magnificent view while eating. You can find the menu and more information about the restaurant (here).
The Southernmost village in Iceland
The next village is one of the most famous in Iceland called Vík í Mýrdal or simply "Vík". It attracts a lot of visitors due to its location close to the Black Sand Beach, Reynisfjara, and Dyrhólaey. It is also the most southern village in Iceland except for Heimaey, located on Westman Islands. Vík has grown considerably in the last few years with the tourism surrounding it and offers various options for dining and accommodation. It′s the perfect spot to have a bite to eat after an amazing glacier hike on Sólheimajökull, such as this one with the Trolls (here)
A cozy and medium-priced option is Halldórskaffi, where they offer everything from hamburgers and pizzas to Icelandic specialties such as Icelandic cod, local arctic charr and lamb fillet. It also has a nice interior and interesting art from the local artist G. Svana Sigurjónsdóttir. You can find the menu and more about the history of the place (here).
Luckily also known as "Klaustur"
Going from Vík to the next village Kirkjubæjarklaustur, there are not many dining options so keep that in mind during your travels. On your way to Klaustur, as Icelanders call it every day, you will pass through a lava field caused by a major eruption in the Laki craters in 1783-1784. Those craters are a major tourist attraction but keep in mind that only specially equipped jeeps and buses can drive there since you need to cross a few rivers on the road up there. In Klaustur you can also visit the visitor center Skaftárstofa to know more about the eruption. You can find more information about it (here).
In Klaustur you can grab a bit to eat at Systrakaffi in a relaxed and cozy atmosphere, the menu is varied with small dished, hamburgers, pizzas, meat and fish. Vegan options are also available, and the prices are pretty fair considering this is Iceland and the portions are generous so no one is hungry after a good meal there. Read all about their selection (here)
Unique Natural Beauty in Vatnajökull
After visiting Klaustur you are probably heading on to Skaftafell national park and the glacier lagoon Jökulsárlón. In Skaftafell you can enjoy amazing hikes on the glacier, where you can walk on the glacier AND take a look at a blue ice cave! After the glacier adventures and before heading to the glacier lagoon you might want to stop for a bit to eat. Then I recommend Freysnes, this a small petrol station but has a restaurant that serves hamburgers, pizzas and some other hot dishes. It's simple but does the trick and there are not many other options for eating close by.
If you would to eat something more fancy and enjoy a spectacular view while enjoying your meal I recommend Frost restaurant near the glacial lagoon Fjallsárlón.  More information about the restaurant can be found (here). They have a good selection of fresh and tasty food you select from a self service counter. Then the best part is that you get to eat with this view:
After eating you can head to the glacial lagoon Jökulsárlón or Skaftafell to enjoy the nature. From Jökulsárlón you can embark on a tour to see a Crystal Blue Ice Cave driving with the Trolls in a super jeep. There you will experience the amazing beauty of a Blue Ice Cave.
Well, I hope this article will help you find something delicious and help you have a good trip while travelling through the South Coast! Your friends, the Trolls, are always happy to recommend something to you to make your trip even better! Last advice by the Trolls is that eating an Icelandic "pylsa" or a hot dog is always a solid choice around Iceland, because they are avilable all around the country, taste the same and are affordable.