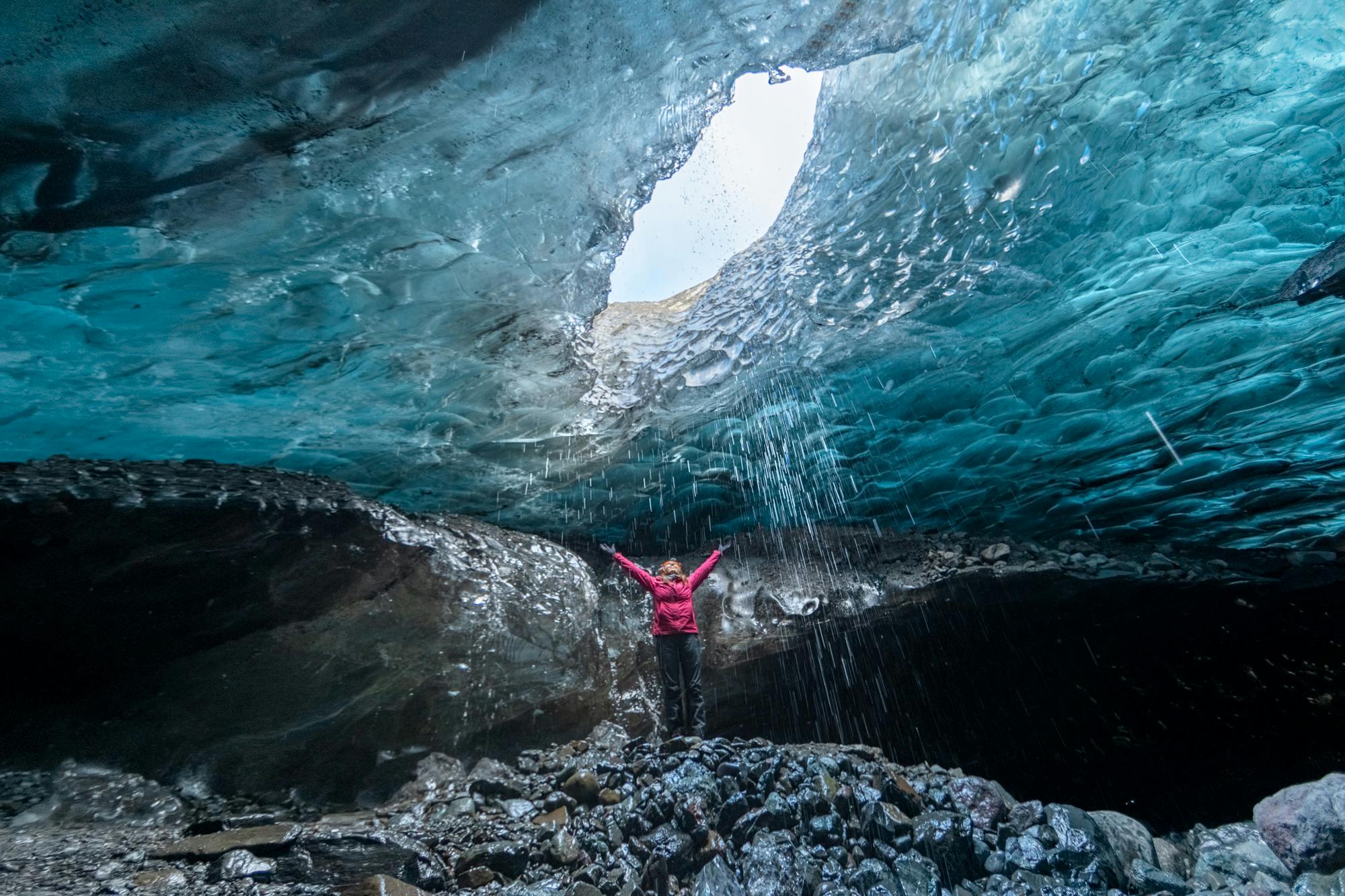 What to do on a rainy day in Iceland
Huggulegt means cozy and comfortable in Icelandic. We know as well as you do that stormy weather is a reality when travelling through Iceland – it can hit with short or almost no warning. If you find yourself stuck somewhere because of bad weather and are waiting to have your tour rescheduled for the next day, then we have collected some huggulegt and safe things while you wait out the weather. Read on to find out more!
When it's stormy
What to do in Vík
Vík is beautiful village in the South coast, near the Black Sand Beach and the cliff Dyrhólaey. In stormy weather however it′s not safe to visit the beach and the roads might even be closed. But don′t worry there are several activities available in Vík.
First you can visit the Katla Geopark, which is also the tourist information in Vík. There you can learn about the volcanoes in the region, with information about this geological park. The entrance is free of charge so it′s fun to check it out and very informative. In the tourist information you can get information about Skaftfellingur, which is a museum with a 100-year-old oak ship which used to serve the region for transportation and has a lot of history about the South coast and live there during this time. The entrance is 500 ISK for adults and only 200 ISK for children. You can find more information about the Katla Geopark and Skaftfellingur (here).
Then if you want to learn even more about lava and volcanoes the Icelandic Lava Show because it′s a unique show where an eruption is recreated by pouring molten lava into a room full of people. It′s a way to experience a volcanic eruption in a safe way. The entrance fee is 4900 ISK for adults and 2900 ISK for children. You can read more about it (here).
Of course, if you'd like to spend some cozy time sipping coffee and looking outside, you can try the local coffeehouse Halldorskaffi where you can try some local food and drinks and have a taste of the Icelandic cuisine and add a nice stop for your road trip.
What to do in Klaustur (Kirkubæjarklaustur)
Kirkjubæjarklaustur (Klaustur for short) is a quaint village in the South-East of Iceland. It′s located East of Vík and West of Skaftafell and the glacier lagoon Jökulsárlón so it′s quite common to stop there to tank up or to have a bite to eat. However, if you find yourself stuck there because of bad weather here are few things to do:
You can visit Skaftárstofa which is the tourist information center in Klaustur. There they offer, along with general information, exhibitions about Vatnajökull glacier and Katla Geopark. You can also learn more about fascinating history of Klaustur by watching the documentary "The Firemass" about the big eruption in Laki in 1783-1784 and how the eruption almost reached Klaustur. All the activities are free of charge, like their WIFI. You can read more about it (here).
If you are interested in handcrafts you should take a look at the local handcraft store. You can get information about where to find it in the tourist information center Skaftárstofa. There they sell handcrafts and wool products made by the local people living near Klaustur so everything they sell is of unique design.
If the weather is still bad, then you can also visit the swimming pool in Klaustur. It has a small outdoor swimming pool and two comfortable and cozy hot tubs, so it′s well worth a visit. You can read more about it (here).
What to do in Reykjavik
There are quite few museums in Iceland that are worth visiting exhibiting art, history, geography and even archeology. You can find information about museums in Reykjavík: Reykjavík Art Museum, The Reykjavík City Museum, The Reykjavík Museum of Photography, The Settlement Exhibition and the Reykjavík Maritime Museum. You can also pay a visit to the famous Harpa and see if there is any event there that will fit your schedule. They have a monthly schedule with all sorts of cultural events.
For those who like to laugh there is a selection of stand-up shows in Reykjavík in English. The show, Northern Laughs, is presented in the Secret Cellar (Lækjargata 6) the first and last Saturday each month at 20:30, with free entrance. Then in Gaukurinn (Tryggvagata 22) there is comedy show every Monday night starting at 21:00 with free entrance.
If you enjoy live music, you could head to the Icelandic Bar where on February 3. Pálmar will play the piano from 19:00 to 22:00 with free entrance. That same night you can also listen to live Jazz at Bryggjan at 20:00, also with free entrance. For those who would like to sing themselves there is a Party Karaoke each Wednesday at 21:00 in Sæta Svínið, with free entrance and a fun prize for those who dare to sing!
Of course kaffihús (coffee houses) are a great option. Our favorites include Reykajvík Roasters, with several locations in the city, Stofan, Bismút, Emily and the Cool Kids, and many others.
Then you can find more information on what′s happening in Reykjavík (here).
We at Troll hope that you catch good weather while staying in Iceland, but we also hope that you have fun even if you need to stay inside for some time.
Remember, it′s better to be safe than sorry!