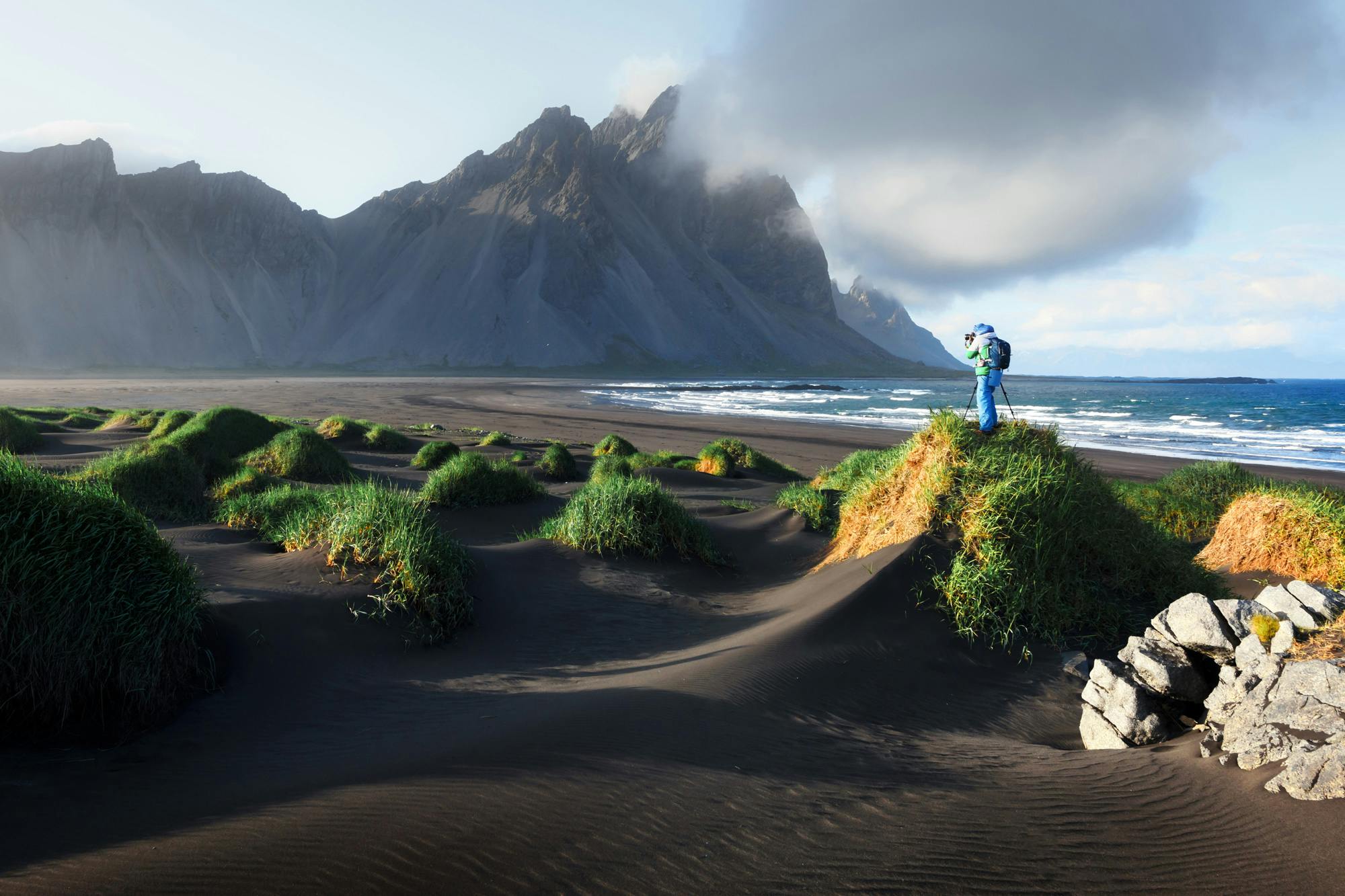 What is the weather like in Iceland?
If you feel Iceland is always as cold as ice, it is not. Well, not for everyone and all the time! Whether you feel cold in Iceland or not, it depends on where you are coming from. If you are someone from Siberia or Canada, you won't find it cold. However, if you are from a tropical or sub-tropical country, you will. It also depends on the season which all places you want to visit and the adventure activities you plan to undertake.
For instance, if you want to visit glaciers or ice caves on your Iceland expedition, it is imperative that you visit in winters. In summers, the snow would begin melting, making it dangerous to walk into an ice cave and trek on a glacier. While high latitude and the cold winds streaming in from the North Pole lend it a cold climate, the Gulf Stream also interferes to make the climate temperate. The country's location just outside the Arctic Circle makes the climate there perpetually unstable, but with a limited temperature range. 
Coldest months in Iceland
December and January are the coldest months in Iceland. At these times here, temperatures drop below the zero degrees Celsius mark. In January, the average temperature in capital Reykjavík is – 0.6 degrees Celsius. Months of July and August are the warmest and the average temperature revolves around 10.4 degrees Celsius.
Finding calm and sunny weather is rare in Iceland. You will always find the northern coastal area colder than the southern one as the influence of the Gulf Stream is missing. On average, the Icelandic weather is better than both what the United States and Europe experience in extreme winter. 
Northern coastal area colder than the southern
On average, winters in Iceland are warmer than they are in Northern Europe and the Eastern coast of the US. If heavy winds are absent, the weather is actually quite friendly for deep winter. In the lowlands, the temperature seldom drops below zero degrees Celsius. However, as the altitude increases, it alters rapidly. In a few seconds, temperature at Thingvellir may reach minus 20 and in case wind is blowing, the mercury may fall to minus 30.
Iceland in Summer
If you are visiting Iceland in summer, you will be greeted with pleasant, fantastic weather, indeed a perfect time to visit the country. It is never so warm that you begin to sweat and usually doesn't get too cold for a camping trip or a fun-filled picnic. 
Is it always cold in Iceland?
People generally have the misconception that weather in Iceland is always chilly, so cold that it is difficult even to stand outside. Temperature in the best summer days may reach 26 degrees Celsius. On an average day though, the summer temperature is close to 13 degrees Celsius.
Short-term variations rapid and unpredictable
In Iceland, average temperatures may not vary much, but short-term variations in temperature can be rapid and unpredictable. Temperature may not be lower than what it is in New York, but winds are much more persistent, making the weather seem colder than it actually is. 
What influences the temperature in Iceland?
The Glaciers
If you are visiting the glaciers, the regions they are in are bound to be colder than other places. Vatnajökull (2110 meters) is the largest glacier in Iceland and also the largest icecap in Europe. Covering a vast area of 8100 sq. m., it is about 1000 meter thick at a point.
One of the most popular sightseeing in Vatnajökull region is Jökulsárlón, an unbelievably captivating glacier lagoon. Made of melting chunks of ice, it is the perfect place to get some refreshing, cool air. Ice cave tours are the perfect activity for adventure thirsty travellers to embark on.  A blue ice cave tour in Skaftafell in one of the outlet glaciers of Vatnajökull is the perfect small group adventure, click here for more information.  Explore the natural ice caves and ice formations and enjoy a full day of glacier adventures. 
The country's second largest glacier is Langjökull or one with a lengthy shape. Snæfellsjökull, thanks to its natural beauty, is talked about a lot. The location was shot for Jules Verne's Journey to the Center of the Earth and brought plenty of limelight to the place.
Stacking on a glacier or inside a cave, you will feel like you are in the Arctic or Tundra regions. However, in the lowlands, the temperatures go up and it is not so cold there. Right in the middle of snow, you will find areas of geothermal activity with geysers and hot water springs. Water in these geysers is so hot that you may end up losing your flesh in case your skin comes in contact with it. interested in the geysers and geothermal areas ? A ring road tour that includes Geysir and more popular attractions may be the right thing for you, click here.  
Absentee Trees
Trees are almost absent in Icelandic inland, thanks to sandy soil there, resulting in strong winds that may cause dust forms, leading to a sudden change in temperature. It will be advisable to keep tabs on weather prediction so that you don't get caught up in such a dust storm.
Short-Time Volcanic Eruptions
Underground volcanic activities may result in short-time eruptions, causing sudden melting of glaciers as well as change in climate. These incidents can never be predicted. That said, you must not forget this is Iceland and you better be prepared for the most unexpected of changes in weather.
This is the land of heavy snowfalls and cold summers, where snow melts only at low altitudes, around 700 meters (2,300 feet) above the sea level. Along the northern coast of Iceland, you will find winters colder. There are days when even the sea would breeze.