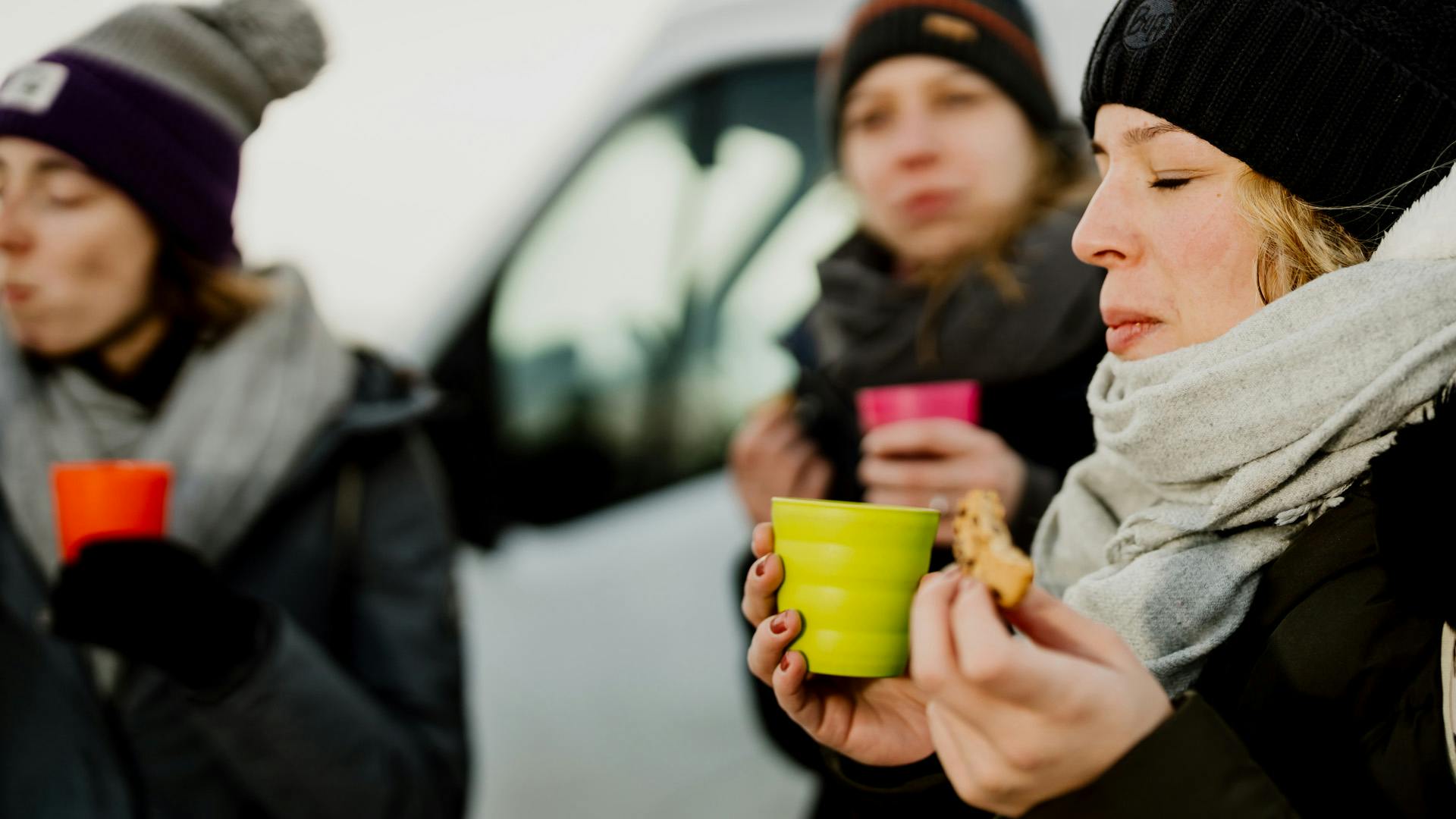 Top 7 Hot Springs and Baths in Iceland
Most often when people think of Iceland, they have an image in their minds of long vast white snowy tundras, dancing Northern Lights and some of the most beautiful nature in the world.
Well, they're not wrong. Iceland in winter is filled with snow-covered landscapes ripe for adventure and exploration for the lucky travelers who take the opportunity to visit.
However, in summer, Iceland's days are endless and captivated by the long daylight hours under the midnight sun. At this time of year, roads are mostly clear and the weather is much calmer. The landscapes are a completely new experience. Rich in flora and fauna, you will hardly recognise the country if you've also seen it in winter.
But when it comes to experiencing the rugged, wild and natural hot springs which are found all across the country, you can enjoy these no matter the season. 
As you uncover the very best hidden gems and relax amongst Iceland's immaculate nature, you'll fully understand how Iceland earned its reputation as the land of fire and ice.
In this blog, I'll highlight the very best hot springs you can find around Iceland. This will help you discover some of the most exciting places in the country and enjoy an indulgent moment or two away from the popular traveler trails.
What Are Hot Springs?
Hot springs are bodies of water heated by natural geothermal energy only found in active volcanic regions.
To determine whether a body of water is a hot spring or not, you simply need to take the temperature of the water and compare it with the temperature of the surrounding earth nearby. 
If the water is hotter than the surrounding earth, then it's a hot spring, if not, then you've just found yourself a lovely pond!
More often than not hot springs are at least 38 degrees celsius (100 degrees fahrenheit) which make them quite obvious when discovered.
The main factors which contribute to the heat of a spring are the following:
The depth in which the heat is supplied (the magma chamber)
The amount of cool water the hot water source flows into
The rate at which the water of the spring flows (e.g. is there a strong current?)
Why Does Iceland Have Hot Springs?
Basically because Iceland sits right in between two of the world's largest and major tectonic plates (North American & Eurasian), and as a result, is an incredibly active volcanic island with regular volcanic eruptions and daily earthquakes.
It's one of the youngest landmasses in the world, and unlike most other destinations, it is still actually growing in size as it's slowly torn apart (around 2.5 cm every year) between these major tectonic plates.
The meeting place of these tectonic plates is known as the Mid-Atlantic Ridge, which essentially bisects Iceland in half. As volcanic activity is prevalent along tectonic rifts, water is often heated underground through intense geothermal activity.
This crazy positioning makes Iceland one of the best regions in the world for hot springs to flourish. Over time, with the movement of the plates, Icelanders regularly discover new hot springs that otherwise weren't there before.
Top 7 Hot Springs in Iceland
1. Seljavallalaug
It might seem a bit cheeky to include Seljavallalaug in my top seven hot springs list because the pool the water flows into is actually man-made. However, the water that constantly feeds it is in fact from a natural hot spring, so hopefully you'll let me off!
Nestled beautifully off the beaten track along the South Coast of Iceland, a short drive west of the town of Skogar, you can enjoy a dip in a hot spring right between Eyjafjallajökull volcano and a mountainside.
Yes, you heard me, this hot spring actually sits right next to the huge volcano that famously erupted in 2010. Does this spell adventure or what!?
The pool itself was built in 1923, and as such, is one of the oldest swimming pools in Iceland. It's 25 m long and fed by a pipe from the local hot spring. As a result, if you're looking for the most pleasant experience, you'll take a dip at the south side of the pool nearest your entry where the water is actually a lot warmer than where the steps are.
In 2010, due to the eruption of Eyjafjallajökull, the pool was filled with ash until early summer in 2011 when a group of volunteers gathered together to clean the pool.
To reach Seljavallalaug you'll need to take the turn off onto road 242 from the main ring road, and head past Hotel Lambfell, which is roughly a 2 km gravel drive to a small car park.
From here, you need to walk along the western side of the mountain valley for around 15-20 minutes before you find the pool (on your left) adjacent to the beautiful flowing river.
The pool does have small changing facilities, but I'll be honest, they're nothing special. It's a small structure with a handful of pegs to leave your coat and bag on and nothing more.
Once you get in the water you'll forget all about the dirty changing rooms and soak in the surreal surroundings you're relaxing in. Nowhere else on earth can you have such a unique and thrilling natural experience.
2. Lake Mývatn Nature Baths
Lake Mývatn nature baths is without a doubt one of the jewels in the crown of the north of Iceland.
Sitting in the midst of a volcanic paradise, this is the perfect end to a day of galavanting and exploring the wonders of Iceland's renowned Diamond Circle route.
Though, this is a commercial natural hot spring where you will have to pay for entry, the views of the surrounding lakes, lava fields and spectacular plains are worth every penny. 
In summer, you can relax and unwind in one of the many pools the nature baths host under the long daylight hours of the midnight sun.
Alternatively, in the winter this is one the best places in Iceland to see the Northern Lights, where, as recent as last October, I had the pleasure of relaxing in the pools watching the sunset, and came out of the baths to see a spectacular show from a particularly powerful Aurora Borealis.
It's North Iceland's answer to the Blue Lagoon, and wow does it impress!
3. The Secret Lagoon
The Secret Lagoon, otherwise known as Gamla Laugin, is famous for being one of the oldest swimming spots in Iceland.
As opposed to the Blue Lagoon, which is actually created by the water run-off from the nextdoor geothermal plant, the secret lagoon is fed by fully natural geothermal waters. You can see this as you walk around the pool with the steaming hotpots and neighbouring river providing a clear identifier of hot spring activity.
As this is located in Iceland's Golden Circle, it's one of the best ways to relax and rejuvenate after a busy day of exploring the incredible attractions of the region.
It's highly recommended that you book your ticket in advance as though "secret" is in the name, the peacefulness of this location has more recently stretched far and wide and now commands a lot more attention.
You should also make sure to include a Golden Circle tour into your time in Iceland to make sure you capture the best sights and activities along Iceland's most popular travelers trail.
4. Kvika Geothermal Footbath
Often the best spots are a lot nearer than you think. That's certainly true when it comes to Kvika footbath, which is situated along the Seltjarnarnes peninsula near the scenic Grótta lighthouse.
This regularly overlooked or missed location is a particular locals favourite during the summer months when the midnight sun creates the most spectacular pink, yellow and blue hues right across the sky during sunsets.
Icelanders regularly take the opportunity to park up near Grótta, get their shoes and socks off, roll up their trousers and enjoy a well-earned drink while watching the sunset with friends. Though simple and otherwise unassuming, the location and ability to share this footbath with others is what gives you another fantastic Icelandic experience without the need of travelling far from downtown Reykjavik.
Alternatively, why not wrap up warm and dip your toes in during Iceland's winter nights? Imagine watching Northern Lights in an incredibly scenic and comfortable position. Having done this myself with my camera and tripod sat next to me last winter, it's an experience you'll want to take advantage of.
5. Hrunalaug
Another perfect setting amidst the Golden Circle region is the much lesser-known and even lesser-visited, Hrunalaug hot spring.
This small hot spring is located just outside the small town of Flúðir which is a place travellers will regularly traverse through, but much less frequently stop off in.
The size and setting of this hot spring provides a very intimate experience. Perfect for a small group of friends or a selection of couples to enjoy. Hrunalaug is located on a privately owned local farm. You should make sure to treat the area with utmost respect (like everywhere in Iceland!)
There are a series of small stone walls that provide an extra cosy ambience you won't find in many other hot springs around Iceland.
As you take a dip in this very authentic and off the beaten path hot spring, you might be curious about the setting's history. In actual fact, Hrunalaug used to serve as a sheep washing station way back in the day. Don't worry, it isn't used for this anymore or we'd have a lot more complaints on this blog I'm sure!
If you're feeling generous you can even make a small donation which is used for the upkeep of the grounds by the landowners.
6. Hot Spring at Landmannalaugar
For those of you daring enough to join an Iceland off the beaten path tour into the Icelandic highlands during the summer months, the chances are you'll come across the popular region of Landmannalaugar.
Translating directly to "the people's pool", this region hosts one of the most naturally wonderful and scenically located hot springs in the rugged outdoors of Iceland's southern highlands.
As you unwind in the immaculate hot springs, you'll be able to see surrounding snow-capped mountains covered in various shades of yellows and reds, and spectacular meadows rich in colourful flowers only viewable in the summer season. Simply put, it's the ultimate bathing experience in the wild plains of Iceland.
This location was always considered one of the best spots to stop-off and rejuvenate in the mineral-rich waters for exhausting travelers trekking through the Icelandic highlands. As you can imagine there are few places in the world where you can recharge your batteries quite like this.
7. Reykjadalur Steam Valley
Taking the top spot on this list is the well-worthy winner of the Reykjadalur Steam Valley.
With the perfect combination of proximity to Reykjavik, an enjoyable scenic hike, some fantastic landscape photography opportunities and an abundance of space for travelers to bathe in, Reykjadalur is the crème de la crème when it comes to rating Iceland's hot springs.
As you hike around a small mountainside from the car park in Hveragerði, you'll see snippets of steam vents coming from this active volcanic region. Once you descend down into the valley, you'll see the incredible steaming river full of surrounding mudpots and hot springs.
One of the awesome things about bathing here is you can "adjust" the temperature of the water to your own comfort level. I say "adjust" because all you need to do is either head closer to the cold water to cool down or hot water to warm up. If you have anything vaguely similar to my relationship, you'll both be heading in separate directions with this advice!
Conclusion
There's no question about it, one of the best things to do in Iceland is taking the opportunity to bathe in a natural geothermally heated hot spring. Altough I've given you my personal top seven hot springs in Iceland, you'll form your own opinion as you explore some of these locations for yourself.
There are an abundance of tours you can join if you're keen to take to enjoy some of these spots alongside some expert guides in Iceland. Alternatively, if you're looking to include some specific locations you can opt to consider a tailor-made Iceland holiday where you can completely customise your experience from start to finish.
In reality, you can't really go wrong. Dare yourself to explore some of these locations. Take a dip and some snaps and let us know which one you thought was the best or should also be included in this blog. After all, the adventure is truly in the eye of the beholder.