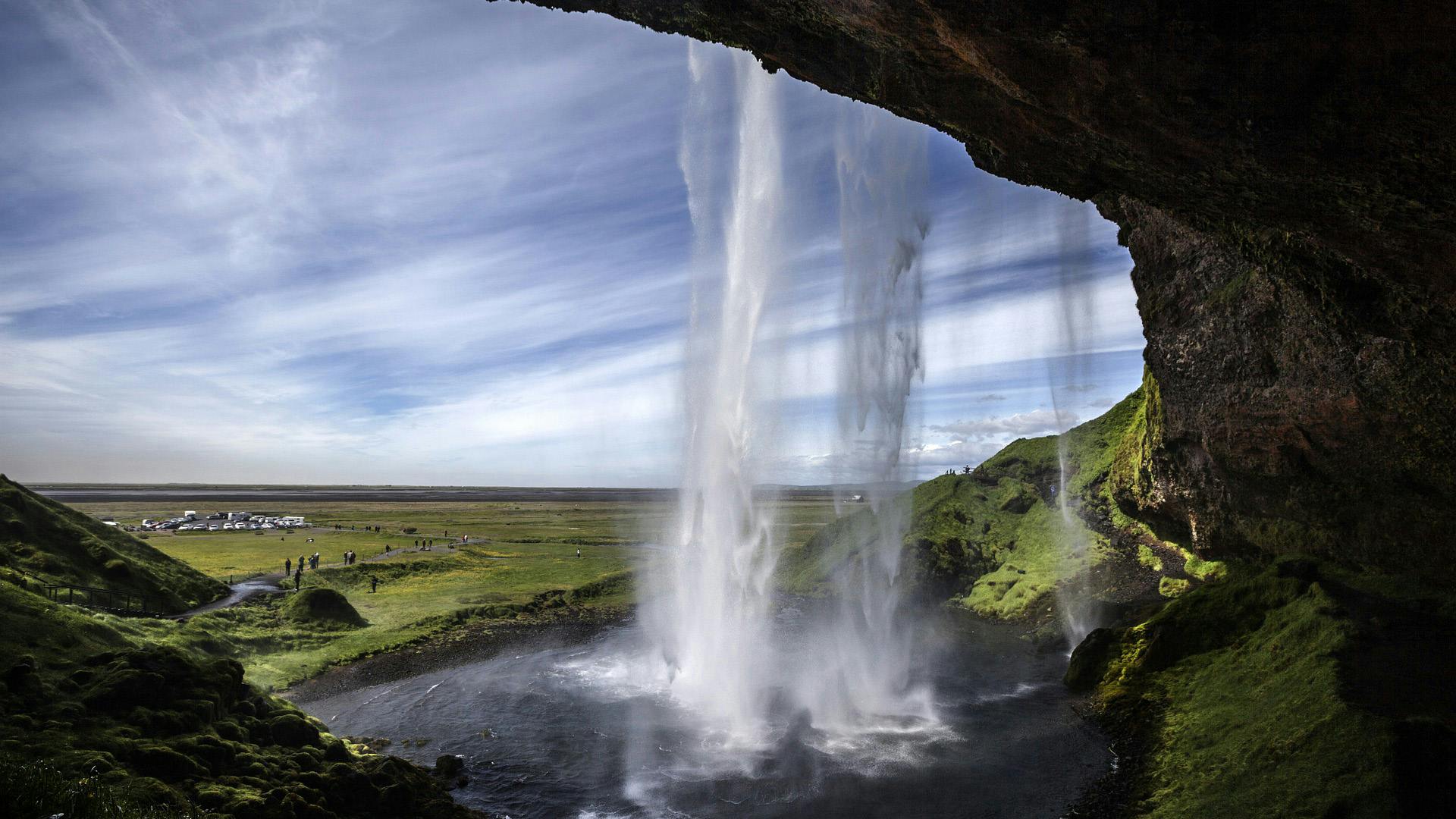 TOP 11 Most Beautiful Waterfalls in Iceland
If you've ever seen pictures or videos from Iceland's beautiful nature, chances are that you've seen one of the stunning waterfalls that populate the volcanic rocks and mountains on the island. And if you are in Iceland for holidays, visiting friends or stopping for work, why not visit one of these amazing sights yourself?
Whether you're looking to pose for a gorgeous selfie or record your family's experiences, having a waterfall in the background can make your day more exciting, and the video or photograph more memorable. You get to enjoy nature at its fullest, and at the same time experience something not many people get to see in their lifetime.
There are a handful of well known waterfalls that draw large crowds on a daily basis. But it is also possible to venture off the beaten path and journey to the outskirts of Iceland in search of rare waterfalls without a constant stream of tourists.
In this section of the article, we have listed some of the most famous waterfalls in Iceland, allowing you to plan your trip with ease and comfort. Remember to research details once you've found a few promising locations. It might be necessary to have easy access if you are transporting a stroller, or elderly people, or it might be just fine having to trek for 3 hours to visit a far off waterfall.
Gullfoss Waterfall
In Icelandic, Gull means Golden, and Foss means falls/waterfall. Gullfoss (translated as "Golden Falls") may be Iceland's most popular waterfall and perhaps the key reason behind the Golden Circle Tourist Route getting its name.
This interesting waterfall terminates in a channel, surrounded by varying levels of terrain, making this an excellent visit if you enjoy a healthy hike through Iceland's amazing nature.
How to get to Gullfoss Waterfall?
The waterfall is located by a famous Golden Circle Road in the Þingvellir National park. You can get there either by car or during a Golden Circle Tour.
Seljalandsfoss Waterfall
This fantastical waterfall is close by the ring road and easy to access. This also means that quite a few tourists venture to this spot for an opportunity to witness beautiful scenery and enjoy the caves and rock formations.
How to get to Seljalandsfoss Waterfall?
You can get there by car, South Coast tour, or Multi Day tour.
Dettifoss Waterfall
This breathtaking waterfall is located in the northern part of Iceland. Jökulsá á Fjöllum is the second longest river in Iceland, and the water in this river comes from a melting glacier Vatnajökull – Iceland's largest glacier. It has an astounding width of more than 100 meters, and a drop of more than 44 meters. Some people call this waterfall for the European Niagara Falls because of the unique look it features.
How to get to Dettifoss Waterfall?
The bus transportation is still new to Iceland, so the main two options would be by renting a car or joining any Iceland's Ring Road tour.
Kirkjufellsfoss Waterfall
This waterfall is by far one of the most famous and photographed waterfalls in Iceland. This mainly due to to a very scenic mountain behind the waterfall. Taking the name from the nearby mountain of Kirkjufell, this waterfall is situated in Snæfellsnes peninsula – just a few hours to the north from Reykjavik. The mountain behind the waterfall is one of the most recognized places in the Game of Thrones, also known as the " Arrowhead Mountain".
How to get to Kirkjufellsfoss Waterfall?
The beautiful waterfall is situated only 111km away from Reykjavik, so you would manage to go there and come back to Reykjavik the same day. The most used options to get there by car or during the Snæfellsnes Peninsula Day Tour.
Goðafoss Waterfall
This waterfall got its name more than 1000 years ago, and the meaning can be translated into "The waterfall of the gods". Even though the drop is 12 meters long, and the width is 30 meters, this appealing natural phenomenon is popular and one of the most visited natural attractions in Iceland.
How to get to Goðafoss Waterfall?
Getting there would take more than one day. It is situated in the north of Iceland, very close to a popular small town  – Akureyri. You can get there by car, or by joining a Ring Road Tour (6 or 8 day tour around Iceland).
Skógafoss Waterfall
In the southern part of Iceland, you can explore the prettiest waterfalls that Iceland has to offer. The drop is more than 60 meters, and the waterfall is around 25 meters wide, located on a lush and green mountainside. Because of the amount of water vapor found in this area, it is often possible to witness rainbows near the waterfall.
How to get to Skogafoss Waterfall?
The magnificent waterfall is located in the south of Iceland, approximately 2 hours away from Reykjavik. You can get there by car, or joining a South Coast tour, or Multi Day tour.
Svartifoss Waterfall
Named after the black lava rocks from which the water flows, this ancient waterfall is believed to be more than 300,000 years old. It is not the tallest waterfall, with just 20 meters of a drop, but it is still among the most visited every year because of the interesting rock formations that surround it. The waterfall is situated in Skaftafell – Vatnajökull National Park in Iceland.
How to get to Svartifoss Waterfall?
The waterfall is also located in the south of Iceland. You can get there either by car, which roughly takes 6 hours from Reykjavik. Close by, you can find Iceland's largest glacier – Vatnajökull Glacier. You have many different activities each day in the area, such as ice climbing, glacier hiking, and ice caving.
Hrafnabjargafoss Waterfall
Located on the same river as other popular waterfalls, it is recommended to use a 4 wheel vehicle for accessing this area, especially in the colder months of the year. Here you'll find a waterfall in the wilderness, with animal and plant life to accompany the experience.
How to get to Hrafnabjargafoss Waterfall?
The only option to get to this hidden waterfall is by car.
Glymur Waterfall
One of the tallest waterfalls in Iceland, Glymur is found in an area with many caves and interesting rock formations to explore as well. In general the trek is recommended for the active family. Children below 10 could have a hard time with the terrain. You will have plenty of opportunities for a panoramic view of the landscape, and to experience the almost 200 meter tall waterfall itself.
How to get to Glymur Waterfall?
The only option is by car – a short 1 hour drive from Reykjavik.
Selfoss Waterfall
This uniquely horseshoe-shaped waterfall is located inside the national park Vatnajökull. Many visitors choose this waterfall, since they can also visit Dettifoss at the same time for yet another amazing and fantastical experience.
How to get to Selfoss Waterfall?
You can get there by car or by joining any Ring Road tour.
Dynjandi Waterfall
Close to the bay of Arnarfjörður, you can find the Dynjandi waterfall. People have noted how the cascading water resembles the veil of a bride, and with a drop of around 100 meters it also inspires awe and excitement when experienced. 2021 marked its 40th anniversary after becoming a national monument, so clearly this is a treasured area for the Icelandic people.
How to get to Dynjandi Waterfall?
You can get there by car or by joining any Ring Road tour.