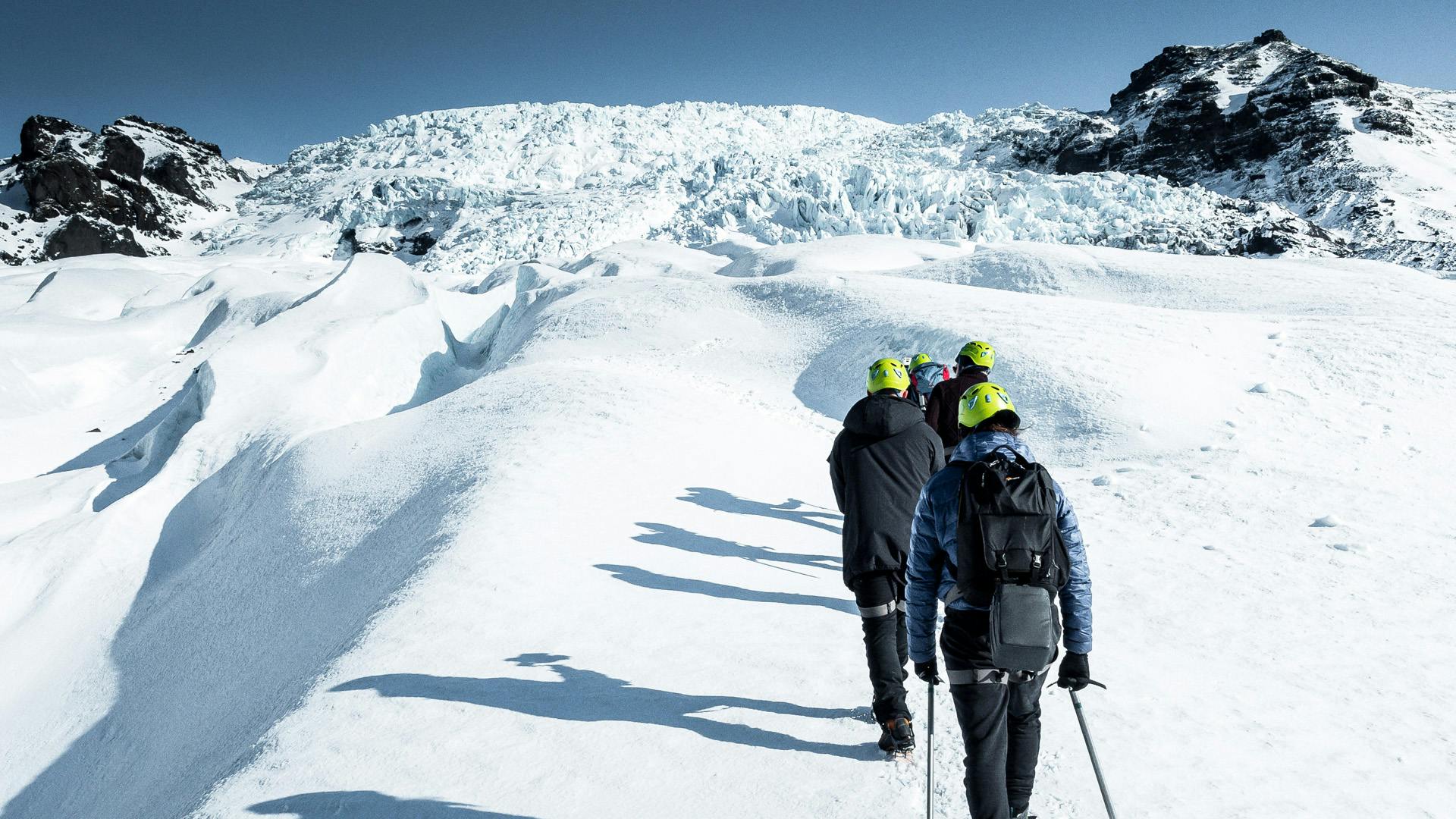 The Greatest Glaciers in Iceland
How cool is it that you are only a few hours away (flying) from a real and live glacier?
Iceland has many glaciers,but which one should you visit?
Who is the most exciting and what are your options so maximize your experience in Iceland?
Are you an advanced hiker or do you just want the perfect instagram photo opportunity?
Maybe in a Beautiful Blue Ice Cave? 
In this blog we will talk you through your best options for sightseeing and activities for your glacier adventure in Iceland.
Ice Ice Baby
For us, locals in Iceland, we find it somewhat fascinating that people travel to Iceland to see snow on their vacation. 20 years ago there was almost no tourism in Iceland during winter and for a few summer months tourists used their free layover option with Icelandair crossing the Atlantic ocean for one night. Then, their only option was The Golden Circle. Back then, I would never have thought that snow and ice would be such an attraction as it is now.
Today, Iceland is one of the most exciting places to visit as the way we travel has changed a lot in the last 20 years. Today tourists are looking for a unique experience and a bit more adventure on their holiday and what is cooler (snorkeling perhaps) than going to see a glacier.
Are Glaciers Alive?
If you are planning a trip to Iceland you most likely have snow and ice on your bucket list. As almost 10% of Iceland is covered with glaciers that should not be a problem at all. 
A glacier is, in simple terms, a huge frozen river of ice. Glaciers form in places where snow doesn't melt, while building upon mountains it compresses and transforms into ice, a process that can take centuries in the making. 
Roughly, 50 meters of snow compress into 1 meter of ice!
Scientists tend to speak of glaciers as if they are living creatures. It is true that there is life occurring under the ice and on the surface with ice algae, ice worms and bacterias living happily together. And make sure you walk on a Glacier!
Below we list some of the most fascinating glaciers in Iceland and more importantly, we give you our best recommendations on how to experience glaciers in Iceland.
Mýrdalsjökull Glacier
Mýrdalsjökull Glacier is located in Katla Geopark. A two and a half hour drive from Reykjavik following road 1 east towards the small picturesque village of Vík í Mýrdal. To the north of the village sits the most feared glaciers in Iceland. This area is a must visit for your Iceland holiday, especially one of Iceland's hidden gems, if it is open, The Katla Volcanic Black Ice Cave.
What to do around Mýrdalsjökull Glacier?
1. Visit Vík í Mýrdal
This remote picturesque seafront village sits in the shadow of Mýrdalsjökull glacier. The village is so small that it takes you less than an hour to walk from one end to the other. Take a walk on the black sand beach and you can find a great photo opportunity with the majestic Dyrhólaey in the background. Vík í Mýrdal has a lovely Lava Show which is a nice option if you are waiting to join a tour and want to witness how lava forms. 
2. Explore Katla Volcano Ice Cave
Underneath the ice cap of Mýrdalsjökull Glacier dwells the largest active volcano in Iceland, Katla. Katla, an ancient nordic name, is the feminine form of "cauldron", a cauldron of fire from the earth's core. Scientists say that eruptions from Katla can be with more force and destruction than the infamous eruptions that happened in Eyjafjallajökull in 2010. The last eruption in Katla was in 1918 and she has erupted at least 20 times since settlement in 874 AD. Eruptions in Katla usually cause large glacial outburst floods that come down east of the village Vík í Mýrdal. Check out the Icelandic Netflix series KATLA for a sci-fi inside to what an eruption in Katla might look like.
And of course, let's not forget the famous Katla Volcano Ice Cave (which is covered with 100-year-old volcanic ash) – one of the most visited ice caves in Iceland.
If you want to skip the mass-tourism and witness an ice cave that is truly off the beaten path, then we urge you to join one of the small group tours that leaves from Vík to Katla Ice Cave. The journey is up to an hour and is only passable for offroad vehicles. There are only a few departures every day giving it a unique experience being almost alone on a glacier. 
To get there, you'll take a ride into the highlands where you will pass majestic mountains and fields of moss. Find out more here if there is a departure when you are in Iceland.
3. Go to Þakgil – Roof Canyon
Þakgil is one of the island's hidden gems. Only an half an hour off the ring road and you are fairytale land where you will find many unique short easy hikes. The road is a bit bumpy and only accessible during summer. The small area has few bungalows and we would recommend booking it in advance as it is such a magical place. There is also a camping site with showers, kitchen and even a cave that has a public barbecue free of charge!
How to get there: From Vík í Mýrdal the drive is almost an hour. You drive east from Vík until you come to the left turn where you will see a sign marked Þakgil. The road does not have a number like most roads in Iceland but it has a name, it is called Kerlingardalsvegur. Continue on that road until you cannot go any further, that means you are in Þakgil. Unless it is winter, then please do not drive that road as it will be impassable. 
4. Explore Mount Hafursey
Hafursey is an exceptionally beautiful palagonite mountain, situated southeast of Mýrdalsjökull Glacier. Hafursey used to be an island in the Atlantic Ocean, however, volcanic eruptions in Katla causing glacial outbursts, jökulhlaup, means that centuries ago jökulhlaup reached Hafursey and made it part of our mainland.
Driving towards Hafursey is off-road and the way there can be difficult and even dangerous in certain conditions unless you have the right vehicle. We recommend that you go there with a professional tour guide who knows what she is doing.  It is not only safer but also more fun that way!
On the Katla Volcano Ice Cave Tour, you will pass Hafursey, which is relatively close to the Katla Glacier outlet. From there the views of Hafursey are breathtaking. The drive there over the black sands of Mýrdalssandur is stunning, giving you a close up look of Hafursey while passing it. 
Sólheimajökull Glacier Outlet
If you are in Iceland only for a few days and you want to add a glacier to your short itinerary. Sólheimajökull Glacier outlet would be your best bet as it is closest to Reykjavik.
Sólheimajökull glacier is an outlet from Mýrdalsjökull glacier. It is a very popular location for glacier hiking and ice climbing since it's easily reached from the ring road and closest to Reykjavik. There are various tours and exhibits that will take you up close and personal with the glacier but it is important to note that no one should attempt to hike a glacier without a trained guide. 
The glacier is rugged and full of impressive ice crevasses, making it an ideal location for glacier hikes and ice climbing. 
Self-drive is easy, just follow road 1 east until you reach road 221 where you will take a left turn. From that turn your meeting point is only 10 minutes away. The drive from Reykjavik is 150 minutes. You can join a glacier hike or if you are up for something even more adventurous you could try ice climbing.
If you would like to join our small group minibus tours that include a 2-hour hike on the glacier our South Coast Adventure Tour would be our top pick.

Vatnajökull Glacier National Park
The gigantic Vatnajökull glacier is so big it has its own weather system. It is so big it is the largest glacier in Europe. It is so big it has 40 glacier outlets and 7 active volcanic systems. It is huge. So, let's take a look at the most interesting glacier outlets within this UNESCO World Heritage Vatnajökull Glacier.
What to do around Vatnajökull Glacier?
Iceland's largest glacier is one of the most visited places in Iceland, which offers a lot of activities and sightseeing. To get the ultimate experience we highly recommend joining an activity/tour as it is the best way to enjoy this stunning glacial wonder. Below you will find which glacier outlets you should visit and what options you have for your epic adventure. 
1. Explore Falljökull Glacier Outlet
One of the most intriguing glaciers in Iceland is a glacier outlet from Vatnajökull Glacier called Falljökull Glacier or "The Falling Glacier". It is famous for its steep, flowing ice fall and dramatic mountains. When you see amazing instagram posts of glacier hikers on a stunning glacier, in most cases they are standing on Falljökull Glacier. 
At Falljökull, you will also experience a natural phenomenon that cannot be seen anywhere else in the world, a 'Zombie Glacier'! As mentioned earlier in this glacier blog, scientists think that glaciers are alive. However, when Falljökull Glacier detached from its upper half it was thought that it would die. When a glacier is said to be dying, it has been thought to do so in one of two ways. A. It can retreat, with summer melt rates outpacing the absorption of new ice. Or, B. it can stagnate and wither, like a lone ice cube. 
The most famous activities in the Falljökull are:
Glacier Hiking tours
Ice Climbing tours
Skaftafell Ice Cave tours (winter only)
2. Go Glacier Hiking
An easy glacier hike for an introductory experience of glaciers, a tour that lasts 3 hours and you spend an hour on the glacier.
An adventurous 5 glacier hour hike which illuminates the mystery of this dramatically carved glacier outlet, Falljökull Glacier. 
3. Go Ice Climbing
The epic experience on Falljökull would be to Climb an Ice Wall with an ice ax! A comprehensive ice climbing and glacier hiking tour, perfect for those seeking that extra bit of thrill. An experienced glacier guide will introduce you to the basics of ice climbing and much more.
4. Explore Blue Ice Caves
The most popular thing to do on a glacier is entering a naturally formed ice cave. It is a breathtaking feature as you will walk inside the dazzling structure of an ice cave to see the amazing blue ice found within the ice cave.
To get to the Skaftafell Ice Cave, you will need to cross a part of the Vatnajökull glacier, therefore this can only be done if you have the right equipment with you (eg. crampons, helmets, harnesses) or by a guided Skaftafell Blue Ice Cave tour.
Breiðamerkurjökull Glacier Outlet
Breidamerkurjökull Glacier is the largest of 35 glacial outlets/tongues in Vatnajökull Glacier. If you think of an ice cap like the palm of your hand, the glacial tongues that come down the mountains are the "fingers".But wait, Braided-murky-wha? What does it mean? Breidamerkurjökull means "wide, woodland glacier" in Icelandic. To get to Breiðamerkurjökull Glacier from Reykjavik just follow road 1 east for 5 hours and then you will find yourself at Jökulsárlón Glacier Lagoon. The drive can be winding and it is recommended to spend at least two days for this journey.
What to do around Breiðamerkurjökull Glacier?
Breiðamerkurjökull Glacier is responsible for the famous Jökulsárlón Glacier Lagoon, The Diamond Beach, and the Crystal Ice Caves that qualified glacier guides take tours every winter. During Tröll multi-day tours you will see all of the highlights Breiðamerkurjökull has to offer. 
1. Take a Boat in Jökulsárlón – Glacier Lagoon
Iceland is filled with amazing landscapes and one of the most iconic locations is located in Vatnajökull Glacier National Park, the Jökulsárlón Glacier Lagoon. The lagoon is filled with Icebergs that have broken off Breiðarmerkurjökull Glacier.
2. Visit the Diamond Beach
The name Diamond Beach comes from all the beautiful, melting icebergs that dot the beach. The Diamond Beach is truly unworldly. A black sand beach with clear, blue tinted icebergs sparkling in the sunshine, shining bright like a diamond. 
The icebergs come from the nearby Jökulsárlón Glacier Lagoon. The icebergs float from the lagoon via Jökulsá glacier river to the ocean but then get washed back onshore by the tides. Many of the icebergs are over 1,000 years old and have made their way through the grand lagoon first as enormous ice blocks. The Diamond Beach is one of Iceland's many black sand beaches. The black sand is a direct result of Iceland's volcanic landscape. The sand comes from the basalt lava found within the region.
3. Explore Crystal Blue Ice Cave
From Jökulsárlón you have an option of entering an enormous ice cave. But getting there you would need to join a Tröll Expeditions Tour as it is only accessible with an offroad vehicle. You will have the chance to explore an other-worldly beauty of a natural blue ice cave. You will also get the chance to experience hidden areas on Breiðamerkurjökull glacier outlet. You'll see all sorts of ice formations from impressive caves to ice tunnels formed by the dynamic ever-changing Icelandic nature.
Eyjafjallajökull Glacier
Eyjafjallajökull Glacier is Iceland's famous volcano with the long name that can be very difficult to pronounce. It is the 6th largest glacier in Iceland. It is located near the south shore between Mount Hekla and Mount Katla, two active volcanoes. Also an active volcano, Eyjafjallajökull is completely covered in an ice cap that feeds to several outlet glaciers.
What to do around Eyjafjallajökull Glacier?
The name Eyjafjallajökull may sound complicated, but its meaning is very simple and can be broken down into three parts: "Eyja" means island, "fjalla" means mountains, and "jökull" which means glacier. So when put together, Eyjafjallajökull means "glacier on island mountains."
1. Hike Fimmvörðuháls Trail
The route across Fimmvörðuháls lies between two glaciers, Eyjafjallajökull and Mýrdalsjökull, and connects Skógar to the oasis behind the glaciers called Þórsmörk.
This is one of the most popular hiking trails in Iceland, but possibly also one of the most dangerous due to the rapid changes in the weather that may occur during any season. While it can be calm and sunny in the lowlands of Skógar and Þórsmörk the weather at the peak of the trail (approx. 1000m above sea level) can be totally different.
2. Visit Skógafoss Waterfall
Skógafoss waterfall is an incredibly picturesque sight: tucked in a little gorge, the river Skógá tumbles down a 60 meters cliff before continuing down the landscape towards the Atlantic Ocean. Alongside the gorge, a staircase can take you to the shelf above the waterfall for stunning views. This is a must stop on your way towards a glacier hike at Sólheimajökull as it is only 10 minutes from the waterfall.
3. Relax near Seljalandsfoss Waterfall
Seljalandsfoss is one of the most breathtaking waterfalls in South Iceland with a whooping 196 ft (60 m) cascade. The waterfall is loved by travelers because you can actually walk behind it! 
The waterfall is formed by the Seljalands River, which originates in Eyjafjallajökull Glacier. Filled with glacier meltwater, the river rushes south and cascades down the high rugged wall of the cliff.
Seljalandsfoss waterfall in Iceland
This is a perfect stop on your way to or from your glacier adventure. You can also join a tour to witness this magical waterfall as well as doing a glacier hike.