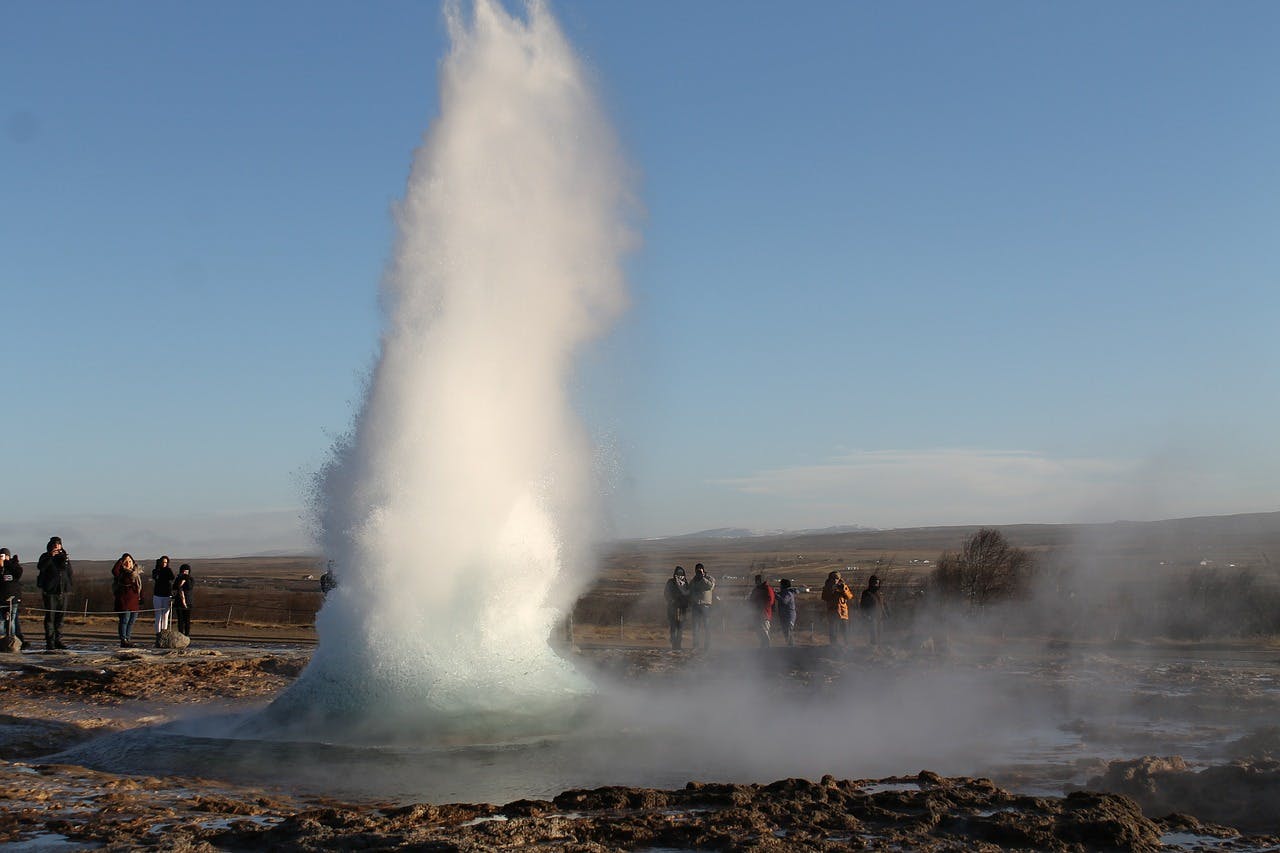 The Great Geysir in Iceland
We at Tröll Expeditions have a passion for showing you the raw nature of Iceland. We now create 360º content so you at home can see for yourself how other-worldly our destinations are. We are very fond of the geothermal area of the Great Geysir to feel its energy and experience its geothermal power. For that reason, we'll kick off this project with Geysir! Over the next weeks, we will make 360º videos and pictures of other places we visit during our tours. We have also collected fun #TeamTroll facts about it for you to know more about this unique and famed Icelandic wonder and complete this 360 radiography.
Fun Fact #1
Geysir gave its name to geysers in English
Geysir is so famous that its name got stuck to all other geysers in the world, at least in the English and Spanish speaking world. In Icelandic we have the word hverir for geysers, so only the Great Geysir has that name in Iceland.
Fun Fact #2
Geysir was once sold for 3000 Kronur
Once the Geysir area, including the Great Geysir, and the geysers Strokkur, Litli-Geysir (Small Geysir) and Blesi was sold to an Irishman named James Craig. Earlier owners of the land in Haukadalur valley had tried to sell the area to the Icelandic government but the government refused. The price Craig paid on 9th of April 1894 was 3000 kronur which was a bit more money back then. Craig did not do much with the area and later gave it to his friend because Craig′s father was not happy with the buy. Then in 1935 Sigurður Jónsson bought the land and gave it to the Icelandic state and since then it has open to visitors.
Fun Fact #3
About Geysir's Retirement
Lately the Great Geysir has been growing old and does not erupt anymore. There is still much to see in the area with the geyser Strokkur erupting regularly and high geothermal activity in general. The reason why Geysir does not erupt anymore is because of its size but since it has grown so big the pressure cannot build up sufficiently for eruption. However, in 2000 after an earthquake in the area, Geysir started once more to erupt and did so for a short while, so it′s possible Geysir might come out of retirement again.
Fun Fact #4
In its younger time the Great Geysir used to erupt quite regularly and quite spectacularly, with its prime being in 1845 when it erupted up to 170 metres (560 ft.). In comparison, Strokkur, the most active geyser in Iceland now reaches 30 metres (98 ft.) so it must have been quite a sight back then. You can experience the Great Geyser along with the waterfall Gullfoss and Þingvellir National Park in our Golden Circle tour. Combine it with a Snorkel Tour in Silfra or a Farm Visit.