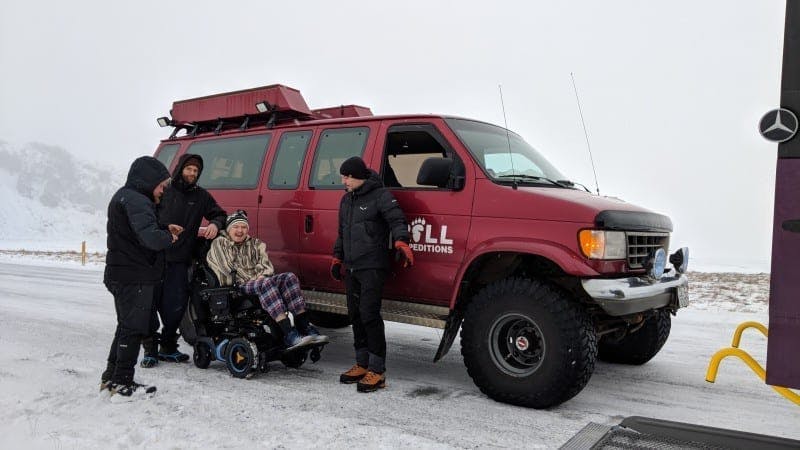 Team Tröll Supported Brandur′s Adventure to Nepal
We at #TeamTroll have a special connection with Nepal since our company began with the expeditions of our Troll founder to Nepal. For that reason, #TeamTroll is fond of strengthening the ties between Iceland and Nepal. Our friend Brandur, a quadriplegic mouthpainter, social entrepreneur and adventurer, went to Nepal in 2019. We were proud to support him in this beautiful adventure and you can too follow Brandur and see his travels to Nepal, where he painted with his mouth and worked with local social entrepreneurs.
Written by Vignir. Edited by Alondra Silva Munoz.
Brandur′s Mission
Brandur is an artist that has painted with his mouth since he was affected by an unknown paralysis. At first, he was feeling down and desperate but through his art and social work he has found strength and a new purpose in his life. Now he has already founded Frumbjörg, which is an innovation center and start-up incubator in Reykjavík which offers a home to those working on developing next generation assistive and welfare-oriented technologies.
Not only is he a social entrepreneur but also, he has also realized his dream of going paragliding in 2014, but with good help of Gísli Steinar Jóhannesson, Glacier Guide at #TeamTroll, Brandur raised money for this adventure and a custom-made paragliding chair. Gísli is dear to us at Troll and we are proud of his work with our friend Brandur. Brandur is a genuine adventurer like us at #TeamTroll. He′s also a true friend since he helped us one time when our Super Jeep got stuck in Vík, Brandur was there with us exploring the country.
https://www.youtube.com/watch?v=XT-QYVLfhvk&feature=youtu.be
Brandur′s Adventure to Nepal
Brandur has gone to Nepal with his team. He planned his trip there to this magnificent country and raised money for this adventure. In Nepal, Brandur will be faced with some of the most difficult conditions of accessibility for disabled people he has ever met. Brandur did not to let that stop him and he tested how far he can go in his wheel chair. He also practiced his art of mouth-painting and how to be a mentor to Nepalese entrepreneurs, he exercised with a master of ancient medical practices to see if that improved his health
Brandur met his goal for his travels on Karolinafund
His adventure started on the 5th of March 2019 and he returned to Iceland on the 19th of April, he met his goal of 5.000 euros and almost 2.000 euros more, Brandur could then travel in Nepal more extensively. He also visited schools there to talk to the school children how it is being a disabled man in Iceland and how he has fought for the rights of disabled people in Iceland.
We at Troll supported the crowd founding of Brandur′s journey and are grateful that he made it on his trip. Brandur and his team made this extraordinary journey happen. People could donate any amount of money to the campaign, but the rewards he put up for people that chose a specific amount were very unique.
For only 10 euros people would get a personal message and picture from Brandur, going up to 20 euros you would get a ticket to his Brandurfest conference, then an unique Brandurfest t-shirt was 110 euros. For art lovers you could've gotten copy prints of his paintings painted in Nepal for 205 euros but an original art piece for 395 euros. Brandur is a dreamer and his ultimate dream is to set up an investment fund that aims to impact society and nature in a positive way. 
You can see the Karolina fundraiser page he had (here)
You can follow Brandur on Instagram to see how his Nepal adventure is going (here)
Finally, we send the best wishes to Brandur and his team and hope he has more amazing trips coming for him.
All pictures posted in this article are from Brandur Karlsson's personal collection.