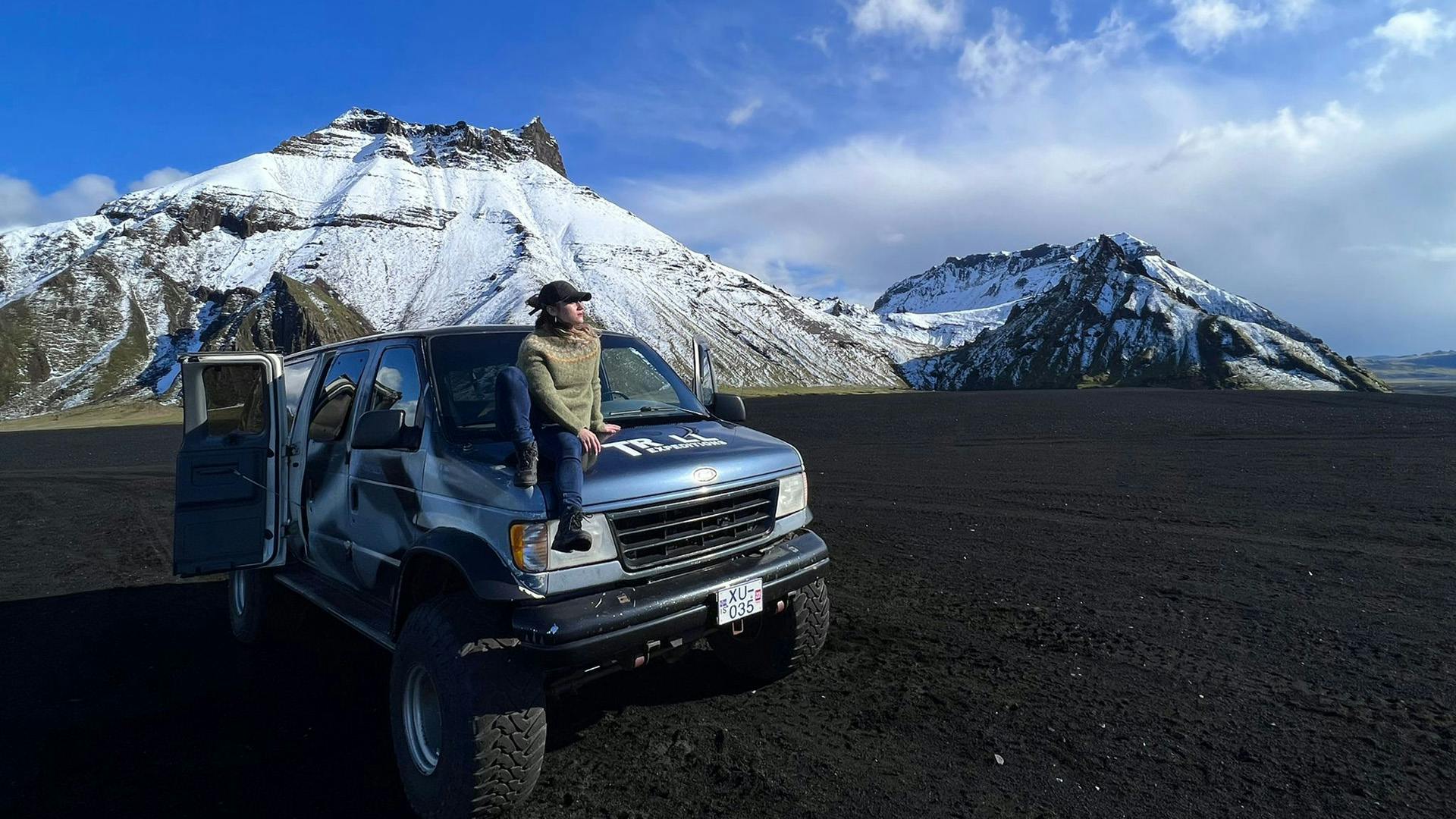 Stay Safe in Iceland
On an adventure holiday in Iceland, many travellers opt to rent a car and rough the roads and mountains on their own. While chauffeuring oneself around the island can seem to have the advantages of flexibility and privacy, anyone planning on heading into nature and experiencing this unpredictable terrain, can always find themselves at the mercy of the elements. Without a great deal of knowledge about Iceland's many sights, diverse geological makeup, weather conditions, and even road safety, the average traveller can end up completely unprepared for the potential threat that even the most stunning, seemingly innocuous, scenic location has to offer.
At Tröll Expeditions, we always recommend booking a guided tour for this reason, either by going with group excursions, or for those who prefer more flexibility and autonomy, even a private tour. Guides are not only fully trained and extremely equipped to avoid dangerous situations throughout Iceland, they are also very eager and prepared to accommodate every traveller's itinerary and come up with a plan that is just as compliant as if one was driving around on their own. In fact, having a travel agent at a tour operator to help plan the trip and keep one safe can even provide a greater degree of freedom as they will apply their staff's expert knowledge to giving you a perfectly tailor made journey, if one so chooses, while also going above and beyond to keep everyone safe – alive and in one piece!
The Tröll Rescue at Arnarstapi Cliff 
Unfortunately, there is frequently too much news of tourists ending up in life threatening or even fatal situations. In late June during our tour to the peninsula of Snæfellsnes in the west of Iceland, one of our own Tröll guides, Jón Hilmarsson, had to save a man from the cold North Atlantic ocean after the man fell backwards from a cliff's edge. "We were located in Arnarstapi on our Snæfellsnes tour and a customer came running telling me a man had fallen off the rocks and in the ocean and we needed a boat to save him," says Jón, about the incident that occurred on June 24th. "I rushed to the nearby farms to see if they had boats, and on the second farm I met a man named Geir who had a boat available."
After that, Jón and Geir drove to the harbour where they were joined by another local named Jóhann, and detached the boat. "It felt like it took forever" Jón continues. "We started sailing. We had no idea what would await us or where exactly the man had fallen in the ocean." As they approached the cliff where the man had fallen, they saw people standing and pointing towards the location to help guide them towards the right location. Finally they spotted the injured man, an unguided foreign solo traveller, who was hanging from the rocks of the cliff, his body mostly underwater, struggling to hold on. "Jóhann threw him a lifebuoy but the man struggled to reach because he was clearly exhausted" Jón describes the harrowing rescue. "He was also covered in blood after cuts from the sharp cliffs he was holding on to. We were finally able to get the boat close to the man and drag him towards us".
Finally, the three men were able to get close enough and reach in to get the injured man on board. "When we got to him only his head was sticking out," adds Jóhann. "He had no force and he was completely cold and lifeless. He was conscious but he couldn't move". Although conscious, the man could not speak and they had clearly arrived in the nick of time.
Once securely in the boat, they raced back to the harbour where they were met by an ambulance. The Search and Rescue team and a National Coastguard helicopter arrived shortly thereafter, who airlifted the man back to Reykjavík for medical treatment. Luckily, thanks to Jón's quick response and the presence of guided tours at the time, the man survived his injuries. "The man had been photographing on the edge of the cliff when he fell backwards and in the ocean," explains Jón as to how it happened in the first place. "The cliff was wet and slippery from recent rain which made it very dangerous to be so close to the edge."
Since the man was not on with a guide, and due to the minimal amount of cautionary signage at natural sights, he was not aware of the danger and the great risk he took in order to capture his image. Turns that Arnarstapi's cliffs can be very slippery after a rainy day and being there on your own, doing something that seems so harmless like taking a picture, without anyone with an insider perspective to provide, could put your life in great risk.  "We were lucky to have found the fisherman with an available boat as well as the local because it needed the three of us to lift the injured man," says Jón. "Due to the circumstances in the area, we can't guarantee that it would be as successful if another accident happened in the area."
The Icelandic Pledge
Indeed, there have been many tragical cases in Iceland's most famous sights, such as several cases at the Reynisfjara, the black sand beach, unguided travellers have not been so lucky and have lost their lives by venturing too close to the edge, same goes for Jökulsárlón, the glacier lagoon where visitors have fallen into the freezing cold glacial water. The tourism board initiative Inspired by Iceland recommends that tourists always inform themselves of the risks at their Icelandic dream destinations, and take tours or guides to those locations with more present danger. They have even created The Icelandic Pledge – click here, which gives visitors the power and responsibility to have the safest possible trip here.

The Pledge goes:
"I PLEDGE TO BE A RESPONSIBLE TOURIST.
WHEN I EXPLORE NEW PLACES,
I WILL LEAVE THEM AS I FOUND THEM.
I WILL TAKE PHOTOS TO DIE FOR,
WITHOUT DYING FOR THEM.
I WILL FOLLOW THE ROAD INTO THE UNKNOWN,
BUT NEVER VENTURE OFF THE ROAD.
AND I WILL ONLY PARK WHERE I AM SUPPOSED TO.
WHEN I SLEEP OUT UNDER THE STARS,
I'LL STAY WITHIN A CAMPSITE.
AND WHEN NATURE CALLS,
I WON'T ANSWER THE CALL ON NATURE.
I WILL BE PREPARED FOR ALL WEATHERS,
ALL POSSIBILITIES AND ALL ADVENTURES."
In the very worst of circumstances, the Icelandic Search and Rescue team is committed to helping the safety of every traveller in the country. However their time and efforts do come at a monetary expense after the fact, and their resources and bodies can be quite limited. For that reason, we ask you to never take the risk, and for the greatest trip possible, always take a Tröll.
Stay Safe in Iceland – Always Take a Troll