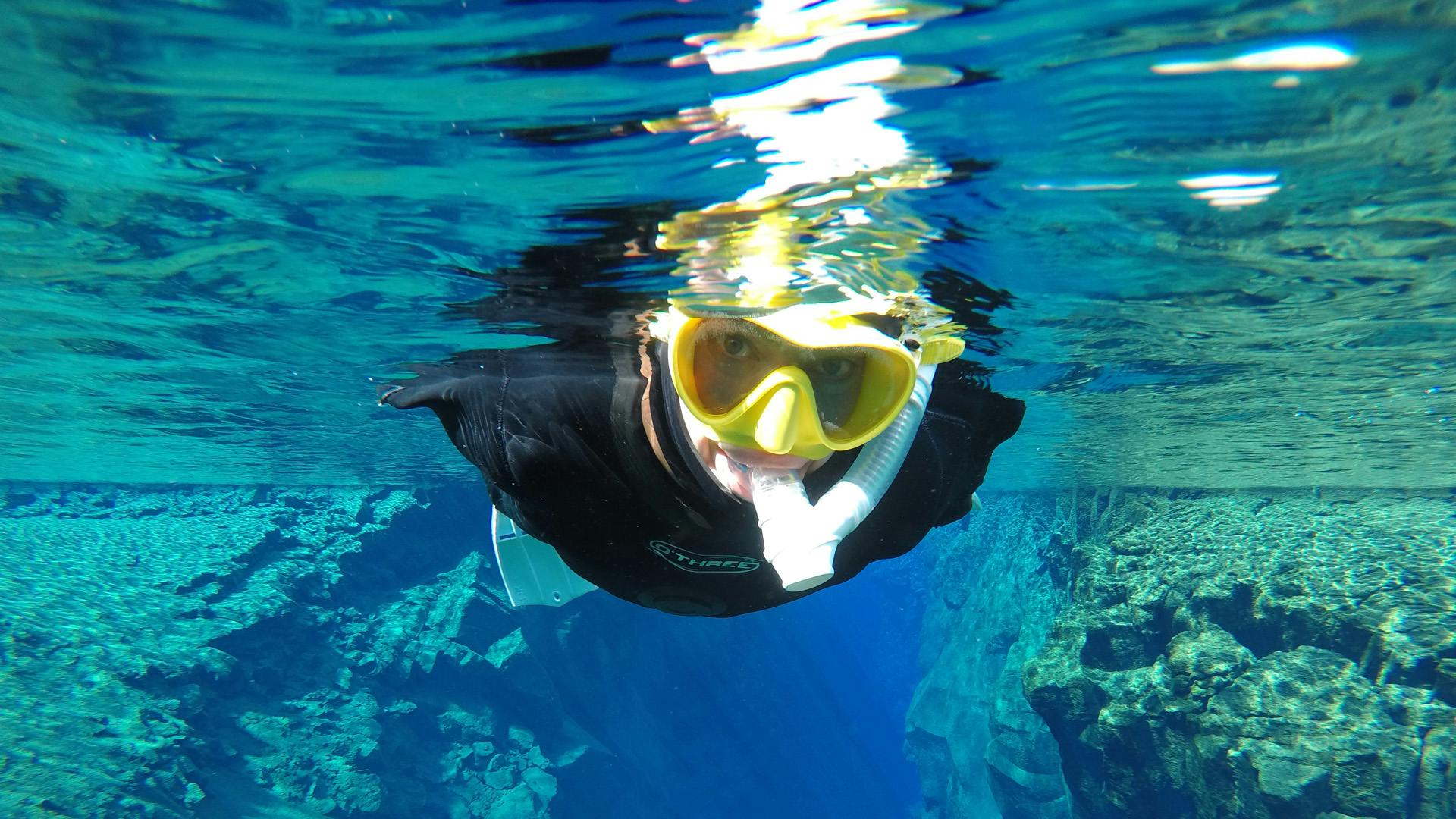 Snorkeling in Silfra - ALL you need to know
Snorkel in Silfra
One way to experience something that is impossible to do anywhere else in the world, is to go snorkel in Silfra, which is just a short drive from Reykjavik, located in Þingvellir National Park.
While you float along the cliffs and watch the breathtaking landscape your guide takes awesome pictures of you swimming between the continents. The pictures will be available for you shortly after the tour.It is no wonder why National Geographic called the site one of the top dive sites in the world. With crystal clear blue water and over 100 meters of underwater visibility, you can explore the valley where the tectonic plates of North America and Europe drift further apart every year. It is a whole another experience to snorkel in it rather than just take a walk a long the site. The magical blue light and incredible geology beneath the surface makes the snorkel tour fascinating. You will float through the valley with your guide and a small group of adventurous people with no disturbance at all.
Even though swimming outside in Iceland might sound too cold, the high-quality gear will protect you and you should not feel cold at all. The only thing you must bring with you is comfortable clothes to wear under the suit and your excitement for adventure!
After your tour the guide will also give you hot chocolate and a chocolate bar, which cannot be a disappoint.
What can I do to make my trip unique?
When choosing what to do on your trip to Iceland, there are endless ideas. All from walking along the beautiful Black Sand Beach, taking a dip in a natural hot spring or experience real Ice Caves.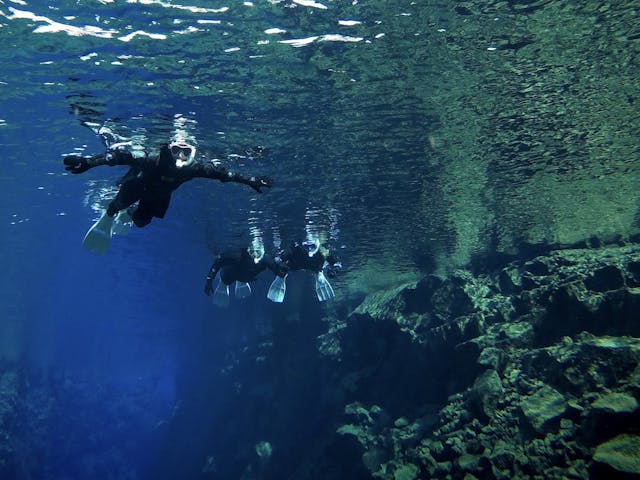 Why should you take the Golden Circle also:
The Golden Circle with snorkel means you will visit Gullfoss waterfall which is one of Iceland's most favorable treasures. It is two waterfalls, one with a drop of 11 meters and the lower one with a drop of 21 meters. You will also visit Þingvellir national park which is not only known for being the only UNESCO World Heritage site on the Icelandic mainland, but it was also used as a shooting location in HBO's Game of Thrones series. However, for Icelanders, the national park features a lot of Icelandic history since the annual parliament of Iceland started there and was there until it was last held in Þingvellir in the year 1798.
You will also go to Haukadalur, where the first geyser is, Geysir. Unfortunately Geysir has stopped erupting but there are many smaller geysers on the field.
Thankfully Geysir's little brother, Strokkur erupts every 4-10 minutes for up to 40 meters every time of boiling water which is truly amazing to witness. Strokkur, is arguably, the country's most famous hot spring and definitely a must-see when visiting Iceland.