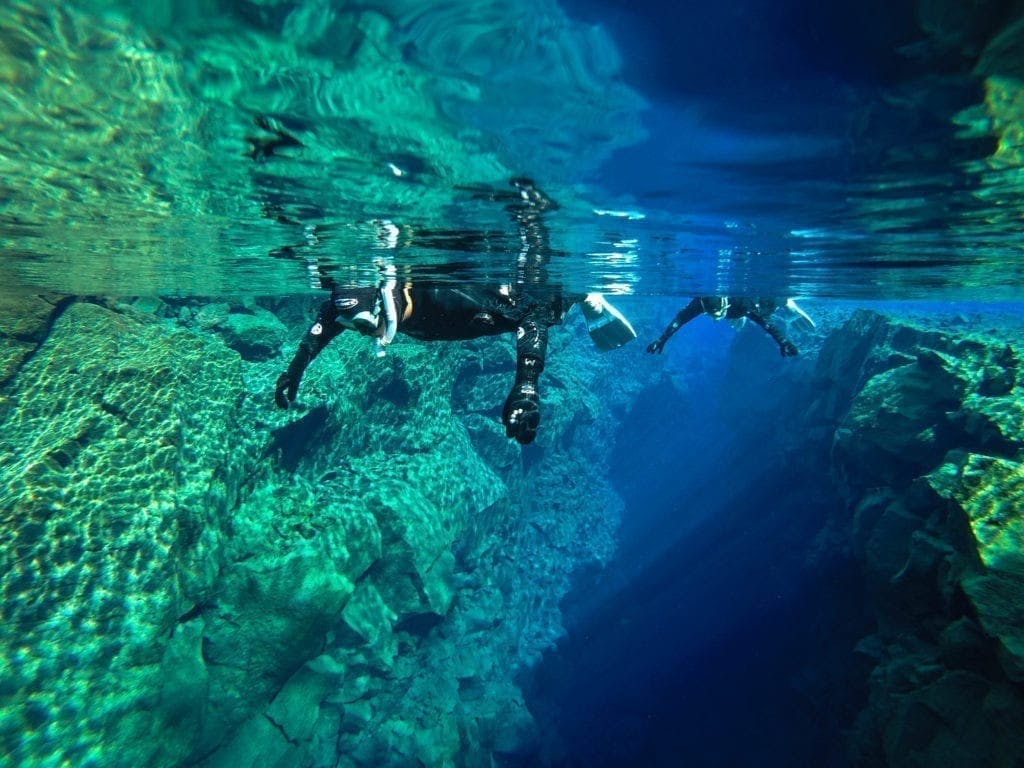 Silfra Snorkeling Experience
At Tröll Expeditions we are happy to welcome Icelanders and residents of Iceland in our tours. Our friends Lína and Agnes from Akureyri joined for snorkeling in Silfra and wrote a very interesting article about it. Check it out! Translation from Icelandic by Sigríður Ýr.
The comfort zone is a comfortable place to stay in, as its name indicates. On the other hand it is unlikely that you will learn new skills or experience something new while you stay within that zone. When I saw that Tröll Expeditions were offering Icelanders to join for snorkeling in Silfra I knew it was an opportunity I had to use. I convinced my friend to join me, since i knew she also seeks to go out of the comfort zone.
To join we had to go over their medical statements and answer the questions that we then had to turn in. We prepared well by reading the Tröll webpage and the follow-up email we received after booking the tour.  We packed warm base layers, warm and thick socks, extra clothes and a towel (also, swimsuit if we would have to get in a hot tub afterwards to get out body temperature up.)
We drove from Akureyri to Borgarnes on a Friday afternoon and stayed at Hótel Hafnarfjall (olf Motel Venus) (…) Then it was time to head to Þingvellir National Park, but I haven't been there since before the year 2000 I think. It was easy to find the meeting point, but from there we drove further to the parking lot (P5) and parked the car. It took us only about 5 minutes to walk over to the meeting point from the parking and at the meeting point we found vans from various companies that offer snorkeling in Silfra. We found our team immediately and the preparation started.
Þingvellir is a beautiful place. The preparation took a decent amount of time, but from start to finish the activity took about 3 hours, around 40 minutes of that time went to snorkeling. First we got a warm onesie with fleece on the inside. On top of that we put on a drysuit with shoes attached. When we were half way in the drysuit we got a short lecture from our guide Dimitris, which informed us about the history and geography of the area as well as telling us what we need to watch out for.  After that we continued to put on the gear, squeeze the head through the tight neckline of the drysuit. We got straps around our wrists and necks to prevent water to enter the drysuit. We then got hoodies, googles, snorkel, gloves and fins.
It was time to walk towards Silfra where we started the swim. The drysuit is sealed for both water and air so it floats – we were like balloons in water and could not sink. There is a light current in Silfra so you barely have to swim, you float with the current.
The water in Silfra is about 2°c warm – or more like cold. This water comes from Langjökull Glacier and travels for about 50 years through lava before entering Silfra. Believe it or not – you barely feel the cold though. Your lips will get cold since they are exposed and if you move your hands alot the cold water might get in your gloves. (but it still wasn't worse than driving a car in winter when you forget gloves) On the other hand, the Americans were freezing and went out of the water at first chance.
They say that the water in Silfra is the clearest water on earth, but when you snorkel you see the bottom of the 22 metre deep fissure. The landscape under water was magnificent, and the whole experience was too! It was so relaxing to lie in the water, look down and float forward. You could not hear anything in the water so there was peace and quiet. (as a mother I'd say it's a massive benefit!). It's all about lying, floating, and enjoying the view! And on top of that our guide had a GoPro and took plenty of photos underwater for us – and the photos are free! In the end we got hot chocolate before we headed back home.
I want to compliment Tröll Expeditions for this offer and thank them dearly. Our guide was outstanding and clearly had much experience in diving and snorkeling, was very proficient and cool. We were not bored watching this Greek God! I can't praise them enough, the company, the offer and the experience. Now I am hoping to also join their glacier hike!