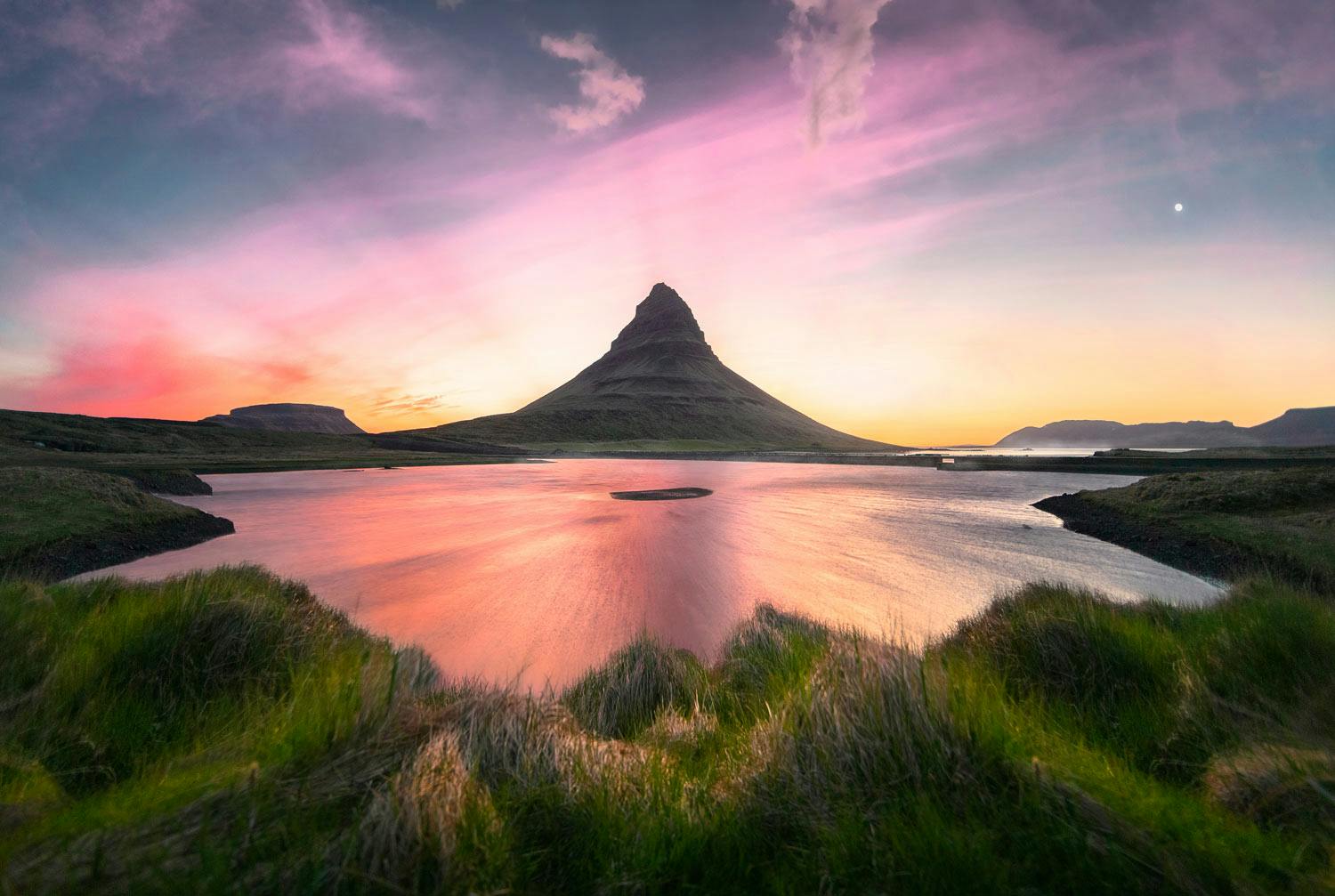 Romantic Weekend Getaway to Snæfellsnes
Written by Jóhannes. Edited by Alondra Silva Munoz.
Last week, my wife and I went on a wonderful 2 day tour for the weekend to Snæfellsnes with Troll Expeditions. My wife, who is German, hadn′t been there before and was very curious about getting to know the region, which has been described to contain the whole of what Iceland has to offer in one day. Why? Because in this small peninsula, you can visit the glacier Snæfellsjökull, see magnificent cliffs and mountains, waterfalls, and even a volcanic crater – not active anymore of course.
We wanted to have enough time to see all the sights in Snæfellsnes so we picked the two day tour for our trip and stayed one night in a very nice hotel in Stykkishólmur. It′s also possible to have a day trip seeing most of the Snæfellsnes peninsula in that time but me and my wife how ever wanted the whole weekend to ourselves and to celebrate our wedding anniversary there, so we selected our favorite tour operator for this celebration and it exceeded our expectations.
We started the tour off on a Saturday morning being picked up from Reykjavík. Our first stop was Hraunfossar and Barnafoss, which are two beautiful waterfalls. Hraunfossar are hundreds of small streams coming from a lava field flowing into the river Hvítá. Right next to it, we visited Barnafoss ("The Childrens′ waterfall"), where local legend tells that mother removed a natural stone bridge in the waterfall after her children fell into the river on an icy day, but the waterfall is known for those stone bridges forged by the river stream.
Our next stop was the hot spring Deildartunguhver which our guide told is Europe′s most powerful hot spring with a temperature of 100°C (212°F) where 180 liters of hot water flow every second! That hot water is also used for the central heating of the towns Borgarnes and Akranes in West Iceland. In fact, if you take a bath or go to the swimming pool in these towns or near Deildartunguhver you have already bathed in the hot water that comes from this hot spring. The sheer force of this hot spring meant that we already saw the steam coming from Deildartunguhver well before reaching our destination.
After visiting Deildartunguhver our next stop was really something for a history buff like me: Reykholt in Borgarfjörður. Reykholt was the farm and homestead of the 13th century writer and politician, known for Snorri's Edda which tells of the old Nordic gods, Heimskringla which is a compilation of stories about the Norwegian kings and other manuscripts and books. Snorri is also thought to be one of the first Icelanders to build a hot pool which can be visited at Reykholt, but reykur means smoke in Icelandic and this farm is ripe with geothermal energy today powering a swimming pool, green houses and other buildings there. Two hot springs, Skrifla and Dynkur are also near Reykholt. From early 20th century there has been a school and two churches in Reykholt and nowadays there is a hotel and a research center in medieval studies, Snorrastofa ("Snorri′s study)". When in Reykholt we could really feel the history under our feet and it was a very interesting place to visit, I would not have liked to miss out on that, but it′s not offered in the one-day tour in Snæfellsnes.
Next it was time to really enter the Snæfellsnes peninsula and visit Gerðuberg, which are impressive basalt columns. Although I had been a few times to Snæfellsnes, I had never visited this hidden gem. These columns are quite impressive and the view from Gerðuberg is spectacular, overlooking the nearby mountains and the volcanic crater Eldborg. After Gerðuberg the day was drawing to an end and we headed to our hotel, which was in Stykkishólmur.
Next, day we headed off to Ólafsvík is a quaint little town on the northern side of the Snæfellsnes peninsula. We had reserved a table at the Hraun restaurant. The hotel was quite nice and comfy and after a long day we looked forward to a nice dinner. Hraun didn′t disappoint us, but it′s a nice family restaurant with cozy interior and delicious food. We had blue mussels in white wine sauce with chili mayo as an appetizer, then my wife ordered a pizza with dates, duck, mushrooms and apples. I had arctic trout with Icelandic barley and a salad. I had a nice glass of wine with the dinner and tasted a piece of the pizza too, it was delicious indeed.
After the dinner we met up our guide which had found out the best place to try to catch a glimpse of the Northern Lights. We headed out of Ólafsvík east towards Grundarfjörður, stopping at a few locations to look if we would see Aurora Borealis somewhere. The first two stops were unsuccessful, but we managed to see soma nice sights in the twilight. At the third location the daylight was all gone, and the darkness were surrounding us, so the guide told us to stay close so we would not lose each other. Then we saw them dancing high up on the sky, the Northern lights, much brighter than I had ever seen before. The conditions were also, not cloudy and still weather without any light pollution. We had a wonderful time.
The day after we started for Arnarstapi which is a small fishing village on the south coast of Snæfellsnes. The South coast has fever natural harbors so fewer villages and towns have been built there. In the North the towns of Ólafsvík, Grundarfjörður and especially Stykkishólmur have a good natural harbor. In Arnarstapi we walked around with our guide which told us about the region. There we saw also impressive coastal cliffs, met a huge stone giant remembering the first settler in the area: Bárður Snæfellsás, but legend tells that he was actually a troll, and some believe that he watches over the region. I had been to Arnarstapi but going back there made me remember how spectacular the view is there. The guide was also very knowledgeable and informed us about many things I didn′t even know about.
Next up was something I was very excited, but my wife was more nervous because we were going into the cave Vatnshellir which I had never done before. We met our cave guide at the entrance to the cave and then got into protective gear. Then he told us about the cave and its origins, the guide was very professional, and my wife soon relaxed and got as interested as me in knowing the cave better. Then we went down huge stairs down into the cave. It′s hard to describe the feeling down there, it was so foreign to anything I have ever seen yet so beautiful. I would not have wanted to miss that for anything in the world!
After visiting Vatnshellir it was time to relax and watch some seals at Ytri-tunga. That was quite fun and relaxing after experiencing the darkness in the cave. Then we visit Lóndrangar to see more awesome cliffs of the coast of the peninsula, in summer this home to many sea-birds the guide told us but when we visited in autumn it was mostly abandoned except for the trolls and elves that might be hiding there. We didn′t see any supernatural beings though.
Then it was time for Djúpalónssandur where in earlier Icelandic fishermen rowed out to see, some never to return. This place affected me in a special way since I come from a family of fishermen for generations. I also tried my strength lifting the "strength stones" but lifting them determined whether one was strong enough to get a seat on a rowing boat. I only managed "hálfdrættingur" which is 49 kilos and meant that I would only get half share of the catch of the day. Then me and my wife walked around the beach but were careful not to get too close to sea since the waves can be very treacherous there, like our guide warned.
Next up it was two places of geological interest, Saxhóll crater and Kirkjufell. Saxhóll is a non-active volcanic crater and is easily accessible by a staircase. Up on the crater we got a good view of the surroundings and the glacier Snæfellsjökull. My wife enjoyed herself very much there since she has limited experience with walking on mountains. Kirkjufell is an impressive mountain which has a very particular shape due to erosion of the glaciars of the last ice age. We took a lot of pictures of the mountain and the nearby waterfall. I had no idea this mountain was so interesting.
Then it was time to head back to Reykjavík. On the way home, we stopped at Búðakirkja, a very quaint and beautiful black church which we thoroughly enjoyed. We took pictures and just liked the tranquility of the place. It was also very romantic and we may have strayed a bit from the group to sneak some kisses in the afternoon. I think our favorite pictures of the tour are from Búðakirkja. This tour was perfect getaway to have some romantic time to ourselves and also experience something new for both of us! Thank you, Troll Expeditions for this adventure to "Iceland in miniature!".