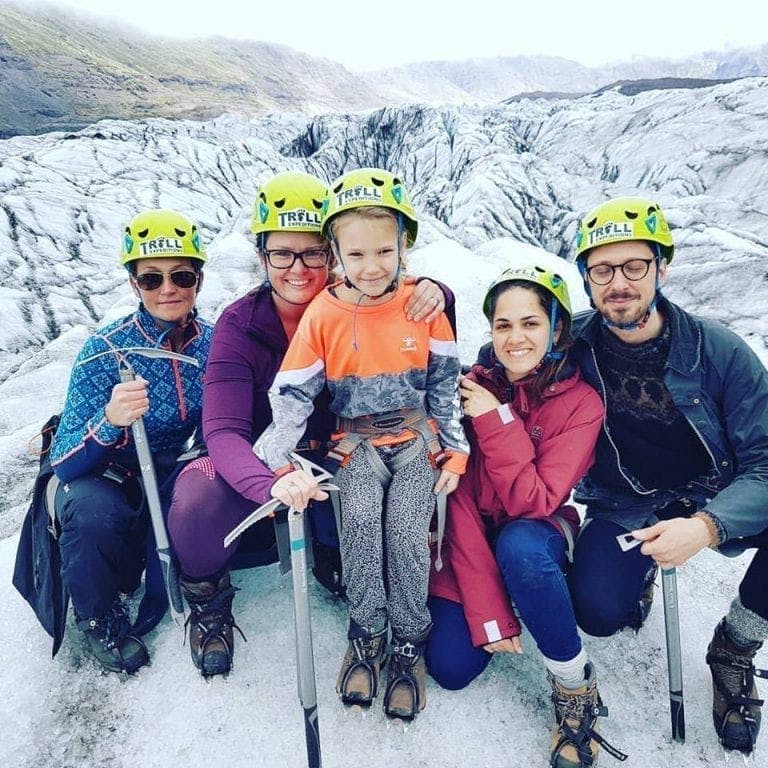 Meet Maggie – Becoming a Glacier Guide
Let us introduce you to our ogre's mom, politician, singer, guide, future glacier guide, and overall outstanding tröll woman and educator, Margrét Gauja, also known as Maggie "The Guide" among our friends.
With 41, she is just now becoming a glacier guide – showing you that it is never too late!
What is your favorite thing about guiding?
Meeting people from all over the world, listening to their stories and watching them experiencing Iceland. And I get an outburst for my need to educate.
What is your favorite place in Iceland?
Without a doubt, Skaftafell. I worked there at a hotel when I was 18 and 19 years old and sitting there and listening to Svínafellsjökull is my happy place. I also lived in Höfn for 2 years and being in the terrain of Vatnajökull never gets old to me. Never.
What is the best thing about the South Coast of Iceland?
The glaciers, no doubt. Vatnajökull and all it's power and glory.
Why do you like working for Tröll Expeditions?
It is a small company with awesome people in every post and the best way to explain the atmosphere in Tröll Expeditions is when I call the administration and say "My son Breki wants to come along with me on a 2 day tour and there is a seat for him tomorrow, can he come?" and the response I get is: "Maggie, you don´t need to ask, of course, Breki is going with you". And meeting other Tröll guides on the road is always so nice, we hug and support each other all the way. I love being #TeamTroll!
How did you come across Tröll Expeditions?
I had just lost elections, I was running for parliament in 2016 and my political party messed up. So I was wondering," what now?" because I am still a member of the Town Council in my town Hafnarfjörður so for me to work a normal job from 9-5 is complicated, being a teacher is not an option. So I put out a status on Facebook saying "I want to become a guide, how do I do that?" and after 3 minutes my friend Matti who was working for Tröll put me in contact with Ingó, the founder. So, we meet and bingo! A year later I am still loving it, I have a license to drive a bus and I am getting trained to be a glacier guide and mountain guide at the age of 41. It is so great that in 2 months I will be a glacier guide! Life never ceases to amaze you!
What do you prefer glacier hiking or ice climbing?
Glacier hiking. Just feeling the glacier underneath your feet, it's force and beauty is enough for me. And I like to do yoga breathing on a glacier and listen to it. Glaciers talk!
What is your favorite tour?
The 3-day tour because It has glacier hiking in it but then again I also love Snæfellsnes, both one day and 2 days because It is an area I don't know as well as the South Coast and is always surprising me!
What is your favorite place in the world?
Lying in a sofa with all my kids and watching Star Wars. Next is being on Svínafellsjökull, preferably with my kids.
If you could live elsewhere in Iceland, where would you live?
I was an exchange student in Argentina 10000 years ago. I would live there, in the south of the country, Patagonia, and work as a mountain and glacier guide and fight for women's rights and well being of young people.
Can you share a funny story that happened in one of your tours?
I can share more than one! Last summer I was driving and guiding in Snæfellsnes. It was a beautiful day and the mountain was showing itself. We stopped and the end of the peninsula and admired it. When we got back in the car, it was a Caravelle, we closed the sliding door and the window went to atoms on the ground. We all looked at each other and start laughing hysterically. There was nothing else to do but to stop at the next gas station, I got the tape and some plastic that used to be around toilet paper and we taped it on the car where the window was, laughing the whole time and mind you, we had 7 hours left. And we finished the tour exhausted because of all the laughing!
Also, once I went voting after a trip on a Tröll car. The first elections in 12 years I am not voting for myself. Now a new era is starting in my life!