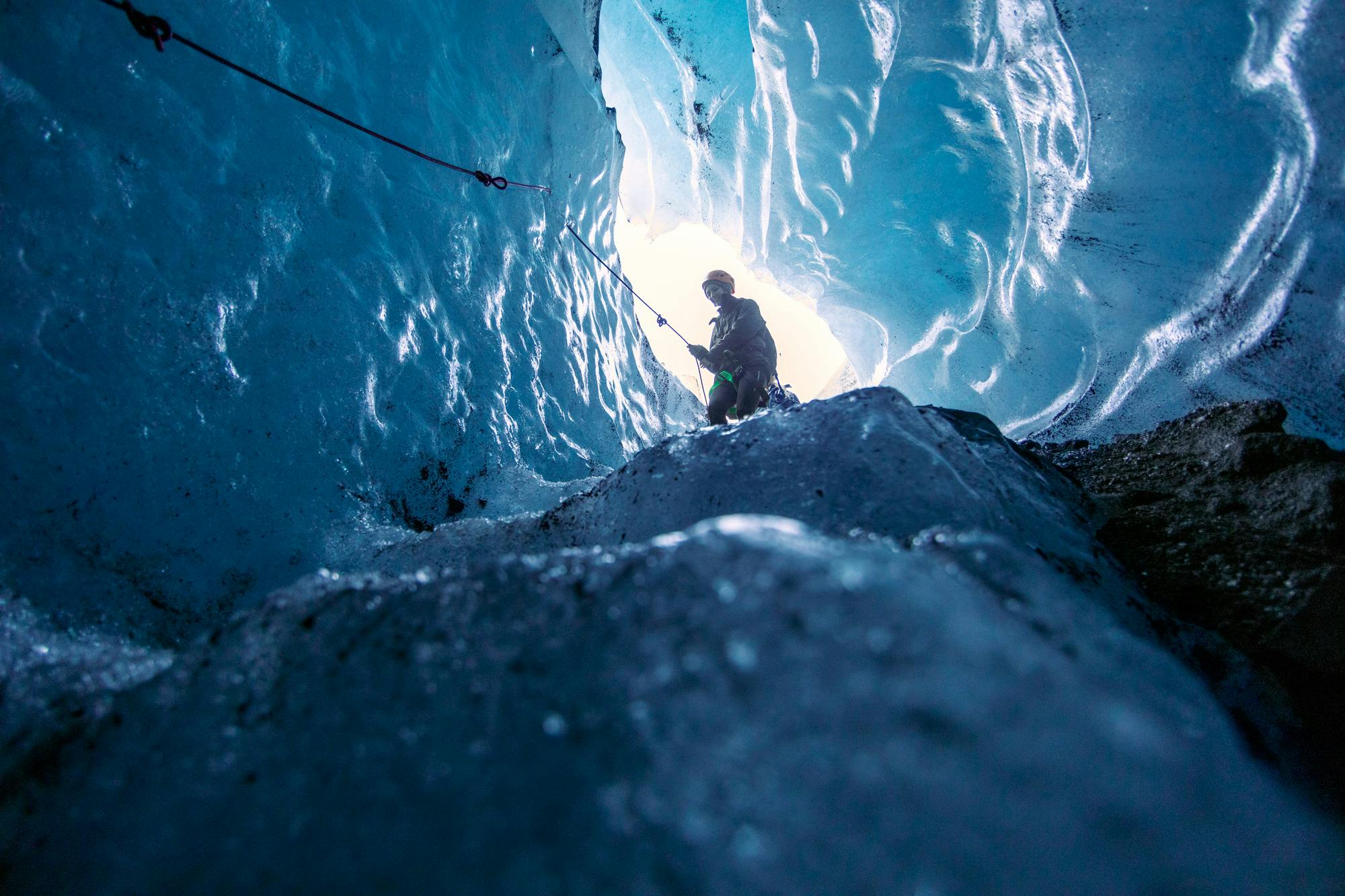 Iceland's Ice Caves
Winter is coming and that means the ice cave season in Iceland is opening which typically starts in October and ends in late March. There are many different types of ice caves in different shapes and colors and also locations. In this article, you'll learn all you need to know about one of the world rarest natural phenomenon and Iceland's most visited sights in the winter time: Ice Caves.
What are Ice Caves?
Ice caves are Iceland's most visited natural attractions and only accessible as the winter approaches. This is because the cold weather needs to set in, so the ice caves can become stable and safe again. During summer surface water and glacial flows caused by geothermal activity will make the caves unstable. That also means that the ice caves in Iceland change on a yearly basis and even during the winter time the ice caves might change since some stunningly beautiful ice formations might show up.
Also, the sudden weather changes in Iceland contribute to changes in ice caves, because especially cold weather will cause the ice to harden and contract, but milder weather will cause the surface ice to melt. Of course our highly skilled glacier guides follow the weather forecast all year around and are always aware of conditions in the ice caves to insure a safe and pleasurable journey.
Types of Ice Caves
Since ice caves are ever changing with Iceland's nature and weather, there are quite a few types of ice caves to be found around Iceland. One of the picturesque types are blue ice caves which is formed when a glacier has compressed by its own weight for hundreds or thousands of years. All types of ice caves are known to our Troll guides and since Trolls have no problem dealing with the harsh cold and spectacular nature of ice caves your tour with Troll expeditions will be one of wonder and safety.
Blue Ice Cave from Skaftafell
This pressure forces the air bubbles inside the ice out and create this remarkable blue ice which gives the name to this type of ice caves. If you are driving yourself to the Southeast, you should definitely visit the Blue Ice Cave near Skaftafell. This cave has been accessible only by Troll Expeditions since the first day of October due to our expertise in glacier travel.
Crystal Blue Ice Cave from Jökulsárlón
Also located in the Southeast, a particularly interesting phenomena are the crystal ice caves which have an ice ceiling which are transparent, so light can shine through them just like a glass window. Trolls are so experienced with ice caves to you can both visit the famous Crystal Blue Ice Cave (click HERE) near Jökulsárlón area. This cave has been accessible at least since last year and season.
The Ice Cave by Katla Volcano from Vík
Now, if you are in the South in the Vík area it is a fact, ice caves can present a variety of colors: black, grey, white and before mentioned blue ice caves. It is also possible to visit a different type of cave. This is the case of the ice cave near the volcano Katla (click HERE) which is made of black and blue ice, its mixture of color is due to the ashes coming by the famed (or infamed!) volcano, Katla.
Blue Ice Cave as a part of a 2-day tour from Reykjavík
You are planning to take your time and go from Reykjavík on a guided tour. visit a blue ice cave in our 2-day tour (click HERE) while also visiting Jökulsárlón, the glacier lagoon, Reynisfjara, the black sand beach, waterfalls and even hunt for northern lights! The best chance to see the mighty Aurora Borealis is also during winter time from November to March.
What should I bring for the tour?
Troll Expeditions will provide you all the safety equipment for each one of these cave expeditions. But, since you will be wanting to get to know the Icelandic nature where the weather can change rapidly good hiking boots are essential to keep your feet warm and steady during the hike. Hiking boots can also be rented during the tour if you forgot to bring a pair to Iceland. Then warm clothing of two layers are highly recommended since it′s easier to enjoy the tour while staying dry and comfortable.
Your head should also be covered by a hat and gloves are recommended. Troll guides always use a woollen hat knitted by their troll mother, but any warm hat should do the trick. 
How difficult are Ice Cave tours?
The difficulty of hikes depends on the tours but can range from easy to moderate. Trolls always supply a good and reliable transport and the adequate glacier equipment and meet up with an experienced Glacier Troll which guides us through the ice caves. Glaciers and ice caves can be dangerous for foolish Trolls and people that are not experienced with the ice, so make sure to always go with an organized tour when visiting Iceland′s glaciers and ice caves.
Are you ready to begin your winter adventure?
As a closing note, don′t forget to bring your camera, your good mood, curiosity and appetite for knowledge since our Troll guides love answering questions and telling people stories about our Icelandic nature and its unique geography! We are waiting for you!