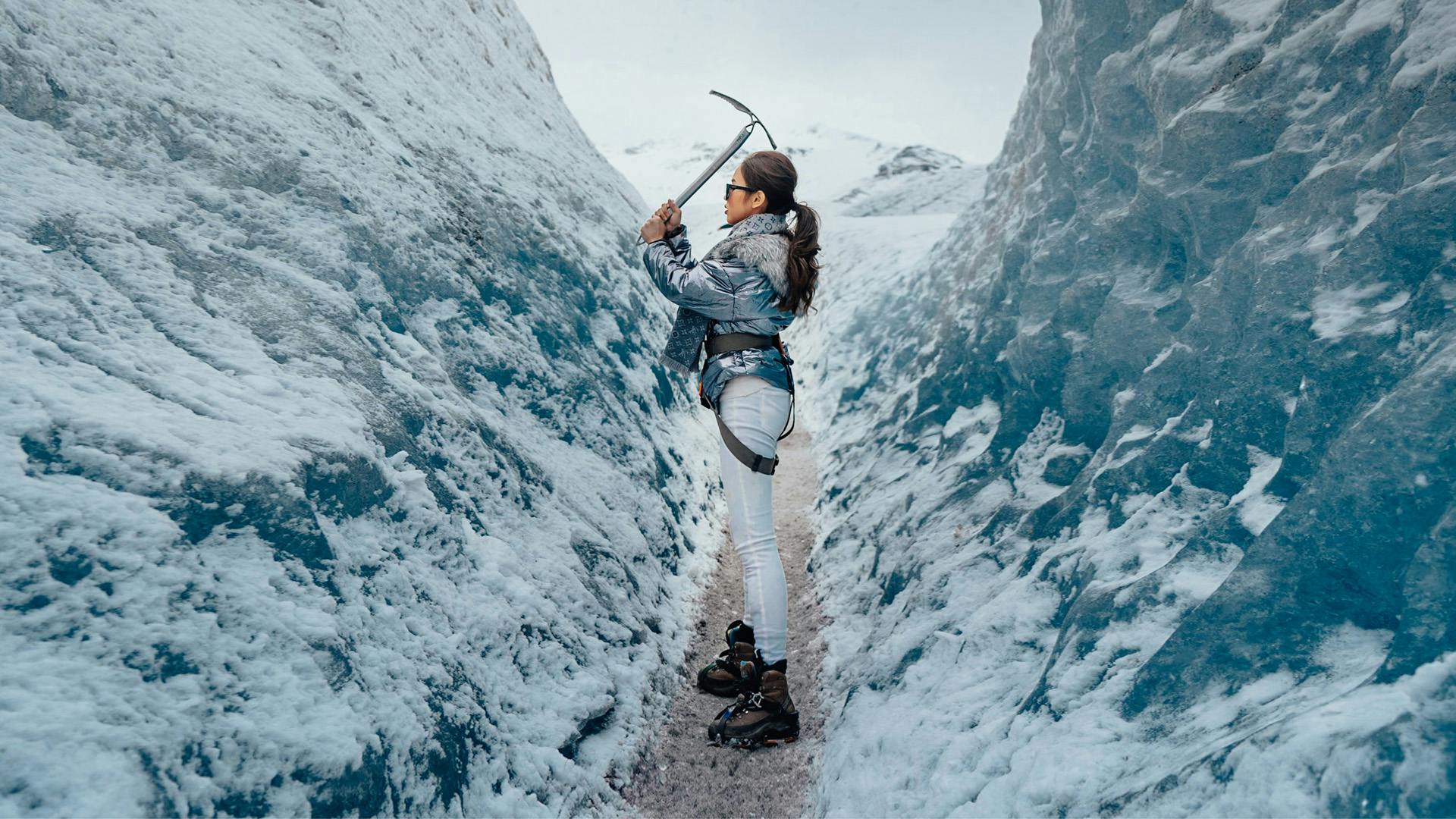 Iceland Travel Guide – Sólheimajökull
Did you know glaciers cover around 10 percent of the Earth's land area? Interesting, isn't it? One of the most magnificent and mysterious wonders of nature, glaciers inspire awe. So, if you wish to witness the grandeur and magnificence of these blue giants, Iceland is the place to be.
Written by Jaya, edited by Andrea Gylfadóttir.
Approximately 11 percent of Iceland is covered by glaciers. Home to around 269 glaciers of all types. Iceland is a glacial paradise that is worth paying a visit. So, get ready as we take you on a thrilling expedition to one of the most popular glacial wonders in Iceland: Solheimajokull. 
Solheimajokull is a glacier tongue that protrudes from the southeast part of the mighty icecap of Myrdalsjokull. Covering almost 596 km2, Myrdalsjokull is the fourth largest glacier in Iceland.  About 5 miles long and a little over a mile wide, Solheimajokull is a unique feature of the glacial wonder, Myrdalsjokull. However, Solheimajokull appears bigger than the Myrdalsjokull as there isn't any clear distinction between the two. With an abundance of dramatic ice formations such as rugged ridges, crevasses and sinkholes, Solheimajokull offers a visual delight to visitors and photographers alike.
Yet another interesting aspect of this glacier is that this seemingly peaceful icecap hides beneath its thick layers one of the most famous and active volcanoes—the Katla volcano. It last erupted in 1918, more than a hundred years ago. However, volcanologists are monitoring it quite closely as they are expecting another eruption in the next few years. 
The glacial meltwater from Solheimajokull results in river Jokulsa that passes through an outwash plain also known as the black sand desert to the nearby ocean. The river water smells of sulphuric acid, which seeps into it from the sub-glacial areas. The river is therefore known as the "stinky river". 
Impact of Global Warming
Sadly, Solheimajokull is receding quickly just like other glaciers in Iceland. It is observed that every year the glacier is shrinking almost about the dimension of an Olympic swimming pool. This change is apparently a result of climatic change (global warming) which is eradicating the world's glaciers at an alarming speed. So, it wouldn't be surprising if the Solheimajokull glacier is lost forever within a few decades. Visitors taking a trip to Iceland must witness this outstanding wonder of nature before it vanishes completely. In fact,Solheimajokullfinds mention in James Balog's documentary film 'Chasing Ice'—A film that highlights the impact of climatic change on glaciers and how these retreating glaciers are impacting the environment. 
Highlights of Solheimajokull
The Solheimajokull glacier has numerous distinguishing traits that sets it apart from other glaciers. To begin with, the outlet glacier is extremely easy to locate as it lies just off the Ring Road, which surrounds the country. As the glacier is not surrounded by tall cliffs or mountains, hikers get an unparalleled view of the south coast landscapes. Solheimajokull also houses several walls of ice, offering hikers a perfect opportunity to ascend using ice axes.  
In fact, the rough glacier of Solheimajokull is appropriate for ice climbing activity. Though, a certain level of muscle strength is required for climbing the glacier, you can begin with a small climb. It makes sense to first familiarise yourself with the technique of using an ice axe, before attempting a higher ascent. 
Safety Tips For A Glacier Hike on Solheimajokull
Though, glacier hiking is an adventurous activity, it can be equally dangerous. This is becauseburied crevasses, slippery surfaces and the risk of icefalls pose dangers to hikers.As the glaciers glide forward, their surface tends to crack. This results in formation of deep crevasses and fissures. Irrespective of how experiencedyou are at ice climbing, never attempt to venture without the supervision of a professional glacier guide. They are not just well acquainted with the terrain but are also properly trained and equipped to deal with difficult situations that might arise during hiking. Also, it is important to dress appropriately to keep yourself extremely warm. As the weather can change in an instant, dressing in layers is the best option. Apart from warm clothes, have a waterproof jacket handy, wear sturdy hiking boots that can comfortably fit into the crampons that you will be wearing to walk on ice. 
How to Reach Solheimajokull
There are a couple of ways by which you can reach the magnificent Solheimajokull. You may opt to join a touring group that will pick you up from Reykjavik and drive you through the beautiful landscapes of the southern coast to ultimately start your epic hike on the glacier. However, driving to the glacier by renting a car is relatively more enjoyable and easy. To reach Solheimajokull glacier, you have to take Ring Road 1 and drive through the beautiful villages of Selfoss, Hella and Hvolsvöllur. As you drive past the stunning waterfalls of Seljalandsfoss and Skógafoss, you will start getting the first glimpse of the majestic Myrdalsjokull glacier, followed by its incredibly amazing glacier outlet—Solheimajokull. 
Experience the Extraordinary
Iceland's massive glaciers can be experienced and enjoyed by either stepping on them or flying over them. So, if you wish to witness the grandeur and magnificence of this natural wonder a visit to the glacial paradise is a must. Though, Iceland is home to hundreds of glaciers,Solheimajokullcalls for our attention due to the pace at which it is retreating, almost 50 m each year. So, treat yourself to this thrilling adventure by taking aglacier walk on Solheimajokull. You are sure to carry back wonderful memories of an once-in-a-lifetime experience of your life.