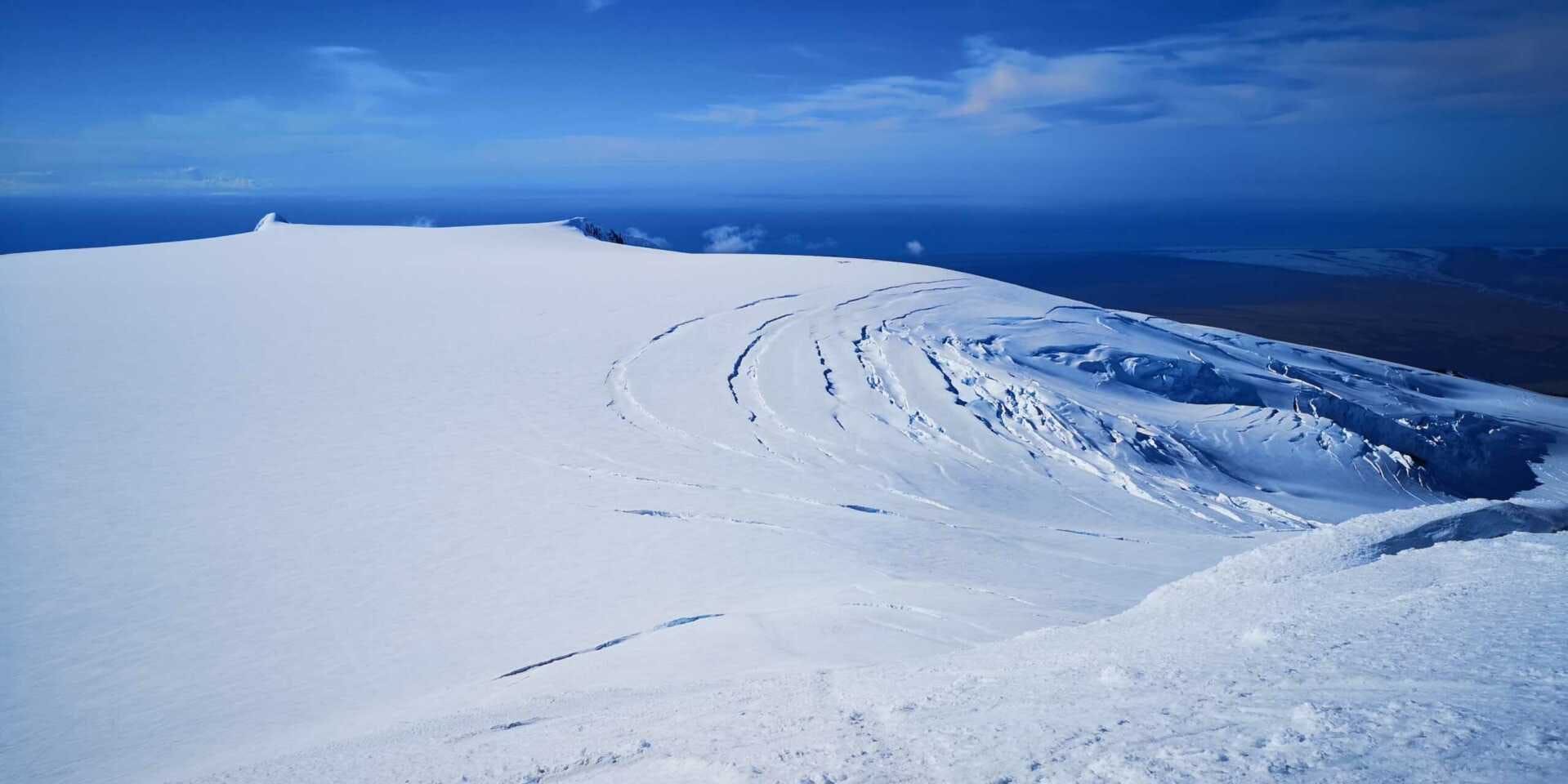 Hvannadalshnjúkur
Every Mountaineer's dream
From early in my childhood, I carried the dream of summiting Iceland in my mind wherever I went. This dream was the same for everyone that had been exposed to mountain life as a child. The appetite for adventure grew like life rings in a tree, always a bit further and wider than the previous one. 
Hvannadalshnjúkur, the summit of Vatnajökull, the biggest glacier of Iceland, covering 11% of the country, is the dream of any mountaineer in Iceland. Surely because this is the highest mountain in Iceland and the "summit day" has a gain of more than 2000m. How high Hvannadalshnjúkur is varies slightly due to the changing snow layers at the top and some say due to the ongoing volcanic activity of Öræfajökull. 
When we, the mountain boys, began wondering what would be the best way to beat the "devil" at an early age, more than half a century ago, the typical way would be to start at Kvískerjar, east part of Öræfajökull. This would be the route of my first trip in 1968. Sources claim that the first trip up there was actually 1813 by a Norwegian map maker Hans Frisak and an Icelandic administrative district Jón Árnason.

With climate change, we have also seen drastic changes of the glaciers in only one generation. Glaciers are calving, receding and getting thinner with giant crevasses forming due to melting and movement. This has caused the route to move from Kvískjerjar to Fagurhólsmýri and then eventually further west to where it is now at Sandfell. 
No one will feel disappointed by participating in this adventure, the breathtaking scenery and views along this well-travelled path guarantee that. When arriving at the summit you are welcomed with a 360 degree view where you can marvel at the nearby peaks and outlet glaciers flowing like rivers down the slopes of Öræfajökull. 
The best logistics to maximize the chances of summiting is to start the day early and begin the hike shortly after midnight. This is good as the melt of the ice is less and the sun will not irritate your skin or eyes due to its reflections on the glacier. Hiking up takes around 12-18 hours and it's the goal to be at the top shortly after the sun comes up.
The route up Hvannadalshnjúkur from Sandfell, starts curving through a muddy hill where traction is not great, up until we reach the snow line at around 800m altitude normally. From there the route lies on the glacier gradually taking us up to around 1.600-2.000m, then we reach the plateau of Öræfajökull where we cross a flat section to get to the final summit push which is a brief moment of steep incline before reaching the summit. The difficulty level of reaching the summit depends on weather and route and should only be attempted for those in good physical condition with adequate expedition gear and an experienced guide. 
Describing the views is almost impossible due to the breathtaking contrast of mountains and ocean, volcanoes and glaciers, and sometimes the stark difference in weather from the time you start the hike until you are at the summit. You need to experience this on your own to understand the effect this hike has on your senses. To those brave enough to follow your mountain passion to the top of Iceland, you will not regret this and most likely create a lasting moment that you will take with you from the mountain. Warning: This moment will lead to other adventures along the way in your life. Be prepared and don´t say that I did not warn you. After more than half a century of climbing mountains all over the world I can surely say that you do not want to sit this one out!
Draumur Alla Fjallamanna
Allt frá unga aldri var það draumur minn að sigrast á hæsta tindi Íslands og það gilti örugglega um okkur alla pjakkana sem vorum smitaðri af fjalla áhuganum í æsku og fórum snemma að rölta á fjöllin í kringum Höfuðuborgarsvæðið.
Hvannadalshnjúkur, toppurinn á Vatnajökli stærsta jökli landsins, er draumur allra fjallamanna. Ekki að undra þar sem um hæsta tind Íslands er að ræða, í 2.119 metra hæð frá sjávarmáli. Menn greinir reyndar aðeins á um hæð tindsins þar sem snjóaalög breytast stöðugt milli ára.
Þegar við félagarnir fórum fyrsta að velta því fyrir okkur í alvöru að sigra "djöfsa" fyrir meira en hálfri öld síðan var alg
engast að gengið væri upp frá Kvískerjum í austanverðum Öræfajökli. Fyrsta ferðin mín var því farin þar árið 1968. Heimildir herma að fyrstir til að ganga á Hvannadalshnjúk hafi verið norskur landmælingamaður Hans Frisak að nafni og Jón Árnason hreppstjóri á Fagurhólsmýri 1813. 
Það var svo sannarlega enginn svikinn af ævintýrinu, mögnuð ganga um lendur jökulsins með ótrúlegu útsýni. Ekki var útsýnið og víðsýnið verra þegar upp var komið. Magnaðir tindar til allra átta, auk skriðjökla og frábærrar náttúru.
Með breytingum á jökli, bráðnun og ððru, hafa aðstæður breyst þannig að fjallamenn færðu sig frá Kvískerjum yfir að Fagurhólsmýri til uppgöngu og síðan áfram vestur að eyðibýlinu Sandfelli þaðan sem flestir leggja í hann í dag. 
Best er að leggja af stað í ferðir á Hnjúkinn fljótlega eftir miðnætti til að losna við sem mest af snjóbráð á leiðinni, auk þess sem gangan tekur sinn tíma. Best að gera ráð fyrir 12-18 klukkustundum í ferðina.
Leiðin liggur upp fjallshlíðina upp frá Sandfelli í hlykkjum allt þar til snjólínu er náð. Það getur verið mismunandi hátt eftir veðri og árstíma. Ekki er óeðlilegt að hópurinn nálgist snjó frá liðlega 800 metra hæð eða ofar. Eftir það liggur leiðin upp eftir jöklulbreiðunni, hægt og bítandi alla leið  upp á hásléttur jökullsins í 1.600-2.000 metra hæð. Loks er brölt upp á Hnjúkinn sjálfan, miserfitt eftir aðstæðum hverju sinni. Gönguferð á Hvannadalshnjúk er nokkuð strembin ganga. Fólk þarf að vera í góðu líkamlegu ástandi og vel búið. Þó alls ekki neinni ofurþjálfun.
Útsýni á leiðinni er gríðarlega tilkomumikið og í raun ógerlegt að lýsa því í orðum. Fólk verður einfaldlega að upplifa það. Allt frá bröttum fjallshlíðum, klettabeltum, skriðjöklum, jökulbreiðum í glæsta fjallstinda. Það verður því enginn svikinn af því að skella sér með okkur Tröllunum í ógleymanlega vor- eða sumarferð á hæsta tind Íslands. Slík ferð kveikir oft rækilega fjallabakteríu bálið, það verður hreinlega ekki aftur snúið! Fjallgöngur eru ekki einasta ótrúlega skemmtilegar, heldur ótrúlega hollar og nærandi andlega. Nærveran við náttúruna verður ekki betri. Eftir meira en hálfrar aldar ramb um fjöll og firnindi á Íslandi og í útlöndum get ég með sanni sagt að það verður enginn svikinn af því að koma með!