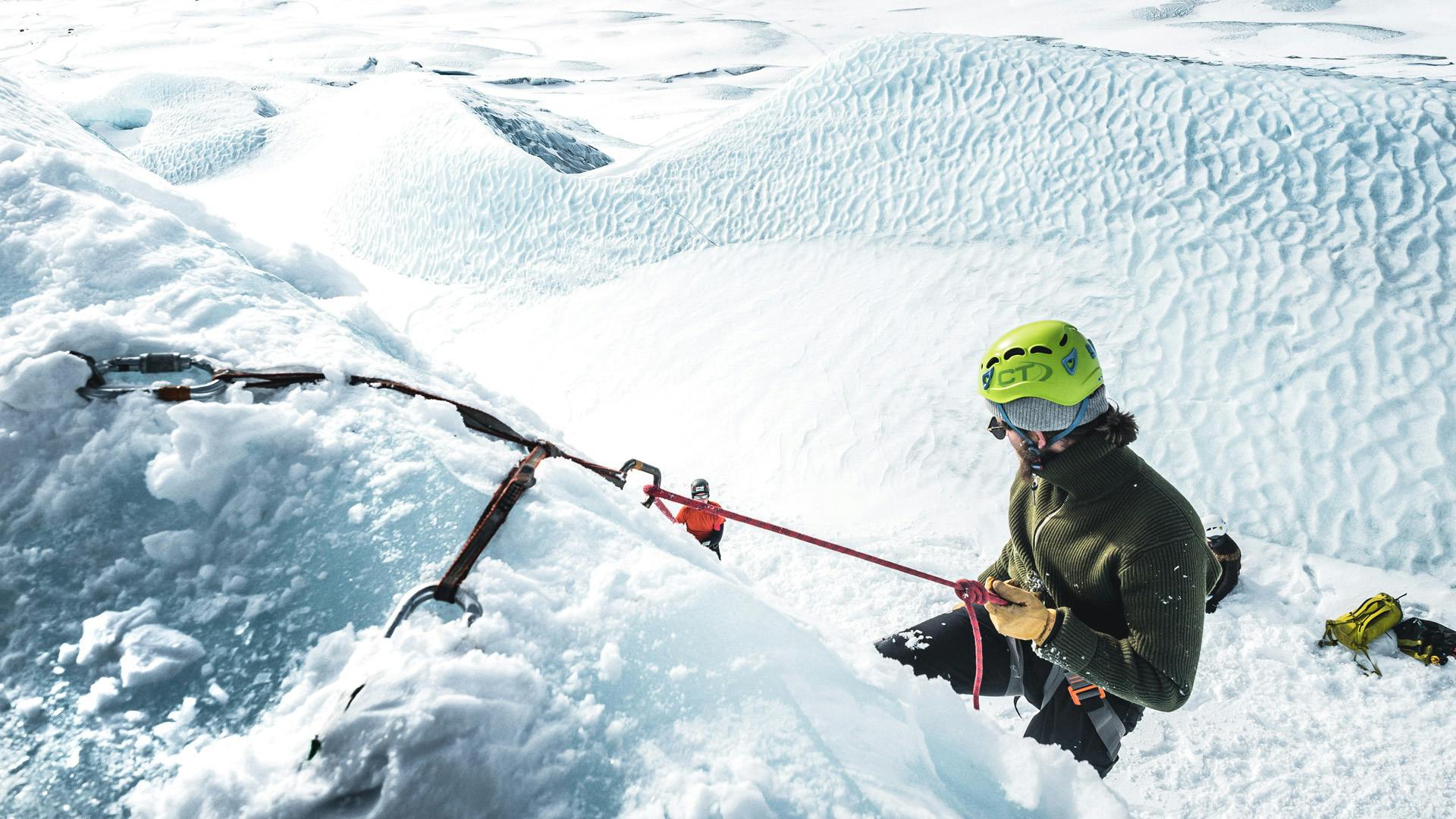 Guide to Ice Climbing in Iceland
Welcome to Iceland, an island that was blessed with the best extremes of nature. On our glacier you will have the unique opportunity to challenge gravity by climbing up a wall of ice, how does that sound? Do you have questions about this one-of-a-kind frozen activity? Fear not, in this article we will explain everything you need to know before joining our ice climbing tour and how to make the most of the ultimate Icelandic experience.
What is Ice Climbing?
Ice climbing is an outdoor activity that lets you ascend near vertical walls of ice using equipment such as crampons and ice axes whilst being securely attached to a climbing rope. The activity is completely safe and will give you an unforgettable experience of mastering a truly awesome sport that is very popular here in Iceland. Before your tour, we will provide all the equipment necessary for this, that is, proper boots, crampons to walk on the ice, harness to be safe while both hiking and then ice climbing, and ice axes.
How is it different from Glacier Hiking?
In order to get to the ice wall we will climb, we need to hike up on the glacier. So, on our ice climbing tours, we also do the glacier hiking. This is a great experience as while you will be walking around, our guides will be showing you the most beautiful features of the ice. Then, when we reach the ice climbing area, the guide will set up a climbing system on one of the ice walls on the glacier and you will be given the chance to try to go up. This is something that really adds on to the overall experience. We will certainly provide you both beautiful memories of a unique Icelandic adventure and you can even get great pictures of yourself trying this literally cool activity.
How difficult is Ice Climbing?
The difficulty will depend on what you want as our guides adapt it to the group needs. On our tours, we try to find ice walls for beginners, and our guides will explain everything you need to know about technique and how to use the gear we provide you with. This activity is doable for most people with a normal fitness level. If you are experienced or have practiced a similar activity, such as rock climbing, for example, you can always tell your guide to find a steeper part and set it up there.
If I'm afraid of heights, can I come?
We overcome our fears only by facing them! With that being said, you are attached to a rope during the whole duration of the climb and in the hands of highly trained glacier guides so there is really no reason to worry. You will be in the best of hands and you do not need to climb any higher than what you feel comfortable with.
What should I bring?
We recommend bringing clothes designed for outdoor activities. A wind and water resistant jacket and pants, accompanied with thermal underwear if the weather is cold. It is also very wise to bring gloves to protect your hands from the ice as you are climbing. You will be provided with glacier boots designed for ice climbing and all the other gear you will need on the tour, and your guide will happily explain how to use it before the tour begins. A camera is also highly recommended as you will be getting great photos on this tour. If you are traveling solo or with a group, this is the perfect opportunity to get that one epic picture of the ultimate Icelandic experience, so you can brag about it with your friends back home.