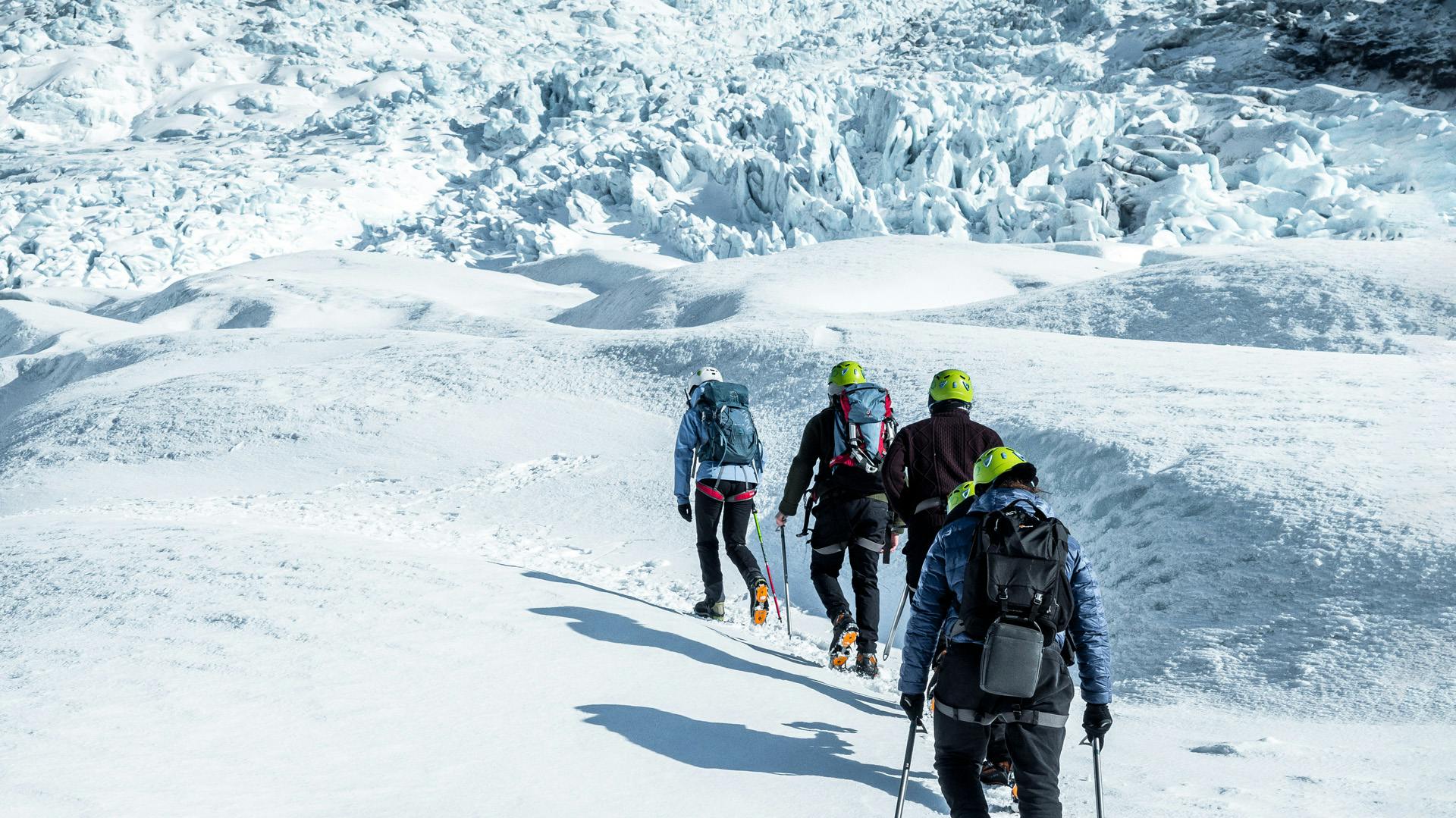 Guide to Glacier Hiking in Iceland
So, you decided to join for a glacier hike and are wondering: "what you should know before this amazing adventure begins?". In this informative article, you will find all the information you need help you prepare for this expedition. Let's make sure you have an excellent experience exploring the beauty of the Icelandic glaciers.
1. What to wear
The weather in Iceland is very unpredictable and can rapidly change. It is wise to bring clothes that are appropriate for every type of weather you might encounter. As experts in glacier guiding, we usually dress the same way and will tell you our secrets.
As a base layer, choose a synthetic long sleeved shirt. Above this, wear a fleece jacket or wool sweater. In wintertime, wool and synthetic clothing are the best options, why? Because they insulate and keep you warm even if the garment gets wet, as opposed to cotton that will feel cold and draw heat away from your skin. If you get hot, you can take this layer off and, when in need of extra warmth, it can go back on. The outer layer consists of a wind and waterproof shell jacket with a hood. This is very important as if often gets windy and rainy in Iceland.
Pants should also be wind and waterproof. Gore-tex pants work well too with zippers on the side of the legs for ventilation if it gets warm. Gloves and a hat are also a smart pick. Remember that you also will be wearing a helmet, so very big and bulky hats are not ideal.
Running shoes or flip flops are not recommended as you will be provided with crampons that need to fit the shoe, thus proper hiking boots are needed. But, what are the proper hiking boots? Good support is what you need, that is, boots must be hard on the sole and tight around the ankle.
Wool socks are also ideal as they minimize the risk of blisters and also keep you warm if your feet get wet. Cotton socks rub against the skin and quickly makes the skin sore.
2. Tour Description
You will show up at our meeting point in the parking lot of Skaftafell or Sólheimajökull. In both places, we have a marked trailer. There, our guides will greet you with a smile and give you the equipment needed for the tour.
The glacier gear includes a harness, crampons, ice ax, and a helmet. Renting boots is optional. However, in case of inappropriate footwear, we might need you to rent boots, as crampons have to fit properly. Then, after being geared up, we can go into the glacier to explore.
Upon arrival, the group of hikers will gather and your guide will explain how to wear the equipment and how to be safe on the glacier. Listen carefully as the glacier can be a dangerous environment if you don't comply with safety rules. But, don't worry, being with a certified glacier guide you are in very good hands and they will assist you when enjoying one of the true wonders of the world.
The time it takes from meeting the guides until you return to the meeting point after your glacier adventure is around 3 hours. This can vary depending on the size of the group and weather conditions.
3. Am I able to do the Glacier Hike?
Most likely yes! Anyone who is older than 8 years old is welcome. This age limit is mostly due to the minimum size of the crampons that can fit from shoe size 36.
The hike is graded as a medium difficulty tour and includes walking for at least one hour in relatively flat and easy terrain. You will be walking on crampons but our guides will explain the proper technique and our clients usually get the hang of this after a short time. The walk is slow paced and enjoyable for all.
4. Will I also be Ice climbing?
Every day at noon we conduct an ice climbing tour. For our ice climbers, we provide our special mountaineering boots, as normal boots do not function properly for this activity. Our boots are equipped with a fully stiff sole that makes it easier to successfully climb the ice. We highly advise that you bring gloves for this tour, as they will protect your hands from the sharp ice.
You will walk up the glacier and your guide will set up the climbing system before you start climbing. You will be attached to a rope during the whole duration of the climb, so there is no chance of falling and hurting yourself. Safety first!
Our guides will teach you the basic techniques and assist you to the best of their abilities to ensure you have an amazing experience on your first time climbing the glacier ice.
5. What else should I bring to the tour?
Bring your cameras or smartphones along, as you will certainly get many great pictures of the beauty of the glacier. We do ask you to respect the rules of the national park and not fly drones, as this may be found distracting for other hikers who wish to experience a quiet and peaceful natural environment.
Energy snacks and protein bars are good friends too as you can get hungry walking up in the cold and it is good to power up. Please, remember not to leave any trash on the glacier. In Iceland, we love and respect our nature and visitors are encouraged to behave responsibly during their stay.
We, at Tröll Expeditions, look forward to seeing you and to bring you on your adventure of a lifetime!