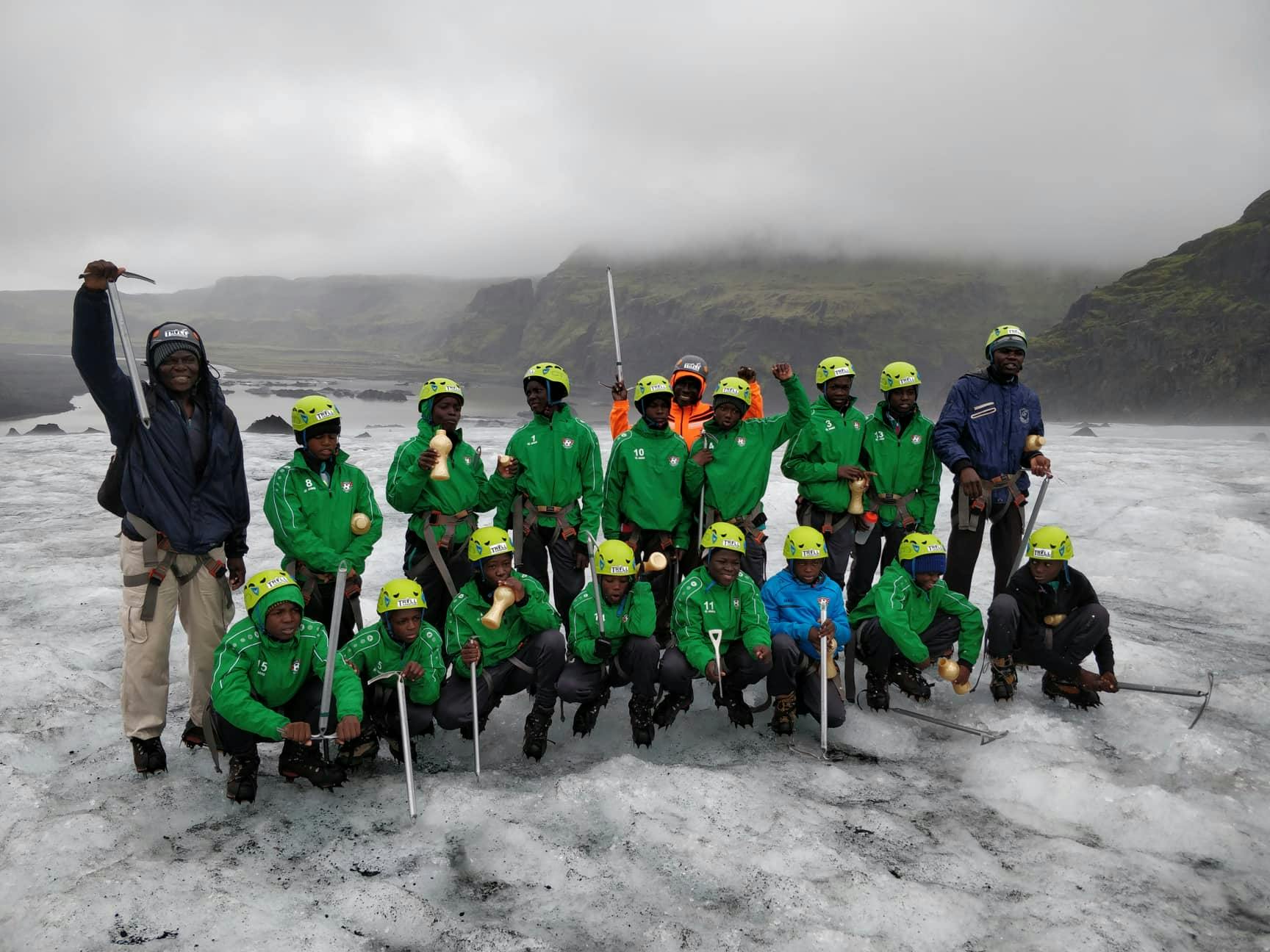 Glacier Hiking with 15 Students from Got Agulu, Kenya
We received 15 honored guests at Sólheimajökull glacier yesterday: 15 young students and soccer players from Got Agulu in Kenya.
Paul Ramses Odor and Rosmary Atieno, with the help of Icelandic friends, founded the non-profit organization Tears Children and Youth Aid. The organization runs schools, kindergartens and soccer teams in Kenya, as well as empowering women and strengthening them for financial independence. They founded a primary school in Got Agulu that how has 270 students.
The aim of the project was for the school soccer team, which consists of 12-15 year old boys, to compete in the Rey Cup soccer tournament happening in Laugardalur this month.  More than 3,5 million Icelandic krona was raised by volunteers and finally the team of enthusiastic young soccer players arrived in Iceland.
The students have a very tight schedule in the country including soccer practice, games for the tournament, as well as cultural and entertainment activities. They even met the president.
At Tröll Expeditions we are proud to have supported the team to come to Iceland. Furthermore, along with our guide Margrét Gauja and the team of volunteers at Leiðin frá Got Agulu á Rey Cup, we organized a pro-bono day tour to the South Coast with them. All the 15 boys and their three chaperons went glacier hiking with our team of glacier guides on Sólheimajökull.
We had a lot of fun and even managed to dance and sing on crampons on the ancient of the "Home of the Sun Glacier", Sólheimajökull, outlet glacier of Iceland's third largest glacier Mýrdalsjökull.
We want to say thank you to our guides Magga Gauja, Helgi, Páll Ágúst, and to Gunnar Axel and all the volunteers and donors that made this possible for us to have such honored guests in Iceland and on the glacier. We also want invite you all to continue following their step on the page Leiðin frá Got Agulu á Rey Cup.