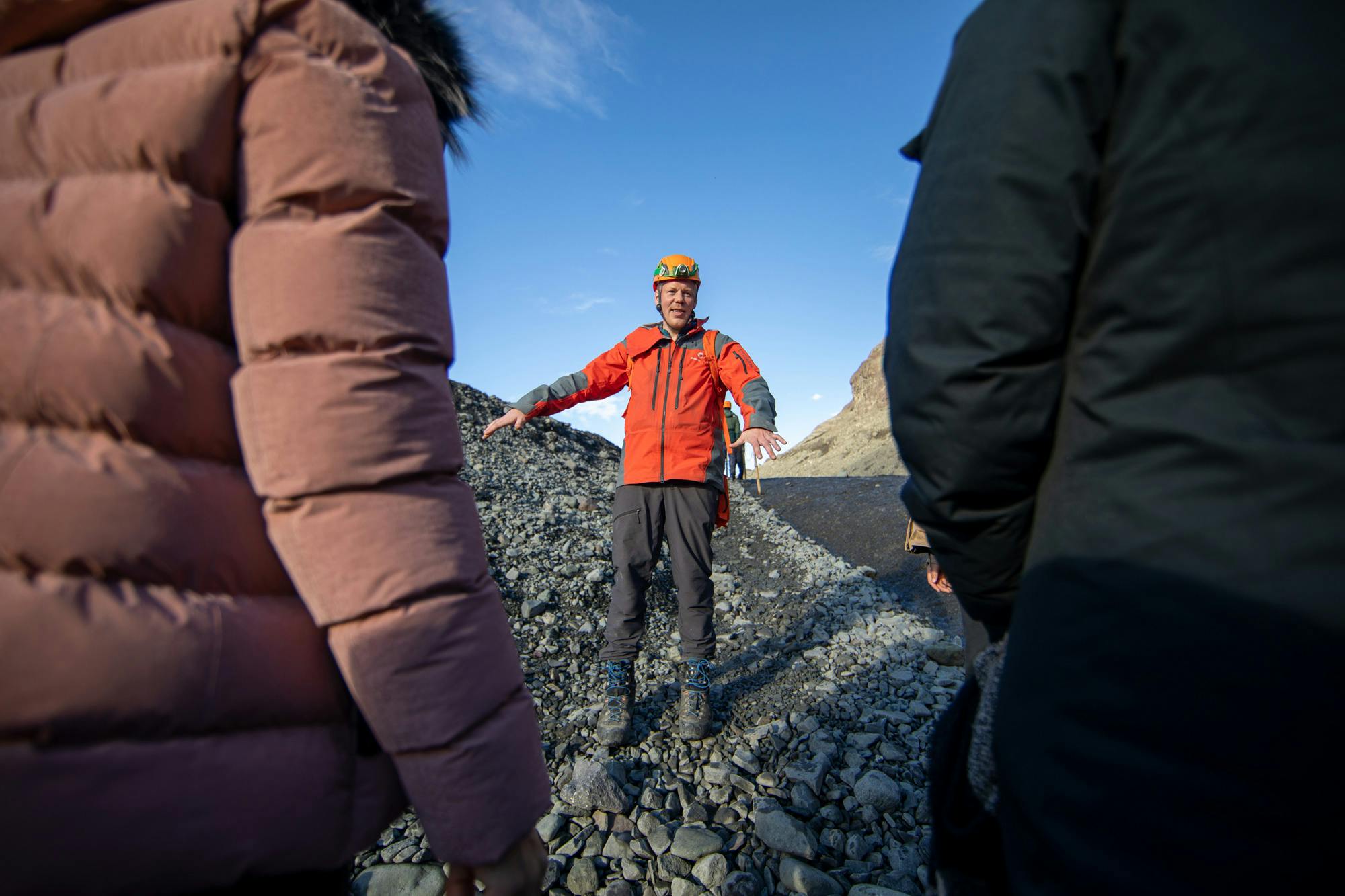 Glacier Adventures with Deaf Iceland
At Tröll Expeditions we take pride in being an inclusive company. We firmly believe that our differences make us stronger and that everyone should be welcome to our adventures. We try our hardest to accommodate all requests made by our partner companies and customers. Recently, we contacted Deaf Iceland, an Icelandic operator that specializes in travel experiences for people with hearing disabilities and worked on testing how accessible our glacier hiking tours were. The experience ended up with the happiest of endings: a long-term partnership between two operators who are passionate about adventures and inclusiveness. In this article, you'll learn more about the first tour Deaf Iceland took with Troll Expeditions from the perspective of our glacier guides. Keep on reading, keep on traveling, let nothing stop you!
Deaf Adventures with Troll Expeditions 
As a guide, I am always excited to find new and unique ways to show people the beauty of the Icelandic glaciers. When Troll Expeditions reached out to Deaf Iceland to see if our glacier hiking and climbing tours are accessible to people with hearing difficulties, I jumped at the chance to lead a tour where we would be communicating using a mixture of English, Icelandic and Icelandic Sign Language.
I have lived and worked in Skaftafell as a hard ice guide since I first moved to Iceland from Australia in early 2017. Having grown up without ice (and without real winter!) the glaciers and nature are a  marvel to me every day, and I love sharing my passion with others. I was very glad to be joined by Magga, Magnus, and Steinunn from Deaf Iceland, an Icelandic organization that works in collaboration with local tour operators, interpreters, and guides to provide accessible tours for hard of hearing tourists from all over the world. We were joined by photographer Adam, and an interpreter between English and Icelandic sign language and guide Unnur for an introductory 3-hour hike on the glacier.  Find the tour clicking HERE. 
Learning about Falljökull Glacier 
The group drove four and a half hours east from Reykjavik to Skaftafell in the Vatnajokull National Park. We would be hiking on Falljokull, 'The Falling Glacier', my favorite glacier to hike in Skaftafell because of the valley overflowing with crowberries, blueberries, and arctic thyme and the dramatic icefall that reaches down over a thousand meters to where we can step onto the glacier.
Tours to Falljokull leave from the Skaftafell visitor's center carpark where we organize equipment, collect groups and address any queries, and then drive for 15 minutes into the valley of the glacier.
The day had been very dramatic, very wet and windy but in true Icelandic fashion (and as weather forecast predicted) the skies cleared as we began our 25-minute walk through the Falljokull valley foraging and stopping to take in the length of the glacier from afar. The glacier ends upbruptly in mounds of dirt piled on top of stagnant ice called 'dead ice' and then lies unmoving underneath a glacial lake formed by the meltwater from the glacier.
The valley walls are carved with the imprint of where the ice flowed in the past centuries. When Icelanders first settled at the base of the mountain in Svinafell in the 9th century, the glaciers were much further up into the mountains after the last Ice Age. In 1362, the great volcano Oraefijokull underneath the Vatnajokull ice cap erupted. This caused a great surge in the glaciers flowing down the hill, and meant no one could live in the blackened, decimated region for almost forty years! Iceland's glaciers are the perfect example of the interaction between ice and fire, and how it shapes the landscape in fascinating ways.
Logistics for the Glacier Hike
We walked from the end of the lagoon where the ice stood until 1996 to where the glacier sits now and came face to face with an ice cave with bright blue ice so hard and cold it looked almost like plastic. Hiking slowly up the dirt-covered hills, we strapped on our crampons, harnesses and helmets, grabbed our ice axes, and began our hike on the crunchy white ice.
We hiked our way across the relatively flat terminal face of the glacier, where the ice is partially covered by volcanic ash and dirt. With the recent heavy rain, the crunchy white crust that forms in summer time had been partially washed away, revealing the hard blue ice just underneath, speckled with frozen ash and tiny rocks. As we hiked, we came across cracks that had split open in the surface and holes that had been formed by rocks boring their way deep down into the ice to create a series of tunnels inside the glacier.
These holes, or 'moulins', are carved out by the force of the water cascading down the surface of the glacier in the summertime. One of the holes is now so large that in order to safely take a look, we set up a rope to peek inside. Clipping into our harnesses, we carefully approached the edge and peered down, down, down into the deep blue ice sculpture inside the hole. Inside we saw the crystal clear shards of ice, the swirling air bubbles and the deep blue walls of the glacier that could be up to 800 years old. One of my favorite things about moulins is that from the surface, you can't predict how deep they'll be – so make sure you're always paying attention to the safety instruction of your guide!
Sign Language Interpretation during the Tour 
As we hiked, Unnur translated my English explanations into Iceland's own dialect of sign language. It was a wonderful opportunity for me as a guide and as someone learning Icelandic to see a different interpretation and expression of many of the literal phrases and words used to describe features we see in nature, including 'jokull' or glacier in Icelandic which involved a cascading hand gesture that mimicked the icefall we were admiring. Find more information the SignWiki article clicking HERE. 
As with any trip where groups bring along their own foreign guide or translator, it took a little more time to explain some of the features of the glacier, and to answer any questions that came up. It was especially interesting to see how different signs, words, and demonstrations using our hands and bodies could tell the stories of the glacier – but this is often a standard part of any glacier hike with Troll, as we have guests from all over the world encountering glaciers for the first time. We frequently run almost entirely non-verbal, visually-driven tours and incorporate safety briefings and fun phrases in foreign languages as frequently as we can. It's fun and useful for the guides to learn new skills and new ways to connect with people!
One of the reasons I'm proud to work for Troll Expeditions is the ability our company has to dedicate time to understanding our clients individually so that we can provide the best experience for everyone involved in the tour. We had a great time on the ice, experienced three different kinds of weather, and I even learned a few new words in Icelandic and the signs to go with them!
Communicate in advance and you might not need a private tour
Getting in touch with us beforehand to explain any special requests you might have can help us deliver the best tour possible.  As I had never worked specifically with profoundly deaf or hard of hearing guests, I did some research to see if there was anything, in particular, I could do as a non-signing guide to help. The first piece of advice was that it would be just like any other tour, except that when speaking English I would have to slow down a little for Unnur to interpret as I spoke.
I tried to make things a little more tactile and to focus on the things in the tour that wouldn't require any hearing at all. However, the vast landscapes of Iceland play with so many of the senses, and often we have to work with the frog creeping into the valley and obscuring our view; the lashing wind and rain making it hard to hear; and the sudden burst of a rainbow or sun, a beautiful feature in the ice or complete interest in every detail underfoot rendering speech entirely unnecessary.  It also helps to talk about appropriate clothing for the tour in advance, especially if you're from a warmer, drier climate and unused to the cold! As we found out when the weather closed in, it can be harder to sign in mittens and to read people's expressions and lipread with rain jackets and buffs pulled up over our faces.
Guess what, you might not need a private tour when booking a glacier hike as a traveler with hearing disabilities. If the group has an interpreter to translate between English and sign language, that might be enough. Troll Expeditions' guides are used to guiding multilingual tours of groups of up to 12 people, but with prior notice, we can try to have an additional guide available or schedule a guide who can speak in a foreign language for lip-reading if a sign language interpreter isn't available and so, work to ensure there are no barriers to enjoying tours and the evocative nature of Iceland. We always recommend contacting in advance our Service Team to make sure everything is covered if this the case. Dropping a line to info@troll.is is key to ensure everything is set for you.
What are you waiting for? Join us for a glacier adventure!