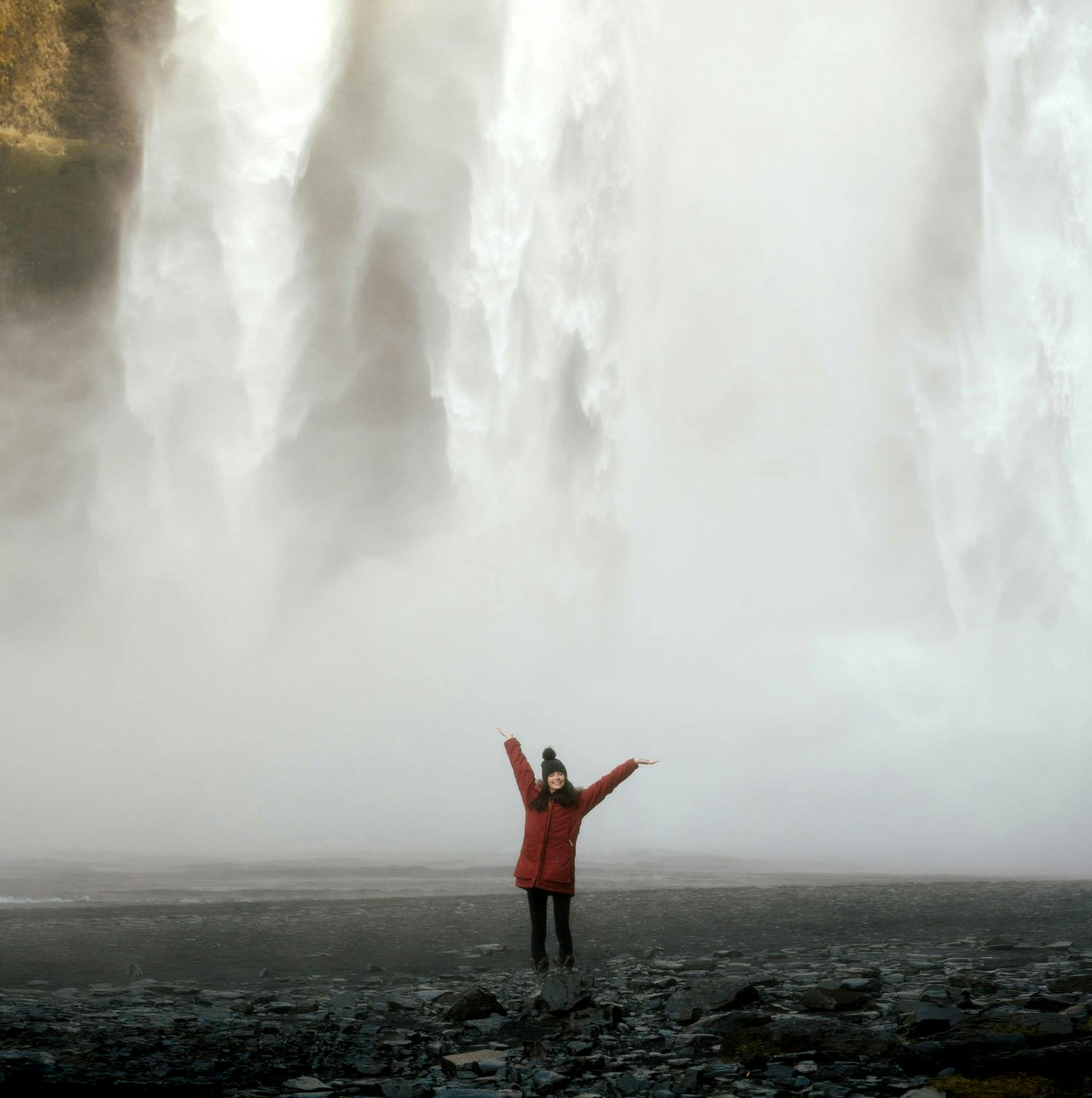 Exploring the South Coast and Hiking on a Glacier
Hi! My name is Þór and I'm an Icelander who had never stepped on a glacier. So, yep, I'll tell you my experience with the Trolls while exploring the South coast of Iceland and taking a glacier tour on Sólheimajökull. Keep on reading to get a first hand account of his adventures with Troll Expeditions.
Written by Þór. Edited by Alondra Silva Munoz.
After looking on all the offers from different tour operators in Iceland I picked Troll Expeditions since they seemed both well organized, secure and experts in glacier hikes, which was my main interest. I′m a native Icelander which works everyday but I really wanted to try a glacier hike one day off because I haven′t been on a glacier tour before. I also don′t my own car, that is why I chose a one-day tour with the Trolls exploring the South coast and taking a glacier tour on Sólheimajökull (here).
The driver picked me up in the morning near a gas station in the eastern part of the city near my home. I was very thankful that the driver could pick me so far from the center of Reykjavík, it was a lot easier for me then to go downtown to catch a ride with the Trolls.
Then we were on our way, our driver introduced himself with an Icelandic name which is hard to pronounce for foreigners, but then said we could call him Siggi, which is a lot easier to say. He told us a lot about Iceland and its geothermal energy on the way through a breath-taking highland called Hellisheiði where the Ring road takes us through a barren lava field as far as your eyes can see. He also told us about a geothermal plant near the road where they produce hot water for Reykjavík and even got off the Ring road to go for a closer look of the plant. Even some things he said I had not heard before.
Then we got to a quaint little town called Hveragerði or Smoky town as Siggi nick named it for us, since there is a lot of steam near it due to the geothermal activity there. The town also has a lot of greenhouses operated with the hot water and electric lighting to grow flowers and vegetables. In Smoky town we stopped for some 20 minutes to use the rest rooms and to have a bit to eat at a local mall. In the mall there was a nice bakery where I had a Cinnabon and a coffee. In the mall there was also a nice store with Icelandic handcrafts. Before heading on we also took on another passenger which had missed its Troll bus. The Trolls drove her all the way to Hveragerði which I thought was nice.
Seljalandsfoss Waterfall
Next up was Seljalandsfoss, I was very excited about that waterfall since you can walk behind it and it didn′t disappoint. It had also been forever since I went there which added to my excitement. I went right up to it and took some pictures and then started my walk behind the waterfall. I recommend wearing a waterproof jacket if you visit the waterfall since you get easily wet from the water. Otherwise it was amazing and a good to start to our tour and I think the pictures speak for itself. On the site there were also restrooms, a food truck and some souvenirs for sale, so it was very comfortable to visit Seljalandsfoss.
Glacier Walk on Sólheimajökull
Next up was what I considered the highlight of the tour, the glacier Sólheimajökull, and our hike up on the glacier. On the way there, our guide tells us about the name of the glacier and its meaning, which translated directly is "glacier of the home of the sun", but sól is sun and heima is home. Siggi, our guide also tells us about what to expect when getting on to the glacier and about his experience, but he has over 50 years of experience and has been going on Sólheimajökull since 1968. That sounds impressive to me.
When we get to the glacier, Siggi instructs us to put harnesses and picks out the right size of crampons for us. We also get a helmet with the Troll logo on it and an ixe-axe, so we are ready for anything. We start walking to the glacier and when we get to the edge of the glacier, Siggi explains further how to walk with the crampons on and how to stay safe on the glacier. Then he shows us how to put on the crampons which will keep us still on the icy glacier.
The Glacier Hiking Tour
Then we start our hike up. It′s clear from the beginning that Siggi is loaded with experience and our preparation is good to start the hike. He is also very secure on the ice and following his advice on stepping down firmly seems to work well. We walk in a straight row, so we evade the crevasses that might be hiding in the ice. He also stops regularly so everyone can keep up so everyone stays safe. Siggi also stops to tell us about the glacier, there you can really see his experience since he′s able to stand in his crampons in a slope while talking to us. Then we also take a lot of beautiful pictures, the sights and the view are amazing since we′re so lucky with the weather.
Then, unfortunately, it′s time to go back down again. I could spend the whole day up there but eventually I might too tired or cold. Our tour is still far from over, since we have yet to visit the Black Sand Beach, Reynisfjara, and the second waterfall today, Skógafoss. The sunlight is running out on us, though, since it′s mid-November and it starts getting dark soon after 4 o′clock in the afternoon.
Reynisfjara, the Black Sand Beach
That′s why we hurry to the next stop, the Black Sand Beach or Reynisfjara which translates as the beach of Reynir. The English name comes from the black volcanic sand that can be seen as far as sight reaches and marvel at some unique basalt columns in the cliffs nearby. On the other side you can see Dyrhólaey, which is a small volcanic mountain which takes its name from its peculiar hole in the rock formed over the years by the tides of the ocean. The Black Sand Beach does not disappoint in some amazing view, although its not first time there. Still you should be careful and respect nature′s boundaries by not going too close to the ocean since the waves coming in can be enormous. Close to the beach is café named after the beach, where I had some well-deserved coffee, but I wanted something hot since it was colder so close to the ocean.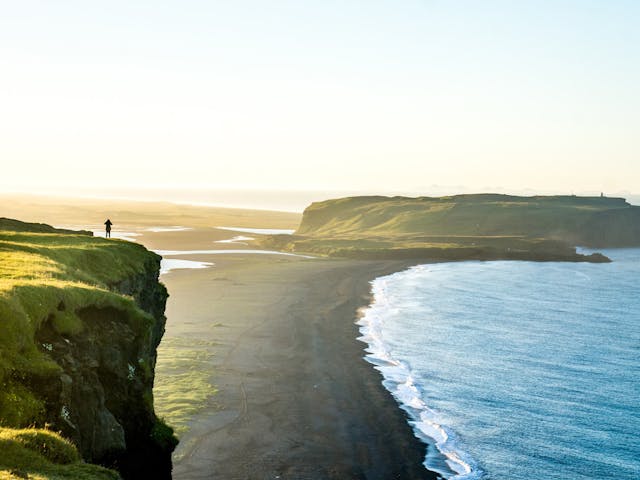 Skógafoss Waterfall in the midst
After the visiting the Black Sand Beach it was getting very dark as we drove to our final stop, Skógafoss. That waterfall is named after a small forest near it. I have also been there before, but I was excited to see it in the dark since I have only been during the day or during summer when it′s always bright outside. When we arrived, it was very other worldly, you could hear the water stream from the waterfall but you couldn′t quite see it. I went very close to it so I felt the mist in my face, if you go so near I recommend a water-proof jacket. Then I went walking up the stairs to the right of the Skógafoss to see it from another perspective. I also took a lot of pictures although it was getting so dark. After my walk I was very tired but happy with my trip with the Trolls.
Stories of the Northern Lights
Then it was time to head home, the drive back home was some one and a half hour, but not boring at all. Siggi told us stories about his adventures with tourists and Icelanders alike. I also listened to some music and watched the landscape change in the darkness. Siggi also told us about the chance on seeing the Northern lights and said it was always possible if it is not cloudy. Then it doesn′t matter how much activity is supposed that night, the possibility is always there. I have seen the Northern lights several times but still tried to look to see if we would get lucky that night, but it was too cloudy.
When we got back to Reykjavík, Siggi let me out at the same gas station where he picked me up. He gave his card and I thanked him for this wonderful tour. Then I went walking home, very happy with my experience with the Trolls.