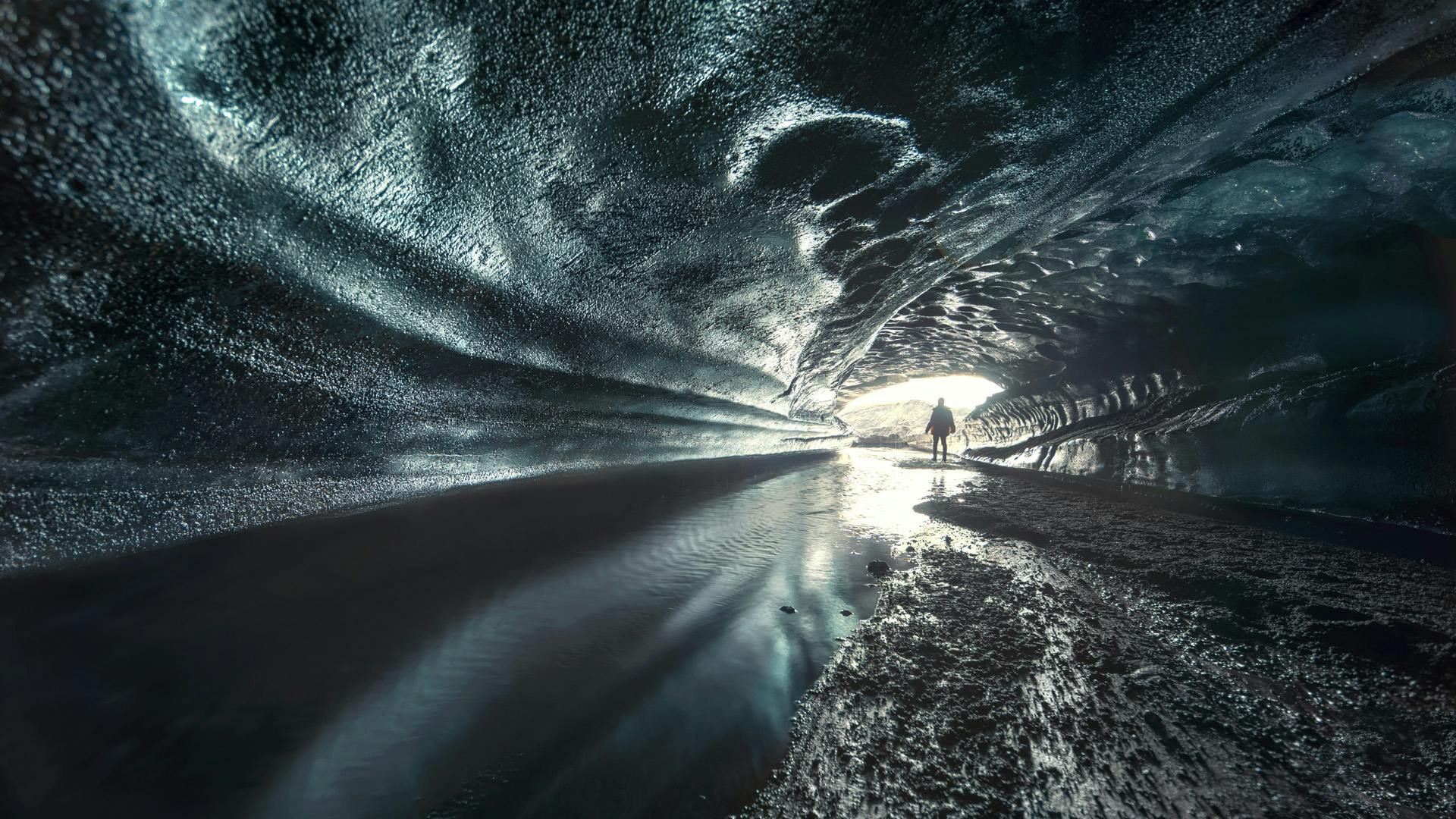 Everything you need to know about Ice Caves in Iceland
When most people think of Iceland, they think of a beautiful island void of trees, yet full of volcanoes, geysers, snow and ice as far as the eye can see. But below the surface, and hidden away in ice pockets around the country, lies one of Iceland's greatest hidden gems. 
Today we are talking about ice caves, pristine and magical wonders of the natural world. In this cold paradise with gorgeous crystal blue colors, enormous tunnels have formed naturally, and tall frozen waterfalls seem to have stopped in time. If you are looking for a great photo opportunity and a mystical place to explore, perhaps you should consider the ice caves of Iceland for your next trip.
What are Ice Caves
These wonderful attractions are mountains of ice, known as glaciers, that have tunnels that lead deep into the packed ice, underground and above ground, giving tourists and visitors great opportunities for stunning photography and a wonderfully frozen world to explore. Sometimes the caves are located so deep inside the packed ice, that very little light reaches the open area, yet light reflects beautifully on the crystal-like walls. 
How are Ice Caves Formed
Melting water from glacier ice slowly erodes the large packs of ice during the summer months. This water runs inside the glacier, sometimes underground, and forms channels, pathways and tunnels. When the fall and winter seasons arrive, the melting water freezes over once more, allowing visitors to explore and experience the crystal clear wonderland. 
These caves are naturally formed, sometimes only existing for a few weeks, while others can last several years, changing slightly from year to year once the melting and freezing occurs. Uniquely, there are no air bubbles in the water that freezes, meaning that the ice walls and caves become clear like glass or crystal, and carry a beautiful hue of blue.
Where are the Ice Caves in Iceland
When planning your trip you could choose a guided tour, but if you want to discover an ice cave on your own, you will need to find a suitable area to explore. More than 10% of Iceland is covered by glaciers, so exactly where should you go if you wish to explore an ice cave yourself? 
The most famous area has many different caves, and is called Vatnajökull. This is actually Europe's largest glacier, and many of the ice caves here are hard to reach, often requiring special vehicles, while other caves change or collapse without warning. Your best chance is asking locals in the area you are visiting, and researching more in terms of safety and necessary equipment. If you want to explore some of the more well known caves, read below for our favorite ice caves in Iceland.
Best Ice Caves in Iceland
We have offered expeditions and guided tours to some of Iceland's most pristine and beautiful ice caves. We even discover new ones from time to time, and have visited many different ice caves over the years. Below we have listed the very best that Iceland has to offer, so read on if you are interested in learning more about the best ice caves
Katla Ice Cave
Katla Ice Cave is one of the most visited Ice Caves in Iceland. This ice cave is very special all around the world because it's the only place where the ice cave is actually covered with volcanic ash. And not only that, the ash dates back more than 800 years. This new three Katla Volcano Ice Caves were found in the beginning of December 2021 by Tröll guides, so very few people know about this place. It is inaccessible with a normal car because of the rugged terrain, meaning that only 4 wheel drive cars have a chance of getting to this secret and magical location.
The Katla Volcano Ice Caves are found in Solheimajökull Glacier, nearby a small village of Vik in the south of Iceland.
How to get there – 
You need a 4X4 car to get to the ice caves, and a very good GPS. It is however not recommended to go there even if you have a 4X4, due to large areas of quicksand close to the glacier.

Mainly due to safety reasons, it is highly recommended for everyone to go with an expert of the area. Safest and easiest way would be driving to Vik, and joining a 4 hour Katla Volcano Ice Cave tour .
Solheimajökull Glacier
The largest glacier near Reykjavik. It is very easy to access it (around 2 hours of driving time from Reykjavik). The glacier offers a diverse types of activities – such as glacier hiking and ice climbing. 
Skaftafell Ice Cave
Located next to the Diamond Beach, in the Vatnajökull National Park in the south coast of Iceland, this stunning ice cave offers plenty of headroom as well as ample space, beautiful blue ice walls and is guaranteed to make lasting memories for the entire family. This cave is relatively easy to access, meaning it is well suited for first-time explorers.
How to get there – 
It is not recommended to go there by yourself without glacier equipment (such as crampons, helmets, harnesses, etc).
You can join the Skaftafell Blue Ice Cave & Glacier Hike activity, where you will go exploring one of the world's largest glaciers. During your hike, you will stop by the Skaftafell Ice Cave, where you will go, explore and learn everything you need to know about Ice Caves on the Vatnajökull Glacier.
Crystal Blue Ice Cave
Also located inside Vatnajökull National Park, Crystal Blue Ice Cave is one of the most popular destinations during wintertime. This is a great place to visit if you want to explore an Ice Cave without having too many tourists around you, as it is a bit more difficult to reach. Therefore to get there, you will need to go on an adventurous ride with a 4X4 car.
How to get there – 
You cannot access the Crystal Blue Ice Cave without a Super Jeep. If you do have one, be careful not to get lost, sometimes signal is very poor in this area.
Do not have a 4X4 car? Join an unforgettable Crystal Blue Ice Cave adventure – with a Super Jeep from Jökulsarlon.
Vatnajökull Glacier
Most of the ice caves can be found on the Vatnajökull Glacier – Europe's largest glacier. Most of these ice caves form in winter, and depending on the weather, sometimes may also last the whole summer. There are a lot of other things to do on this glacier- such as ice climbing and glacier hiking. 
The ice caves change all the time (especially in summer), therefore we recommend you to email us on info@troll.is and request the latest updates on the ice caves.
Ice Caves in the Summer
Last year, Katla and Crystal Ice caves were the only caves we could enter during summer time, because of the melting glacier water creating barriers and dangers for explorers. Each year brings different tunnels and channels formed by the melting water, and some caves are not safe during the summer because of the temperature meaning the cave can be unstable. If you are visiting Iceland in the summer and wish to explore an ice cave, please do your research before entering one.