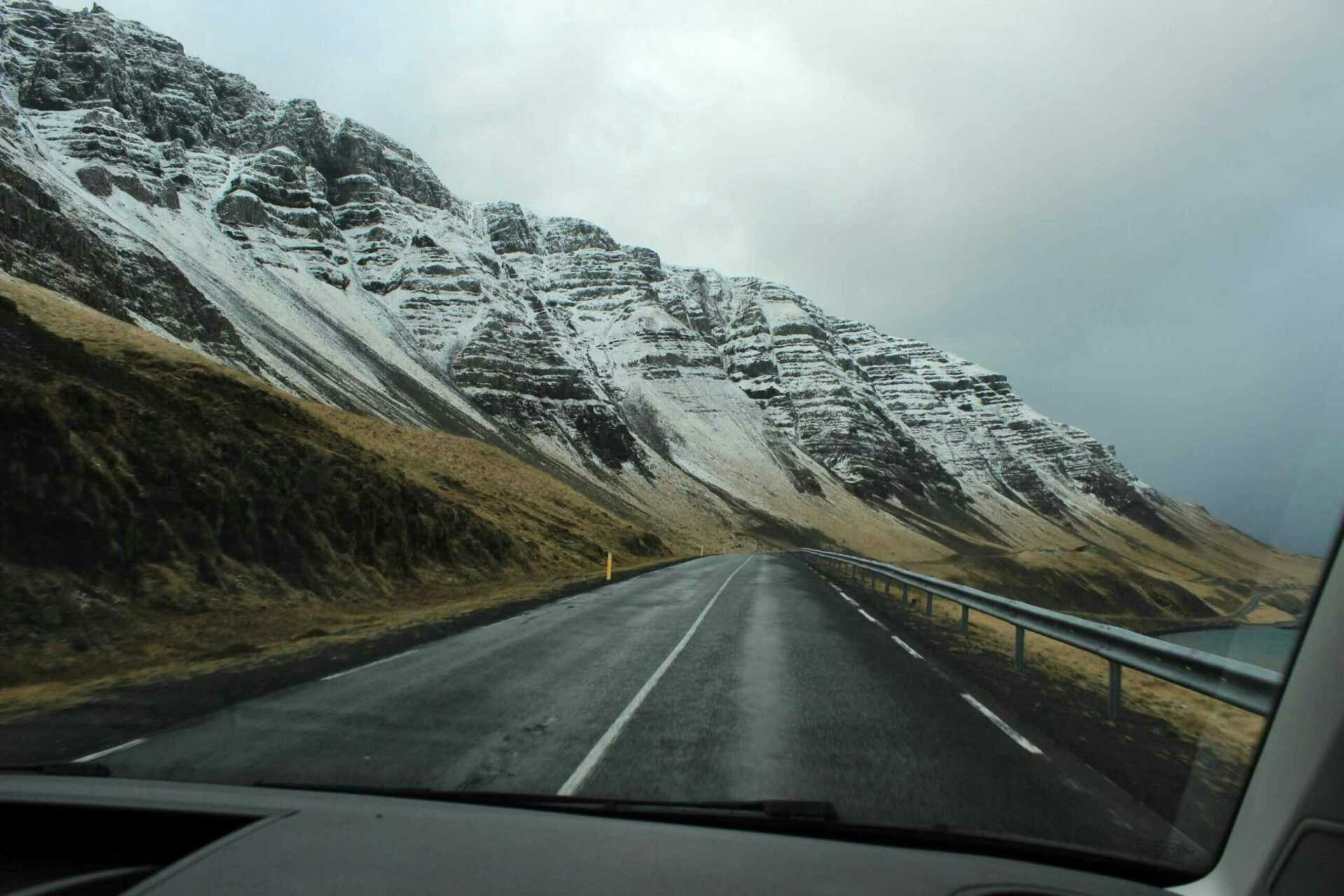 8 Day Trip around Iceland
Golden Circle
One of our new employees took the chance and joined our 8 Days Around Iceland Winter Minibus Tour.
Whenever she explores new places, she is keen to write entries in her travel journal. We are pleased to announce that we are allowed to publish her impressions in this post
Day 1
Today started quite early for me, as I wanted to make sure that I have everything packed for the upcoming adventure. Hiking Boots, Waterproof Clothes and a bathing suit are simply a must along the Ring Road Trip.
Sighvatur, our super experienced guide, informed us that the weather is going to turn a bit lousy from noon on. Our travel itinerary will adapt according to weather conditions.
Prepared for the Icelandic weather, we started the Golden Circle by visiting Thingvellir National Park. Our first sighted waterfall was Öxarárfoss, but we knew that there are many more to come. The thin icicles along the basalt rock formations were stunning. We learned that every waterfall in Iceland has the ending "-foss" as it stands for "waterfall" in English.
Up next, was Gullfoss. A powerful one that I had already seen once but the water had a much nicer color this time. Nevertheless, the wind felt as cold as last time. Especially hard to take pictures if your fingers are freezing every time you take your gloves off 😉
Afterwards we visited Geysir and its famous Strokkur. Funny that my pictures mostly turned out to be blurred as the sudden eruption kept surprising me every four to ten minutes. After our lunch break, Sighvatur added an extra stop at Kerid Crater for us. The hike around this colorful site was stunning even though the wind was against us.
Back on the road, we had a sunny time window ahead of us. We were even able to see the Westman Islands from afar. That's the place of Iceland's largest puffin colony.
Arriving at Seljalandsfoss, the wind was not too bad, so I did not get totally soaked when going behind the waterfall. Tröll Expeditions showed us the hidden gem Gljúfrabúi as well, and standing in such a canyon, hearing the incredible sound of powerful, splashing water is unbelievable.
The last stop, Skogafoss was my favourite waterfall of today. Now in times of the worldwide pandemic we even had this place all to ourselves. 
Tonight we will spend at Hotel Katla, which is located in a peaceful area near Vik.
South Coast and Glacier Hike
Day 2 
The breakfast at Hotel Katla was delicious. Good to get some energy because today is the day of our Glacier Hike at Solheimajökull! One of those places that make you realize how small you actually are on this planet. Tröll provided all the needed safety equipment and instructions, so I just needed a few minutes to get used to walking in crampons. I even got so used to it, that I kept stamping on normal ground later 😉
After about three hours we continued the Ring Road Trip, knowing that the next stop would only be possible if the road was not closed. The luck was on our side and so we were able to go to the Lighthouse View Point in Dyrhólaey. What a beautiful place.
We visited our first Game of Thrones location after that: Reynisfjara Black Sand Beach. Unfortunately the waves were so strong that we could not go besides the basalt rocks.
So we went to another landmark, Vik's church, where we had a great view over the town.
Feels great being out and about all day.
Diamond Beach and Jokulsarlon
Day 3 
We headed out east through the Eldhraun lava field – the biggest lava field in the world with Fjadrargljufur Canyon as our destination. Amazing place to take a walk at.
After arriving at Vatnajökull National Park, the sun came out and we hiked about 1,5hrs to see Svartifoss and the rocks surrounding it.
Followed by a lunch break at a diner in Skaftafell, we continued our Ring Road Trip and traveled to Fjallsarlón. This place exceeded all my expectations. Even though there are usually more icebergs in the lagoon, it was absolutely stunning. Seeing such a glacier lagoon for the first time is incredible, I used to only see that on TV.
At this point I thought, this would be my personal favorite part of the tour. Something so beautiful and giant out in the middle of nowhere.
I was wrong. A place even more impressive was waiting for us: Diamond Beach and Jökulsárlón. You hear seals, try to spot their heads in the glacier lagoon and to not trip over fragments of icebergs at Diamond Beach. What an experience!
On our way to tonight's accommodation we even encountered reindeers. Apparently, they got imported from Norway back in the old days and are now chilling next to Iceland's coastline.
In the evening, we found us in an even luckier situation: The main building of Guesthouse Gerdi was full that night, because of some film shooting in that area. Therefore, our room got upgraded to a private accommodation: A summer house next to a waterfall that's even lighted at night, unbelievably beautiful.
The only thing we are missing are the Northern Lights but it might just be too cloudy tonight.
The East Fjords
Day 4
Wonderful weather: Sunshine and no clouds. Weather that Iceland usually only has in summer. Great conditions to visit the Crystal Blue Ice Cave: https://troll.is/ice-caves-in-iceland/ice-cave-tours/crystal-blue-ice-cave/
The tour took us about three hours and started in Jökulsárlón. Atli, the local guide, calls it the Sapphire Ice Cave and they said they found it just recently. There was a lot of water dripping as it had about 17*C outside but the sunshine made the blue shades seem even brighter, perfect to take pictures for Instagram.
The ride to the ice cave was a pure experience itself. I've never been in a Super Jeep before. These huge tires get deflated for a smoother ride on the rocky way there. Once we arrived deeper in the cave, Atli asked us to turn off our headlamps. You could see the sunlight trying to get through the ice. What a magnificent moment.
The ride later along the east fjords took us quite some time but it was nice to see some more reindeers and to have a photo stop at Hvannagil and Laekjavik east. We could also check out Djupivogur and Faskrudsfjördur along the way. 
Our final destination was Egilsstadir where we have our accommodation for tonight: The Herad.
From Lake Myvatn to Akureyri
Day 5
Last night, we saw the Aurora Borealis from the hotel window. Never would have thought I would see dancing Northern Lights from my bed one day.
After the breakfast, we started today's tour by passing Hallormsstaðaskógur, the one real forest here in Iceland. Right next to it, we saw Lake Myvatn. As roads were cleared, we could go to the area of Stuðlagil Canyon but we were not able to walk down because the walking path was still too icy. And so we continued our route in a so-called Víðátta. It's an Icelandic word that describes the wilderness when there is nothing around one, except mountains and the road.
Luckily, also the road to Dettifoss was open and so we were able to see the most powerful waterfall of Europe, rainbow included. Wonderful to walk through some snow again. One spot even felt like a funny game when passing. The snow started to melt and so we had to find a way where we do not sink into it. Otherwise I would have been covered in snow up to my knees and I would have had to change into my spare shoes later.
Later sites were Ásbyrgi Canyon, where it is even possible to camp in summer, followed by Húsavik, the town that's linked to the American musical comedy film "Eurovision Song Contest: The story of Fire Saga". After that, we had some time to relax in Myvatn Nature Baths, followed by Myvatn Lake, Dimmuborgir and last but not least, Godafoss. On our last stop, the wind picked up so strong that we had struggles taking pictures with our phones. 
The night we are spending at an Icelandic Air hotel in Akureyri.
! And now, big news at around 10pm, 19th of March: We have a volcanic eruption at Reykjanes Peninsula! What a time to be in Iceland right now!
North Iceland
Day 6 
We started the day with a nice view over Akureyri from the skiing area. Sighvatur drove with us through town to see the main street and the shopping district. Very cool to see the red heart-shaped traffic lights there. We continued our trip by going through Dalvik, Ólafsfjörður and Siglufjörður. Interesting places, where you realize how huge Iceland's fish industry is. Also took a one-lane tunnel for the first time in my life.
Sighvatur was so kind, we simply made suggestions for stops. If it was on the way and we had enough time, we could stop. That is how we could take pictures of the Icelandic Horse. Now, in hindsight, I wish I would have also booked horse riding. They seem like such trusting animals. 
After a short lunch break in Blönduós we were on our way to Kolugljúfur Gorge. Followed by one of my favorite spots: Hvitserkur! We could not go down to the beach as it was also quite icy, but we were able to see the rock formations with the wonderful landscape in the background. 
We are going to spend tonight at the Fossatun Country hotel which is located in a scenery as out of the books- next to a river. They even have a hot tub here which I´ll try out now. Hope to see some northern lights from there! 
Snaefellsnes Peninsula
Day 7
Today we explored Snaefellsnes Peninsula. Starting in Gerduberg, we kept on going to Ytri Tunga beach where we could even spot two seals.
Bjarnafoss, translated "The waterfall of the bears", was first blowing upwards because the wind was so strong, but it was getting better once we reached the black Church Budakirkjar.
The Canyon Raudfelgardjar is kind of a hidden gem, I have to admit. Besides that, we checked out popular places like Arnarstapi and its huge stone structure of Bárður Snæfellsás. 
Hellnar had an impressive beach but it is different to Djúpalónssandur, the next stop. On this day, the waves were so wild, that many fish washed ashore.
Troll Expedition's four-wheel-drive vehicle made it possible to check out the orange colored lighthouse Svörtuloft and the strong waves from the viewing platform. Unfortunately, the Kirkjufell mountain was not visible today because it was too foggy. Looks like I have to come back again! Instead we've seen Berserkjahraun, a 4000-year-old lava field and heard about its saga.
Check out https://troll.is/day-tours-iceland/day-tours-from-reykjavik/snaefellsnes-peninsula/ if you are interested in a Sightseeing Day Tour to Snaefellsnes!
West Iceland
Day 8
It's already the last day of the tour. Sad that the tour is coming to an end but it was the perfect time for a getaway. We started the day by visiting Deildartunguhver, Europe's biggest hot spring. There we've seen boiling water coming out of the ground, meeting snowy wind guts. Awesome to witness "ice and fire" at the same time.
Later, we've reached Reykholt to hear about the Icelandic poet, Snorri Sturluson. Snorralaug, a beautiful little hotspring is named after him.
The most impressive site today was probably the Hraunfossar Lava Waterfalls. On our way back we still drove through towns like Húsafell, checked out some geothermal power plants, and enjoyed the last impressions of Iceland's landscape. 
We returned to the city in the late afternoon. After around 2500km together, it was a bit sad to say goodbye to the rest of the group but I am sure we will see each other again in life.
We spent 8 days out and about in Iceland and saw as much as we could see in this amount of time! Absolutely loved it. Of course, I could have driven it myself but considering fast changes in weather conditions and that I do not know Iceland's roads, it was super convenient to go on Tröll's guided tour. I also got to know other travelers and learned a lot as Sighvatur provided us with useful information about this country.
I definitely recommend this tour to everyone who wants to see the diversity Iceland has to offer, within a super convenient time frame!