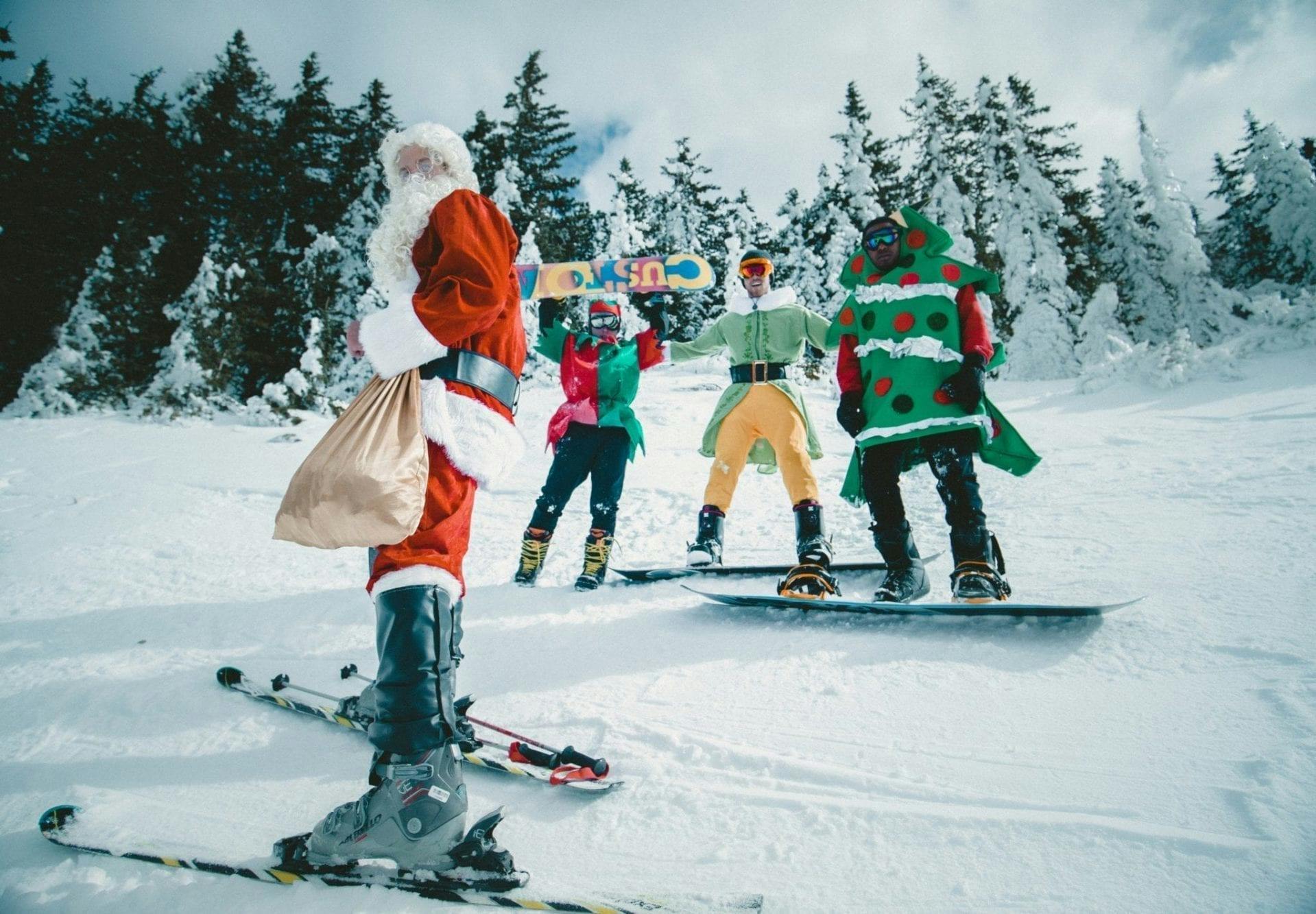 Christmas and New Year in Iceland
More people are visiting Iceland during winter every year so now we will look at Icelandic Christmas customs, as the festivities get closer. Keep reading and you will learn about our customs along with what you can do in and outside of Reykjavík during this season, and most importantly you will get to know the food Icelanders eat.
By Vignir. Edited by Alondra Silva Munoz.
Brief History of Christmas in Iceland
During the Icelandic winter, the sunlight is receding until the 21st of December, this is part of the reason Icelanders have a long history of celebrating Christmas or Yule (jól) heartily like has been done since the settlement of the island. In pagan times the return of the sun was celebrated with a big feast, even lasting for a few days. Since Christianity arrived this festival was fixed to start 24th of December as Christmas′ Eve, but in fact, advent is celebrated since the first Sunday in December. Many Icelanders have an advent wreath in their house with four candles lighting one more each Sunday until Christmas arrives.
Then during the evening of December 11, the famous Yule Lads starts coming but they are the sons of the giantess Grýla, as seen on the picture above, and her husband Leppalúði, they bear names such as Gully Gawk (Giljagaur) and Meat Hook (Kjötkrækir) and originally were pranksters that were expected to make trouble during Christmas time with stealing meat, sausages, skyr and candles to name a few things. Living with this troll-like family is the Christmas Cat (Jólaköttur) which was supposed to eat children that didn′t get any clothes as gifts for Christmas. Grýla herself was fond of human children for supper. Nowadays the brothers have mended their ways and instead of trickery they bring sweets or small gifts to children during the night left in shoes that kids leave in the window sills, but only if they are good. Children that behave badly receive potatoes. Also, Grýla is reported to have laid off the children. You can read more about the Yule Lads here.
That brings to our next topic what to during this wonderful time in Iceland!
What to Do in Reykjavík during the festivities
Reykjavík is on the 64th degree of latitude, so chances of a White Christmas are quite good. Even more so if you spend time outside of the capital, like for example in Akureyri in the North or in Ísafjörður in the Westfjords.
Even if the snow fails to appear, there are plenty of things to do in Reykjavík during the holidays. Very popular among Icelanders this time of year is to visit the shops and the cafés in downtown Reykjavík. You can even visit the Little Christmas Shop on Laugavegur 8, in the appropriate season but that store is open year around. In December there is also an ice skating rink in Óðinstorg, at the end of Austurstræti, which could be a fun activity for the whole family.
Of course, you can go and see our statue of the Christmas Cat that is standing in Downtown Reykjavík. The kids love it, despite its terrifying look. But remember, children must have been nice and not naughty if they don't want to get a potato as a Christmas present.
What to Eat during Christmas
The main shopping frenzy is reached on December 23., which is also known as the Mass of Þorlákur (Þorláksmessa). Stores are then open until eleven in the evening for some last-minute shopping before Christmas. That evening you can also try the Icelandic delicatessen skata or ray-fish which has been processed in a special way and cooked. It is served with potatoes and melted sheep fat and is best known for its strong smell. If you enter a restaurant serving ray-fish, you will notice the smell right away and then can decide if you try it. The taste is also strong and has notes of ammonia, but the smell is what puts people off it mostly.
Icelandic Christmas food does not have such a particular taste and you can enjoy some delicious smoked lamb meat or pork roast in most restaurants open for the holidays. Some Icelanders also eat ptarmigan, a small bird hunted for game in Iceland, and reindeer for Christmas but those are usually not sold in stores but hunted with a license. Some restaurants might offer it also for Christmas. One important recommendation is to book early to be sure to get a seat at your desired restaurant since the demand is high with Icelanders and tourists alike. Also, make sure you try the mixed beverage of orange soda and Holiday malt drink, it′s non-alcoholic and has been enjoyed during Christmas for decades, it′s usually known as Jólaöl (Christmas Ale) and is even available in stores ready mixed.
If you fancy taking a trip through history and get a bit outside of the center of Reykjavík, you can visit the Árbær Open Air Museum where you can visit old houses and see how Icelanders lived in earlier times, read more about it (here). In December they have special Christmas related events at the museum reflecting old Christmas traditions.
If you are searching for genuine Christmas spirit you could go to mass in one of the many Icelandic traditions around Iceland, this is something you can do everywhere around Iceland due to our number. In church you will not only find peace and quiet but during mass Christmas songs will be sung and you can try singing along if you know the melody.
If you are more adventurous, there are many day tours you can take starting from Reykjavík, you can, for example, visit the Golden Circle. The Trolls go there and visit Gullfoss, Geysir and Þingvellir National Park along with Kerið, a volcanic crater. Or if you are not afraid of the cold, you can snorkel in the icy cold Silfra, with Iceland′s clearest water along with seeing the Golden Circle. Then you can also visit the Snæfellsnes Peninsula with the Trolls, where you will visit a seal colony, Arnarstapi, Lóndrangar and Djúpalónsssandur along with Kirkjufell, Iceland's most photographed mountain that appears in Game of Thrones. For those interested in glaciers, the Trolls offer a day tour taking a hike on Sólheimajökull and seeing the Black Sand Beach, along with the waterfalls Seljalandsfoss and Skógafoss.
What to Do Outside of Reykjavik
Outside of Reykjavík you are much more likely to escape the hustle and bustle of Reykjavík. So, during Christmas, you can enjoy walks in nature or enjoy some Icelandic specialities of Christmas food. There are also Christmas markets in many towns and villages around Iceland so make sure to ask at your guesthouse or hotel about special Christmas activities. Likewise, you can go to mass all around Iceland and enjoy some peace and serenity.
If you are feeling more adventurous you can check out Glacier and Ice Cave tours with the Trolls. From Skaftafell National Park you can for a Glacier hike for three or five hours (here). You can also visit a Blue Ice Cave for some breathtaking views of the Ice Cave (here). You can also contact the Trolls and see what they can offer in your vicinity, The Trolls are always happy to respond and help plan your trip.
What to Do during New Year's Eve in Iceland
By now you have probably heard about the fondness Icelanders have for blowing things up or burning them for New Year's Eve. So, one thing you can check out during the last day of the year is one of the many bonfires around Reykjavík and the Capital Area. You can ask someone where you are staying how to find local bonfires since they are announced a few days before the December 31st and depend on the weather as well. Same goes for towns in the countryside but most likely only one bonfire will be burning in smaller communities and therefore are easier to find. Many bonfires are followed by firework displays in the evening, so you might catch a glimpse of what is to follow.
Fireworks are a big part of the celebration in Iceland and you can hear them go off all through the day. The density gets higher when it gets closer to midnight, especially after the hour-long comedy show (Áramótaskaupið) is finished half an hour before midnight. Then those haven′t started to light up fireworks. Typically, any place high up will give you a good view of the fireworks. Most density will also be in Reykjavík but around the country you can see the celebration.
After celebrating the arrival of the New Year, you might want to go partying. Just a fair warning, many people get the same idea so the lines to get in might be very long, especially in downtown Reykjavík so bear that in mind and have a good with your family and friends during the Holidays.
Gleðileg Jól
Happy Holidays from Troll Expeditions!
The tours mentioned in this article: