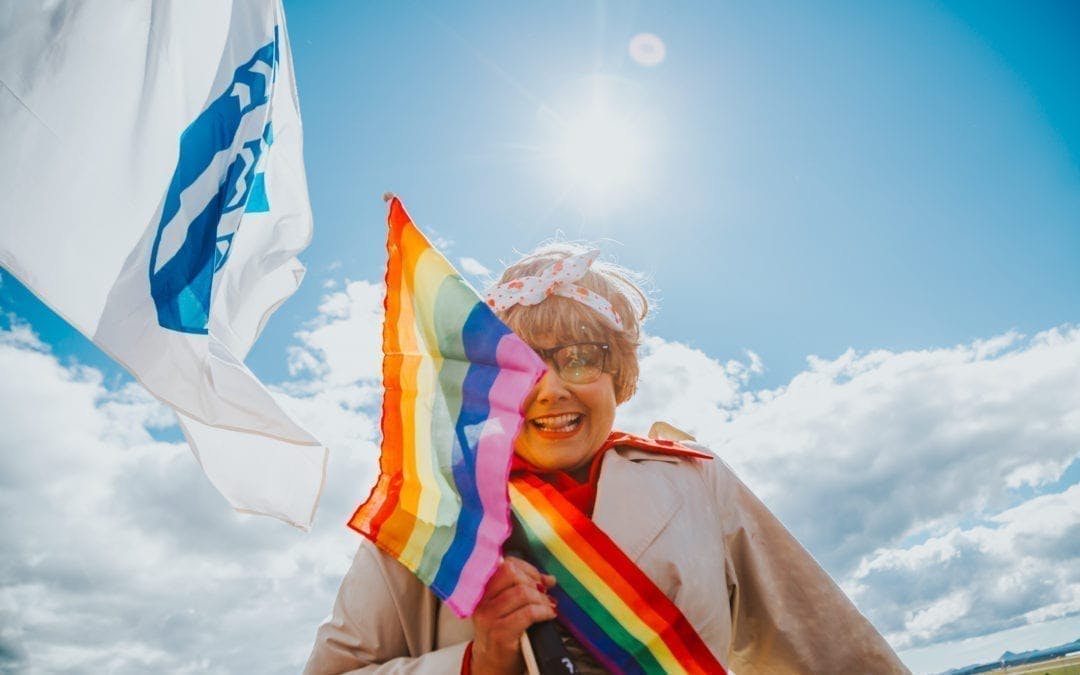 Celebrate Reykjavík Pride
Proud Trölls Unite.
Written by Rex Beckett. Edited by Alondra Silva Munoz.
This weekend marks Iceland's biggest, gayest party of all with the Reykjavík Pride festivities. This is a great time of the year for everyone to celebrate our differences and embrace the fact that everyone in welcome, regardless of their different identities, which makes Iceland one of the most progressive countries in many aspects.
Celebrating the country's diverse, open and very much accepted LGBTQI+ community, the weeklong party kicked off on Tuesday night with a massive drag review hosted by Detox of Rupaul's Drag Race fame, and will culminate on Saturday with The Pride Parade starting at Harpa.
Whether you planned your trip around this rainbow splattered, joyous, unabashed love fest, or just showed up by coincidence, it really is the perfect time to appreciate the beauty of this thriving Icelandic queer world.
Daytime Fabulous
Start your prancing around town at Geiri Smart – or Gayri Smart, as it will be known this week – with the official Pride Bubbly Brunch on Saturday, feast on a delicious brunch, suitable for omnivores and vegetarians alike, and fill up on fancy mimosas to get you all loose and perky for the day.
If you're up for a quicker more home-style lunch, head over to the queer-owned Café Babalú, whose bright and colourful décor and simple mom-and-pop diner inspired meals will leave a smile on your face. Their whimsical and nerdy bathrooms are a particular highlight for the child and dork inside.
If you need some pride in a glass before or after your adventures, head to Kröst in Hlemmur Mathöll who this week are serving up the fanciest glass of bubbly in town – either classic or rosé champagne, with an oversized rainbow straw and topped with pink candy floss.
Adventure Time
Since you surely want to get out of the city and experience this beautiful country on your visit, us Trölls are ready to take you on a great journey. We highly recommend making the expedition to go snorkeling in Silfra in the Thingvellir continental rift. Since it's the end of summer, the water has been exposed to maximum light for the past few months and has absorbed all the radiant heat possible. Still, you'll be kept nice and cosy in a drysuit as you dive down into these lovely clear waters, swimming right between the North American and European tectonic plates.
Channel your inner mermaid as you splash about these magical waters. You can book this amazing transcontinental fabulous watery snorkeling tour in Silfra Fissure located in Thingvellir National Park by clicking here. And don't forget you'll get your pictures taken and sent immediately after the tour for free to your email.
On your way back, we can take you to enjoy the majesty of the Gullfoss waterfalls and of course, the double-entendre of natural phenomenons, Geysir. Or should we say, Gaysir. This perfect quick trip will get you back in time to get glittered up and hit the town.
Tröll Around the Nightlife
If you are reading this on Friday, there is so much to do this evening to feel pretty and witty and gay! At 18:00, beer-loving queers should hit up the Pub Crawl, starting at the Hlemmur bus terminal, while music lovers and Glee fans should hit up the Reykjavík Queer Choir concert at Fríkirkjan Church. Later on at 21:00, don your finest wet-wear and hop aboard the Queer Cruise, leaving from the Elding dock in the Old Harbour. If you'd prefer to stay on dry land, head to the Shore Leave Dance at Kiki Queer Bar at 22:00, or enjoy the Kinky Carnival at The Hard Rock Café at 22:30. These last two are strictly adults only!
Finally, many events are free but some have entry fees which you can check and buy tickets for at hinsegindagar.is. One can also head straight – or queerly – to the Pride Store & Service Center at Suðurgata 3. Don't forget to take a photo with the big unicorn mural on the side of the building. You can also read the Program for Reykjavík Pride in more detail if you click here.
Pride Parade "Gleðiganga"
On Saturday, get ready for lots of dancing and lots of confetti! Start by staking out a great spot on Lækjargata before 14:00 to watch the beautiful Pride Parade procession as it makes its way from Harpa to the Hljómskálagarður Park. Once it gets there, find the big stage and watch the outdoor concert, featuring some of Iceland's most beloved queer performers. Later on at 23:00, the grown-ups can go be bad kids at the official Reykjavík Pride Party in Gamla Bíó.
Finally, on Sunday, families of all sorts can meetup in Klambratún Park at 14:00 for the free Family Rainbow Festival, with entertainment, games, lots of delicious food, costumes and tons of fun. The poor hungover souls who can't get up before the afternoon can go nurse their wounds with tasty food and some hair of the dog while watching Kinky Boots at Stúdentakjallarinn at 17:00.
Happy Pride from all the Trölls!