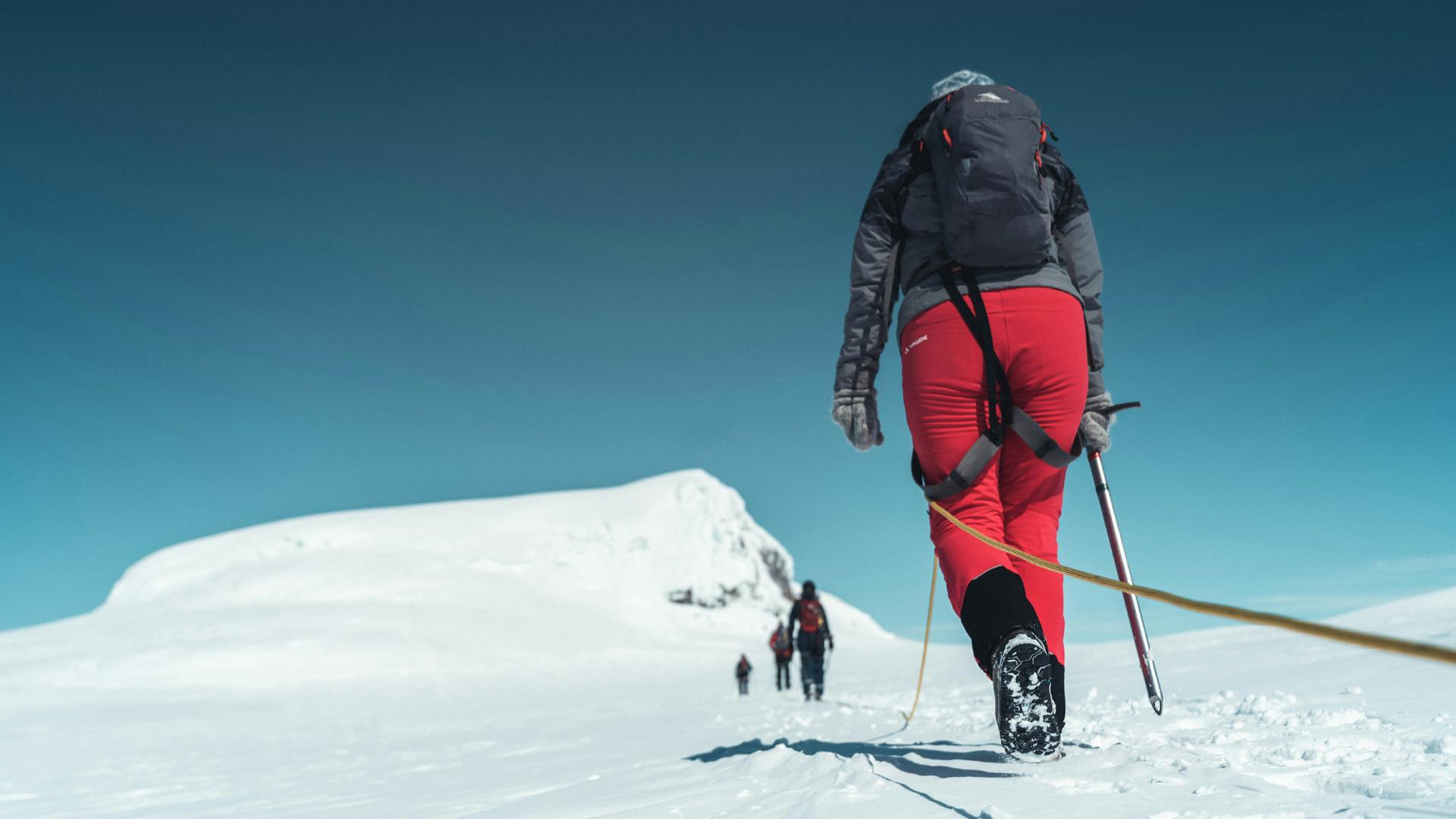 Can I go Glacier Hiking on my own in Iceland?
No trip to Iceland is complete without hiking over the massive, mesmerising and seemingly unreal glaciers. The sheer beauty of what you see around will make you struggle for adjectives. Hiking to the top of a glacier will allow you to soak in probably one of the most prized views of your life. The combination of blue and white ice blending with dark grey lava and volcanic peaks creates a sight not found elsewhere.
Written by Jaya, edited by Andrea Gylfadóttir.
Melting ice creates new pathways and every time you visit Iceland, you find the old ones have vanished and new ones created. For your caving pleasure, numerous ice caves and crevasses are waiting to be explored!
You may feel lured to rush to this one-of-a-kind land right away and go hiking, particularly, if you are an experienced hiker or a rock climber. You may even want to fly straight to Iceland with your equipment and get going climbing a glacier.
It's more than just climbing
If you are thinking of attempting to climb a glacier on your own, you may be seriously mistaken. Glaciers in Iceland can be quite dangerous and while trying to climb one you may face the risk of getting seriously hurt or even killed, if you are hiking on your own without any professional assistance. 
Snow can melt unpredictably in summers, softening the ice under your feet, making you unsure of where to place your next step. Snow often covers holes in the ice and if you accidentally step in the wrong place, you may sink into a deep crevasse with no one around to pull you out.
Also, massive walls of ice are difficult to climb without professional help. Use the services of a knowledgeable guide who is experienced and well aware of the risks. Almost all professional guides in Iceland know the terrain like the back of their hands and are experts at leading such expeditions. 
Knowledge is the true power
It is not enough to just know the skill of hiking, but to also know how the ice will behave at any given time and place. An expert whose only job is to guide people on glacier expeditions in Iceland, is someone who is experienced and equipped to keep you out of danger. Highly recommended!
From assessing your level of skill, to giving you some crucial suggestions on how to keep yourself safe and arranging for you all the necessary equipment (crampons, ice axes, harness) for a safe hiking experience, these guides accompany you on one of the most daredevil adventures of your life. In a rare case if anything goes wrong, you always know that support is at hand.
Take professional help for a fun and safe trip
Moreover, professional hiking experts, with glacier experience in Iceland help you get the best out of your trip. They provide you first-hand information about various glaciers, tell you how they are distinct from the other and design for you an optimum itinerary. If you are comparatively new, they will demonstrate to you how to properly use the hiking equipment and help you safely navigate through the ice fields which can otherwise be challenging.
Everybody on your group is properly fitted with crampons, which are spikes worn over the shoe that allow for better grip while walking around on snow. Your guide gives you enough time to acclimatise yourself with the equipment and surroundings and once you are ready, they lead you to hike the glacier.
Going solo can soon turn out to be a serious mistake
Ask any experienced hiker and they will never recommend you hiking solo anywhere, let alone a difficult terrain like a glacier. Sure, going solo has its own advantages—doing your own thing, eating when you feel like, waking up when you want to and basically traveling at your own pace. You have your space to yourself and get to appreciate silence all alone!
However, regardless of your survival expertise and fitness levels, hiking in Iceland without a guide accompanying you, may get risky any time and you may end up injuring yourself severely. It can become scarier if no one is there to help. The hike may get more challenging than expected or you may simply get lost in the myriad of vertical walls of unending ice and snow. 
Trails are not always well marked or clearly laid out. Many hikers consider losing themselves improbable in a day and age of Google Maps, yet it does happen and you surely don't want to lose your way while on a glacier. 
Several seasoned hikers who have climbed most mountains and glaciers across the world too vouch for the safety aspect. They too accept that some tracks may get too difficult to overcome without professional help. Moreover, even if you do manage to climb up, you may have no idea where to head to next to be able to enjoy the best views and gorgeous sights. 
Why miss those engaging stories 
A guide in tow will have numerous stories to share while on the trek, which increases the bliss of the hike manifold. Just going up and up with no one to share the experience about the glacier adventures, the volcanos, the natural ice caves and more, becomes sort of boring after a while. 
The professional guide is a person of all seasons here, who has spent a good portion of his life going up and down the glaciers. They will not only keep you engrossed with interesting facts and stories, but also help you appreciate nature and create myriad memories while hiking Europe's largest glacier. 
A certified glacier guide will lead you through bewildering crevasses and unbelievable glistening ice formations. They will show you how a glacier moves and keeps changing its course. Exploring the glaciers with a professional guide will add to the charm, taking your experience up by several notches.
What sparks your interest when it comes to glacier hiking ?
Tröll expeditions has to offer a selection of exclusive glacier hikes on Sólheimajökull glacier, one of the outlet glaciers from Vatnajökull glacier. A small group, 3 hour day tour on Sólheimajökull, where you will stay on the ice cap for about 60-90 minutes and enjoy all the glacier has to offer.  If you crave a bit more intensity during your Iceland expedition an extra adventure glacier hiking tour might be the right choice for you. A half day hike in Skaftafell national park, exploring the winter wonderland this nature reserve holds, blue ice and glacier hiking on Falljökull glacier, the falling glacier.
What are we waiting for ? We're waiting for you! Book your tours now!