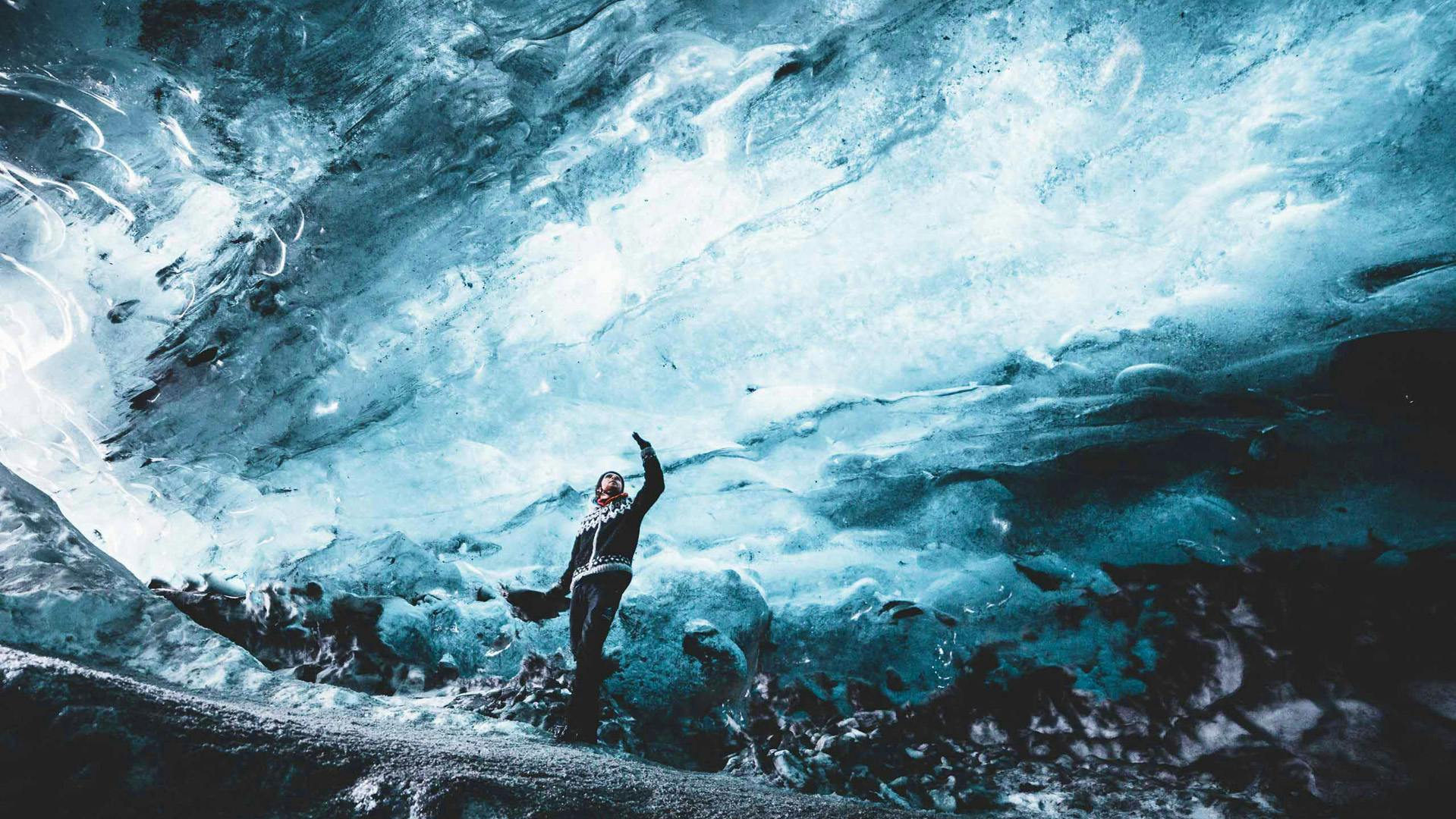 Blue Ice Caves – All You Need to Know
As far as we all know, ice is supposed to be white. Then why do many ice caves in Iceland turn out to be blue, grey, or mixed with black? Depending on the formation of ice, the cave may be crystal clear like glass or opaque. Iceland caves tend to typically display more than one colour.
How Ice turns blue
When ice crystals in a glacier get compressed beneath its own weight for hundreds of years or even more, the air inside them bubbles out. In the process, the ice crystals enlarge, creating blue ice. Often, you see a large expanse of glistening, transparent and crystalline ice resembling a deep blue quartz crystal. 
You may find blue ice looking opaque and solid-like. Some glaciers will show deep jewel blue tones. Often, algae is trapped within glacial ice lending the blue hue. In some glaciers, blue stones are so deep that they almost turn violet.
Ice Caves defy explanations of Geographical Phenomenon 
The formation of almost all ice caves in Iceland defies all explanations as to how they are formed or acquire a certain colour or shape. Yet, some of them are so astonishing that they qualify for a breathtaking view. The Crystal Cave located in Breidamerkurjökull, an outlet glacier from Vatnajökull, is famous for its incredibly turquoise blue colour. There are other caves in the country with blue, white, grey and even black ice.
Langjökull natural ice cave, which formed in 2017, is noted for its wonderfully beautiful and dramatic colours. You will find a stream of turquoise blue ice throughout the cave. In the white ice encircling this 'rivulet', there are layered grey zebra-like patterns left by the ash of volcanic eruptions.
Ask your glacier guide how to reach these extraordinary caves.
Ice Caves mixed with Black Ash
Not far from the Crystal Cave, there is a black ice cave as well called the Dark Rubin in Iceland. The cave is quite dark. The space inside would not be sufficient for more than 30 people. Not many tourists come here due to lack of light and poor visibility. 
You will find another very dark ice cave in Mýrdalsjökull Glacier, in proximity of the Katla volcano.
While you admire the beauty of these ice caves, you are at the same time advised to take care of your safety. Make sure you visit an ice cave only under the guidance of an experienced guide and along with the right equipment. During your Iceland expedition it is important to listen closely and follow the guidelines set by tour guides. 
The Ice Season
Though Iceland is vibrant with tourist activity throughout the year, ice-caving is pursued only in winters – from November to March each year. This is the time when people come out in big numbers to explore caves. Ice is rock-solid at this time of the year and you may explore these glorious formations while staying safe.
More about Ice Caves
Ice caves are mesmerising natural formations brimming with vibrant hues. Permeating through the ice crystals of different textures, the falling light creates a captivating mix of myriad colours. It seems as if Nature itself has been painting on ice.
To see these huge masses of raw ice is an experience of a lifetime. A tour of an ice cave will leave you awestruck from the start to the finish.
What makes these ice caves even more special is their ever-changing appearance. A cave you see one year would disappear the next. They keep changing size and formation. In the winter of 2016, a small cave with intriguing blue ice – called the Blue Diamond Cave – came into existence. It could accommodate 16 people at a given time, while the famous Crystal Cave had enough space for 100 people together.
Tour guides explore the glacial area every year prior to the season to discover and re-discover the ice caves.
How Ice Caves come into being
Ice caves change their shape and location thanks to the glaciers they exist in. The glaciers expand in the winters and melt in the summers. The meltwater drains downwards through crevasses in the ice. These shafts, which are generally vertical, take the water right to the bottom of the glacier where it forms rivers within the glaciers, creating internal channels into the glacier ice. 
During cold weather in the winters, the ice gets hardened and the melting of water stops. In the absence of melt-water, tunnels transform into caverns of crystalline ice.
The formation of some caves in Iceland can be attributed to the subglacial flows triggered by geothermal warmth. Like the glacial flow, hydrothermal flow of water also causes ice caves to take shape. However, it is very hard to figure out whether a particular ice cave is formed by geothermal or subglacial activity. 
Ice Caves or Glacier Caves
Technically, the caves which shape up in Iceland should be termed glacier caves as they are entirely formed within glaciers. But the name that has got popular is ice cave. Literally, an ice cave is any regular cave with plenty of ice inside.
What to remember inside a cave
Almost all visitors to a cave act like kids, looking around with eyes wide open, touching ice formations and taking photos. There may be some captivating ice formations and icicles in the cave, but avoid touching them as they may break any time. In an ice cave, you never know what will follow what and when, so you better don't act in haste and hurt yourself.
In the same breath allow us to add that it is important for you to follow your guide. They are the people whose livelihood depends on their knowledge of the caves.  Following their instructions would ensure your own safety. 
Just because a fence hasn't been set up there, don't presume that you can just do anything you want inside. Nature, which looks so beautiful in one moment, may get fierce the next. If someone who has visited a cave before brags that they violated the safety norms without any repercussions, it doesn't imply you act with the same foolishness and disregard warning signs.
Of course, the winter's most favorite is Crystal Blue Ice Cave | Super Jeep from Jökulsárlón (here).
Experience all the fantastic features of a glacier with a glacier hike and a visit to a blue Ice cave in Skaftafell national park.  These blue ice phenomenons await your visit! Maybe a more mysterious ice cave located in Kötlujökull, an outlet glacier of Mýrdalsjökull glacier might excite you. Underneath it lies the mighty volcano Katla.
This Dragon Glass Ice cave offers views we didn't think possible in nature, it draws its name from The Game of Thrones.  
Even when you are hiking or ice climbing during glacier tours and have not yet reached the cave, tread cautiously.  Stay safe during your adventures and enjoy all the fantastic features of nature. Make sure to hit all the big attractions such as Gullfoss waterfall, Jökulsárlón glacier lagoon and the Northern lights, but be sure not to miss out on out of the box adventures like blue ice caves.