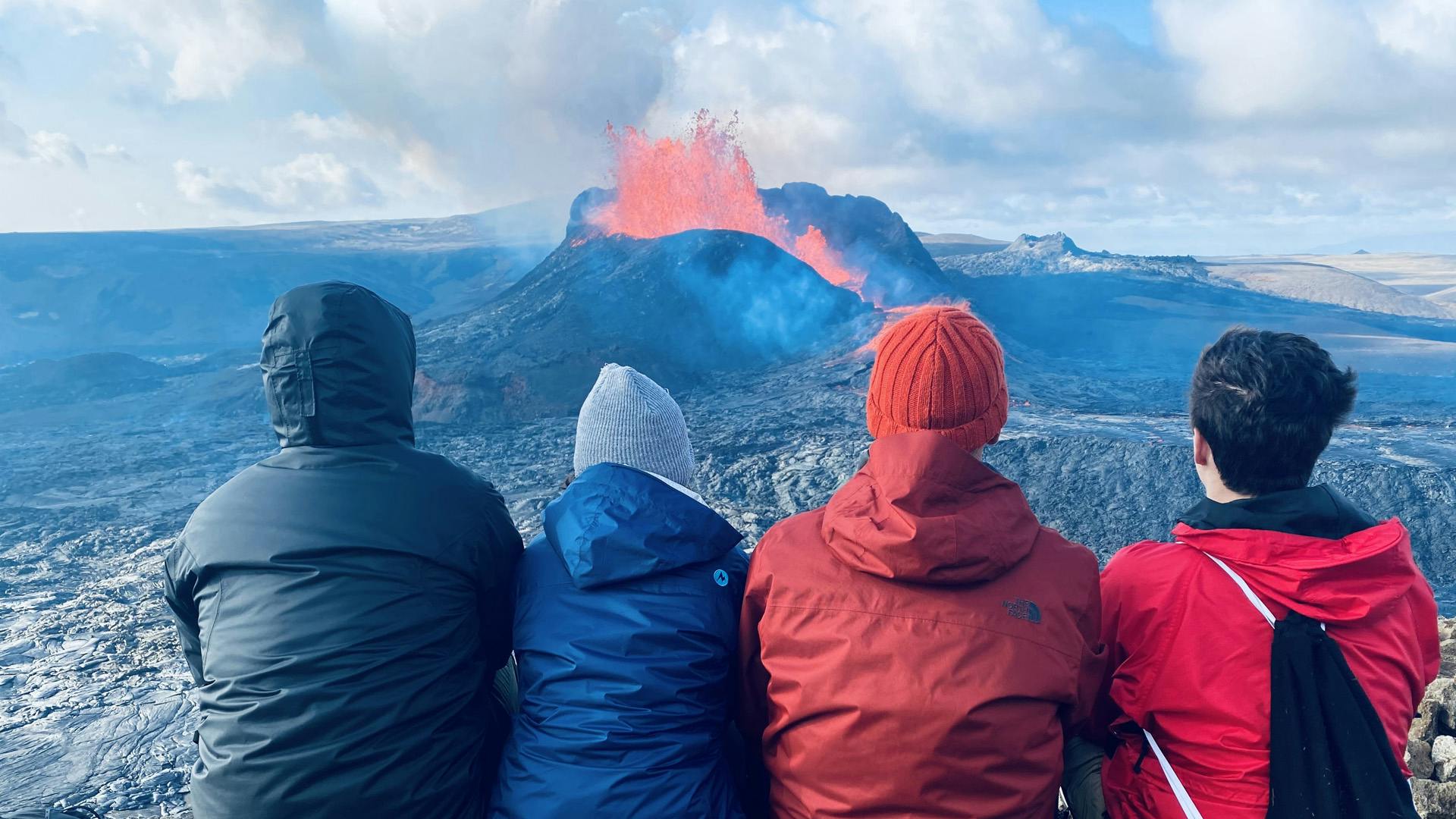 9 Best Things to do in Iceland
1. Walk on Europe's Biggest Glacier
The third and newest UNESCO World Heritage site in Iceland is the glacier Vatnajökull. It  covers roughly 8% of Iceland's surface and is the largest glacier in Europe – and the third largest in the world (after the ice caps in Antarctica and Greenland). Vatnajökull glacier embodies all the extremes of Iceland, the highest elevation, the coldest temperature, the biggest eruptions, the highest precipitation and the fastest winds. It also has Iceland's highest peak, Hvannadalshnjúkur, which sits atop of Öræfajökull, a glacier within the Vatnajökull Glacier system. Vatnajökull Glacier is so massive it has forty (40) glacier tongues and seven (7) active volcanic systems.
What to do in Vatnajökull Glacier
Iceland's largest glacier is one of the most visited places in Iceland, which offers a lot of activities. To get the ultimate glacier experience we would highly recommend going on an easy (or hard – you control the level) hike on this gigantic glacier. Check out our amazing glacier hiking tours leaving from Skaftafell in Vatnjökull National Park. 
Top Activities:
Glacier Hiking
Ice Climbing
Ice Caving
2. Jökulsárlón – The Glacier Lagoon (floating giant Icebergs)
Iceland is filled with amazing landscapes and one of the most iconic locations is located in Vatnajökull Glacier National Park, the Jökulsárlón Glacier Lagoon. The lagoon is situated at Breiðamerkur lagoon filled with icebergs that have broken off Breiðarmerkurjökull, an outlet of Vatnajökull Glacier.
From Jökulsárlón you have an option of entering an enormous ice cave. But getting there you would need to join a Tröll Expeditions Tour as it is only accessible with an offroad vehicle.
3. The Diamond Beach – see the power of nature
The name Diamond Beach comes from all the beautiful, melting icebergs that dot the beach. The Diamond Beach is truly unworldly. A black sand beach with clear, blue tinted icebergs sparkling in the sunshine, shining bright like a diamond. 
The icebergs come from the nearby Jökulsárlón Glacier Lagoon. The icebergs float from the lagoon via Jökulsá glacier river to the ocean but then get washed back onshore by the tides. Many of the icebergs are over 1,000 years old and have made their way through the grand lagoon first as enormous ice blocks. The Diamond Beach is one of Iceland's many black sand beaches. The black sand is a direct result of Iceland's volcanic landscape. The sand comes from the basalt lava found within the region.
4. Mount Kirkjufell – Game of Thrones Mountain
The Snæfellsnes Peninsula can be found in Western Iceland and is often called "Iceland in Miniature" because it contains all the most famous aspects of Iceland, from waterfalls to glaciers to black sand beaches. 
Situated at the northern part of the peninsula is one of the most captivative mountains of Iceland. Standing above the small fishing village of Grundarfjörður, Mount Kirkjufell is the most photographed mountain in Iceland. It also has few honourable mentions as being one of the top 10 most beautiful mountains in the world. 
For fans of the hit television series Game of Thrones they would immediately recognise Kirkjufell as being the "ArrowHead Mountain" on Game of Thrones. The most distinctive feature of Mount Kirkjufell is its layers, which were formed by volcanic eruptions.
The Snæfellsnes Peninsula is well worth at least a day or two in your Iceland itinerary. If you are interested in joining a sightseeing tour to Snæfellsnes Peninsula see your options below:
5. Snorkel in Silfra Fissure – Swim Between Two Continents
You know these crazy photos you see from everyone taking a dive or snorkeling in an amazing remote part of the world. Here we go – Snorkeling in Silfra is exactly that. The experience is out of this world and to top it off – we provide underwater pictures so your friends and family will be blown away. For our aspiring instagram people or social media stars – this is the one you want. Clear water, unbelievable views, swimming between continents in a glacier filled Unesco preserved lake. What more can you ask for?
Located at The Unesco World Heritage site Þingvellir National Park, where the Earth is divided with underground tectonic plates. Iceland is situated right in the middle of the two of them – North American and Eurasian Tectonic Plates. Silfra Fissure is one of the places in Iceland where you can see where the tectonic plates have slowly been separating – yet not on land, but under water. 
In this magical place, the water is considered to be one of the cleanest waters in the world, with a visibility of more than 100 meters. This incredibly clean water comes from the melted ice of Langjökull glacier.
If you want to join us for this amazing experience you can either meet us on location or join our Golden Circle tour that includes snorkeling in Silfra.
6. Whale Watching in Hauganes
Whales are the largest creatures on planet earth and Iceland is among some of the best places to see them in their natural habitat because of its unique geography. Humans have an understandable fascination with whales and dolphins, and the best way to see them is in their natural environment, on their terms.
Cold and warm currents moving around the island's waters blend near the fjords which makes the conditions excellent for whales to relax and socialize. In the summer months especially (April through September), Iceland has particularly good whale watching when you have the opportunity to see humpbacks, orcas, blue whales, and more. 
Go whale watching in Hauganes during our unforgettable Around Iceland Tour
7. The Golden Circle – Most Famous Road in Iceland
The Golden Circle is an itinerary that is an efficient way to see three of Iceland's top attractions in a day. You have the option of whether you take a group tour or opt for a self-drive for the Golden Circle. The three main stops on the Golden Circle are The Great Geysir, Þingvellir and Gullfoss Waterfall. 
Each stop offers insight into Iceland's geologic history, not to mention excellent photo opportunities. The name Golden Circle is a marketing term for the route, derived from the name of Gullfoss, which means "golden waterfall" in Icelandic.
The Golden Circle is a fantastic trip to take if you're in Iceland for a short period of time, or if your traveling options within Iceland are limited and you need to rely on something that is relatively close to Reykjavik. The whole Golden Circle route can easily be done in one day, as the classic journey covers around 230 kilometers. 
You have two main options for visiting the Golden Circle – you can drive yourself, or you can take a guided tour. What is this? Guided tours are a very popular option, and because so many companies offer them, prices are competitive so you can get a full day tour at a good rate.
Skip the rent-a-car stress and enjoy the Golden Circle on a Minibus with Tröll Expeditions.
8. The Ring Road – The full experience!
The Ring Road, also known as Route 1, should be number one on your Iceland travel to-do list if you are planning to spend a week or so in Iceland. Travel through the best of Iceland and hit all the highlights including South Iceland, the East Fjords, North Iceland and Snaefellsnes Peninsula.
The Ring Road is open all year but some parts are not kept open in the winter. On the Ring Road there are several mountain passes that could be dangerous for inexperienced drivers during severe weather conditions. Bad weather conditions on mountain passes is the case almost every week during winter in Iceland. In winter, icy roads can make travel hazardous for drivers who are not used to icelandic road conditions. 98% of Iceland's Ring Road is paved. Most of it has two lanes, but there are also some single-lane bridges.
As an option during winter (or summer) you could join a Tröll Minibus tour for Iceland's famous Ring Road. On this quick, six-day trip where you see the island's most-visited highlights, massive waterfalls, black-sand beaches, fjords, geothermal hot springs, volcanoes, northern lights, whales, glaciers and more. The Ring Road is the best way to see the whole island in a short span of time.
By joining a small group tour you will skip the hassle of booking hotels and you can enjoy the magical views on the road. Enjoy being on a vacation, stress free.

9. Reynisfjara – The Black Sand Beach 
Reynisfjara is without a doubt the most famous beach in all of Iceland, and you'll see it featured on postcards and brochures throughout the country, as well as on pretty much any travel blog or video about Iceland. 
Iceland is a country full of volcanic activity, and this is the reason behind the black sand. The black sediment on Reynisfjara beach has been formed by boiling hot lava, from the currently dormant volcano, floating across the beach, then cooling and solidifying when hitting the cold water. What sets Reynisfjara apart from all the rest are its black volcanic sands, smooth pebbles, unique rock formations, and overall moody atmosphere.
Join our amazing South Coast & Glacier Hike adventure to witness the phenomenal Black Sand Beach.