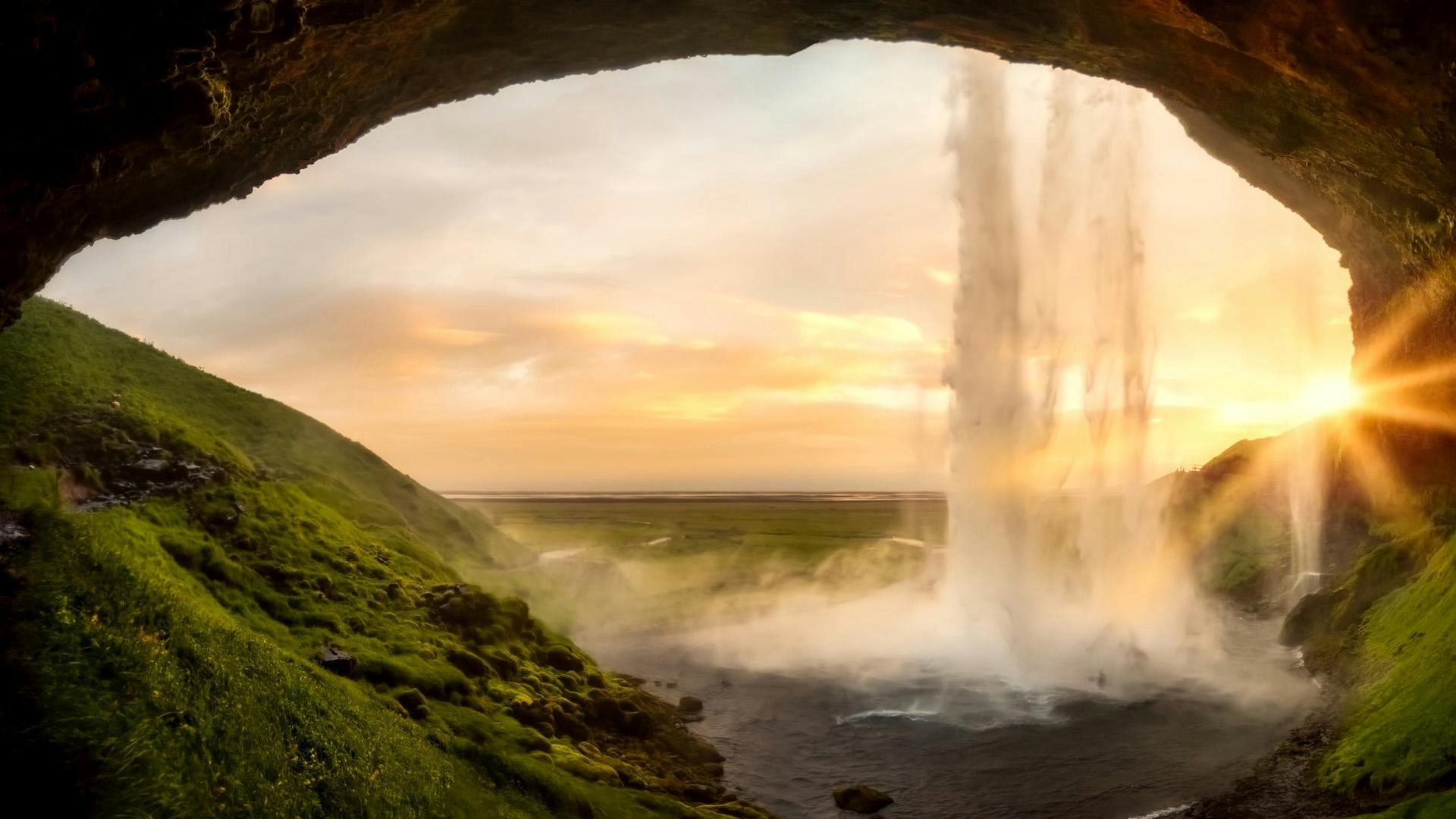 7 Fun Facts about the South Coast
The South Coast is Iceland's most popular destination because it combines beautiful natural attractions like mountains, glaciers, waterfalls, and beaches of black volcanic sand along with other interesting places to visit and other activities to explore. In a way the Southern Shore is home to many unique places of interest in a rather short distance from Reykjavík. If you are driving through the whole ring road along, the South Iceland can be done in a day with very few stops, however, we highly recommend you go slowly and take a few days to really explore and enjoy everything it has to offer. Here are 7 fun facts to get to know the South Coast better and what to do when touring it on your own.
Fact 1 - Vík í Mýrdal
A tiny village with a lot to offer
Although it has under 300 habitants and the surrounding county of Mýrdalur-valley has only 500 habitants, Vík is an important center for services in the region. It′s also situated in a beautiful site with quaint houses and a beautiful church overlooking the village. Another interesting thing about Vík is that it′s a fishing village without a harbor, but strong currents are close off the coast since it′s the open North Atlantic Ocean. The beach Víkurfjara can be visited there but beware of the strong currents and be careful not to get too close to the ocean.
Close to Vík is the most famous black sand beach in Iceland, Reynisfjara. There you can see black volcanic sand as far as sight reaches and marvel at some unique basalt columns in the cliffs nearby. Like in Víkurfjara you still need to be careful and respect nature′s boundaries by not going too close to the ocean and it′s also forbidden to climb in the basalt columns.
On the other side of the lagoon next to Reynisfjara there is Dyrhólaey which is a small volcanic mountain which takes its name from its peculiar hole in the rock formed over the years by the tides of the ocean. This makes for a spectacular sight seeing and an interesting walk. From there Reynisfjara and the protruding rocks of Reynisdrangar can be seen quite clearly as well.
Fact 2 - Skógafoss and Seljalandsfoss
Most famous waterfalls
The waterfalls Skógafoss and Seljalandsfoss are close to the Ring Road on the South coast. Skógafoss is known to be impressive and is a favorite spot for photographs. You can also walk up to the right of the waterfall to catch another view of the waterfall and its spectacular surroundings.
Another fun thing about Seljalandsfoss is that you can walk behind the water falling off the cliff to catch a completely different perspective of the waterfall. Both waterfalls are worth a visit, even if they are not as big as Gullfoss. In fact, you can go with the Trolls there in the South Coast Tour here where you will also take a glacier hike and visit Reynisfjara with a Troll guide.
Fact 3 - Sólheimajökull
The glacier close to Reykjavík
Sólheimajökull is close to Reykjavík, it only takes a short 2,5 hour drive to get there and see one of the magnificent outlet glaciers of Mýrdalsjökull. It can easily be visited in a day so you can experience our amazing ice world in the area so famous for its volcanos. The most impressive feature of this glacial tongue is all the ash that can be found on it, coming from the eruptions by Katla a long time ago. It definitely feels like you have landed on the moon when you are hiking up on it!
Regarding safety, let us remind you that going up on a glacier without an authorized guide is very dangerous because you could fall down a crevasse or hurt yourself in some other way. That′s why you should go with a trusty Glacier Troll to guide you safely. You can check out our 3-hour walk tour on Sólheimajökull here or our Ice climbing and glacier hike tour on Sólheimajökull here.
Fact 4 - The DC-3 Plane Wreck on Sólheimasandur
A haunting beauty
If you are also interested in the famous DC-3 plane wreck, which is an US Navy DC-3 plane that crashed on the sandy beach of Sólheimasandur in 1973 after running out of fuel in midair. Since then it has become famous for being shown in multiple photographs and music videos, including Justin Bieber. It′s easy to see why because some breathtaking and eerie pictures have been taken there.
It′s possible to see it when going with the Trolls on a 2 day tour to the South Coast here– where you get to glacier hike, see the glacier lagoon, all the sights worth visiting! You can also see it on our famous "signature" tour called South Coast Elements here,  considered to be one of Iceland's most comprehensive and unique tours as you get to see Seljalandsfoss and Skógafoss waterfalls, take a glacier hike and visit a secret lava cave… and other surprises.
Fact 5 - Katla
Not only a Volcano, also an amazing Ice Cave
Katla is a well-known volcano in Iceland situated under glacier Mýrdalsjökull, very close to Vík. It last erupted in 1918 and is infamous for its powerful and sometimes devastating eruptions. While it remains inactive it′s the perfect opportunity to visit a hidden gem of Katla Ice Cave. Book a tour to experience this unique phenomena which is best described by some awesome pictures.
Fact 6 - The small village Kirkjubæjarklaustur
A former monastery
The last fact uncovers the mystery of the small villages with one of the most difficult names in Iceland: Kirkjubæjarklaustur, a name so long even Icelanders shorten it to simply Klaustur, which means monastery. Its full name translates to the Monastery of Church town and it comes from the monastery of Benedictine sisters that was situated, but before the arrival of the sisters it was called Kirkjubær or "Church town". You can give it a try, or just refer to it as "Klaustur" pronounced as "Kloheestur".
All around this small village you can find places of interest connected to the sisters of the monastery: Systrastapi (Sister′ hill) is a hill right outside of Klaustur where it is said that two nuns were executed for indecent behavior and Systravatn (Sister′ lake) where legend tells that the sisters used to bathe there. A lot of nice walking routes have been planned around the village and there′s also a volcanic center focused on the eruption in 1783 that formed the Laki craters and is responsible for the enormous lave field to the west of Klaustur. More information about Klaustur village can be found here.
Fact 7 - Vestmannaeyjar
The capital of the puffins & contemporary volcanic history
All over Reykjavík you can find some nice puffin stores that sell souvenirs, named after the big fluffy puffins they sell in the stores but not all people know that the capital of the real life puffins are in Vestmannaeyjar or the Westman islands off the South coast of Iceland. During summer it′s even hard to see no puffins at all, but special boat tours (https://vikingtours.is) are offered so you can take a closer look at these adorable birds.
Also, not to be missed in these unique islands is the Eldheimar museum here that commemorates the volcanic eruption in Heimaey, the biggest of Westman islands, in 1973. It tells all about how part of the town was covered by lava flow and how the inhabitants escaped to safety to Iceland. There you can also experience what has been called "Pompeii of the North", which are buildings that were dug up from beneath the lava flow. You can also learn about Surtsey, a completely new island that was formed after an eruption in 1963.
And last but not least. It is home of one of the most epic outdoor festivals in Iceland: Þjóðhátíð, in English: The National Festival. If you are visiting Iceland in July, we recommend you read more about it on their website here.