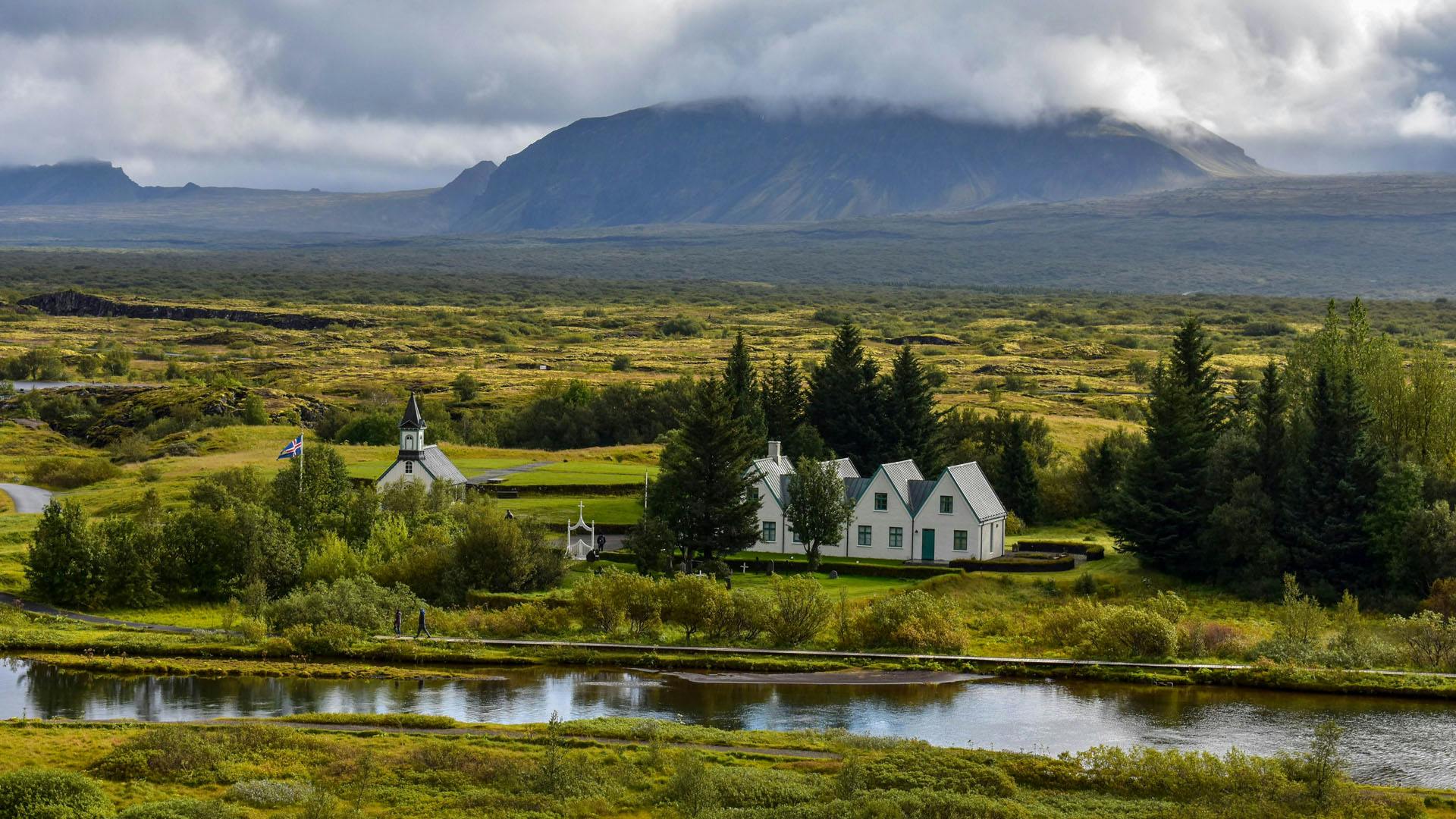 7 Facts About Thingvellir National Park
Þingvellir or "Thingvellir" is a place important to all Icelanders because of its history dating to the first Althing, the first parliament of Iceland which was founded in 930 AD. It has also attracted the fascination of geologists since it′s situated on the border of two tectonic plates: the Eurasian and the North-American plates which makes the landscape unique and has a fissure filled with fresh spring water, the beautiful Silfra (which is one of world's top diving spots!). Many visitors come to Iceland to tour the Golden Circle and to admire Thingvellir because its rich history and stunning nature. It is worthwhile to spend a day there to truly appreciate and get to know such an special and characteristic sight. It′s also interesting to mention that the National Park of Thingvellir is an UNESCO World Heritage site.
Written by Vignir. Edited by Alondra Silva Munoz.
If you want to know more about the Golden Circle and how to be a responsible visitor while travelling there, you should read this article (click here). Now, we'll go in depth to let to know some peculiar and funny facts about Thingvellir and the national park surrounding it. It's always good to prepare in advance yours facts, so read this post, that will introduce you to interesting information about one of Iceland's most famous sights – From a troll perspective, of course, from historical facts to money rifts, transcontinental adventures, and everything in between!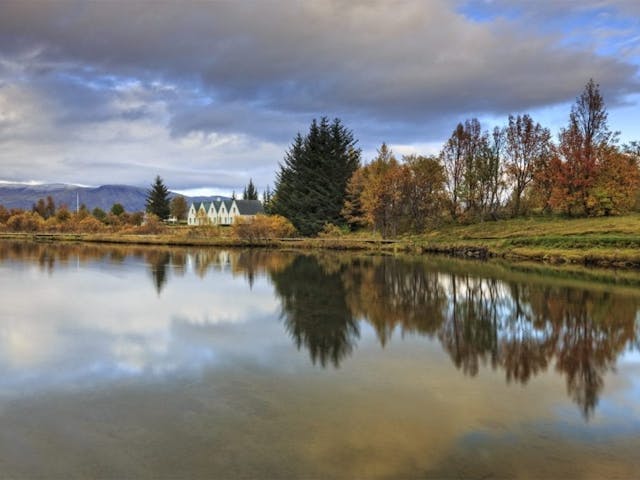 … is a Geological Site and UNESCO World Heritage
For those interested in getting to know more about the unique geology of Thingvellir should make a stop at the Visitor Centre of Thingvellir, located right next to a footpath leading down to Almannagjá. There you can immerse in the nature and history of Thingvellir with interactive panels and detailed information about this UNESCO World Heritage site. It is also interesting to keep in mind while walking in Almannagjá that one is walking in a rift between the two tectonic plates and can thus experience the unique geology of Iceland while standing on its own two feet.
… is home to Thingvallavatn
First thing you will probably notice when visiting Thingvellir is a big lake called Thingvallavatn after the old parliament site. This lake is the biggest one in Iceland. To the south of Thingvallavatn is another lake called Úlfljótsvatn but that lake is named after Úlfljótr, considered to be the man that brought the first Laws to Iceland and helped establish the parliament in Althingi.
Thingvallavatn is also a good fishing lake for arctic char, but in the lake are four different types of arctic char, more than any other lake in Iceland. With a fishing license you can enjoy a nice summer day just fishing and relaxing. Since the surroundings of the lake is so impressive many Icelanders have chosen to build summer huts near the lake, some very luxurious ones. If you have a chance to stay in one it′s certainly worth a stay!
… holds the rift between two continents in it
Close to Peningjagjá is the rift Silfra or Silfra Fissure which is known for having extremely clear but cold water with temperatures reaching only around 2°C (39°F). This rift is famous for its extremely astounding visibility which reaches up to 70-80 metres (230-260 ft.). This visibility makes it the perfect spot in Iceland for snorkeling and diving. The pictures really speak for themselves in this underwater paradise. 
The Trolls have good experience with adventure sports and hold an entire operation in Silfra with certified diving masters as guides. We recommend you check the unique tour visiting the Golden Circle, the volcanic crater Kerið that includes snorkeling in Silfra in its itienerary (click here). It is definitely worthwhile to have the comfort of being picked up in your accommodation in Reykjavík and taken to all stunning sights in the most famous route around Iceland and end with an interesting snorkeling adventure. If you are driving yourself, you can also book just a snorkelling tour with Troll, it′s something you shouldn′t miss and all our Troll guides are certified and loaded with ancient Troll experience, so you are safe in the icy water. Best part is that both tours include free GoPro photos which you'll receive after the tour. You can check the Snorkeling tour by clicking here.
… has a Money Rift in the middle of the nature, Peningjagjá
Peningjagjá or Money Rift is a rift filled with water where it is customary to throw in coins for good luck. This custom dates to 1907 when the Danish King threw a small coin there when visiting Thingvellir. Since then Icelanders and visitors alike have continued to do so.
Recently, visitors in the National Park of Thingvellir have been dropping coins in other rifts and rivers in the National Park but this is forbidden so you should limit your wishes to Peningjagjá. Funny, you should say, that in other cities in the world money rifts are located in fountains in urban areas, in Iceland, of course it had to be located in the middle of stunning nature. 
One funny fact about Peningagjá is that one April Fools′ Day the National Park announced it would start charging money for dropping coins into Money Rift to raise money for the park. The charge was said to be 300 ISK for each 100 ISK dropped but families would get 15% discount! That April Fools′ Day a special discount was also announced until 6 pm but then it would be 150 ISK to drop 100 ISK into Peningagjá. The day after this announcement was luckily retracted.
… has a public rift, Almannagjá
For the history buffs it′s impossible not to visit the rift Almannagjá or Public′s rift which, like the name indicates, belonged and still belongs to the public. When the Icelandic parliament, Althingi, was still situated there, the parliamentary meetings took place in one part there during the summer, called Lögberg, the Law Rock. So, the surroundings of Þingvellir were filled with tents and people during the summer participating in the parliamentary procedures, hence the name Almannagjá, since it was a rift where the whole public congregated. Evidence of this temporary housing can still be found today near Almannagjá and Lögberg.
Walking along Almannagjá you can also find detailed information about each location and its purpose in the parliament, along with information on how the parliament was formed and operated. One interesting fact about it is that although the parliament could create or mend existing laws, its main purpose was to settle claims and disagreements according to law. This was the case since there was no court or judiciary system in place and even though something was decided in Althingi, it was the responsibility of those concerning the case to fulfill the verdict. This did not always go according to plan, like you can read about in the Icelandic Sagas, which caused even more disagreements and friction. This is evident in the Sagas where something as simple as stealing food or lumber could soon lead to manslaughter or murder.
… holds a drowning pool, Drekkingarhylur
Since Althingi had a mostly judiciary role, especially in later times after Iceland became a part of the Norwegian kingdom and then later the Danish kingdom, it was also a place for executions… So, be warned this fact is not funny at all.
Drekkingarhylur or the Drowning Pool refers to a place where women were drowned for what was then considered serious offences such as incest and killing of infants. These offences had not always been punishable by law, since they were the result of Stóridómur or the Big Judgement, which became a law in 1565 after the Danish King ratified the law. The most interesting fact about these gruesome acts is that men were also executed for these offences but were decapitated instead of being drowned. This is located very close to the waterfall Öxarárfoss,
… is a national burial site & Icelandic literature
Another interesting place near the church in Thingvellir is the national burial ground, especially for those interested in Icelandic literature but there you can visit the graves of the poets Einar Benediktsson and Jónas Hallgrímsson, but both are considered to have been great poets and furthermore influential in the political life of Iceland which was gaining more autonomy in the 19th and 20th century, which culminated in the proclamation of the Republic of Iceland in 1944.
One interesting thing about the site is that is has been a debate for several decades whether more individuals should be included in the burial site, one proposal called for burying Bobby Fischer there. Fischer was an American chess grandmaster, turned Icelandic citizen after running into trouble with US authorities, but he was held in high regard in Iceland after participating in the US-USSR chess tournament against Boris Spassky. However, this request was denied and there are no plans of expanding the burial site.
Thingvellir is certainly well worth a visit, whether you spend a part of a day there or several days getting to know this unique UNESCO World Heritage site which has unique nature, geology and history to offer. Make sure you explore it with the Trolls once you are in Iceland. Take a change to go on our Golden Circle, Kerid crater and Farm Visit, click here.