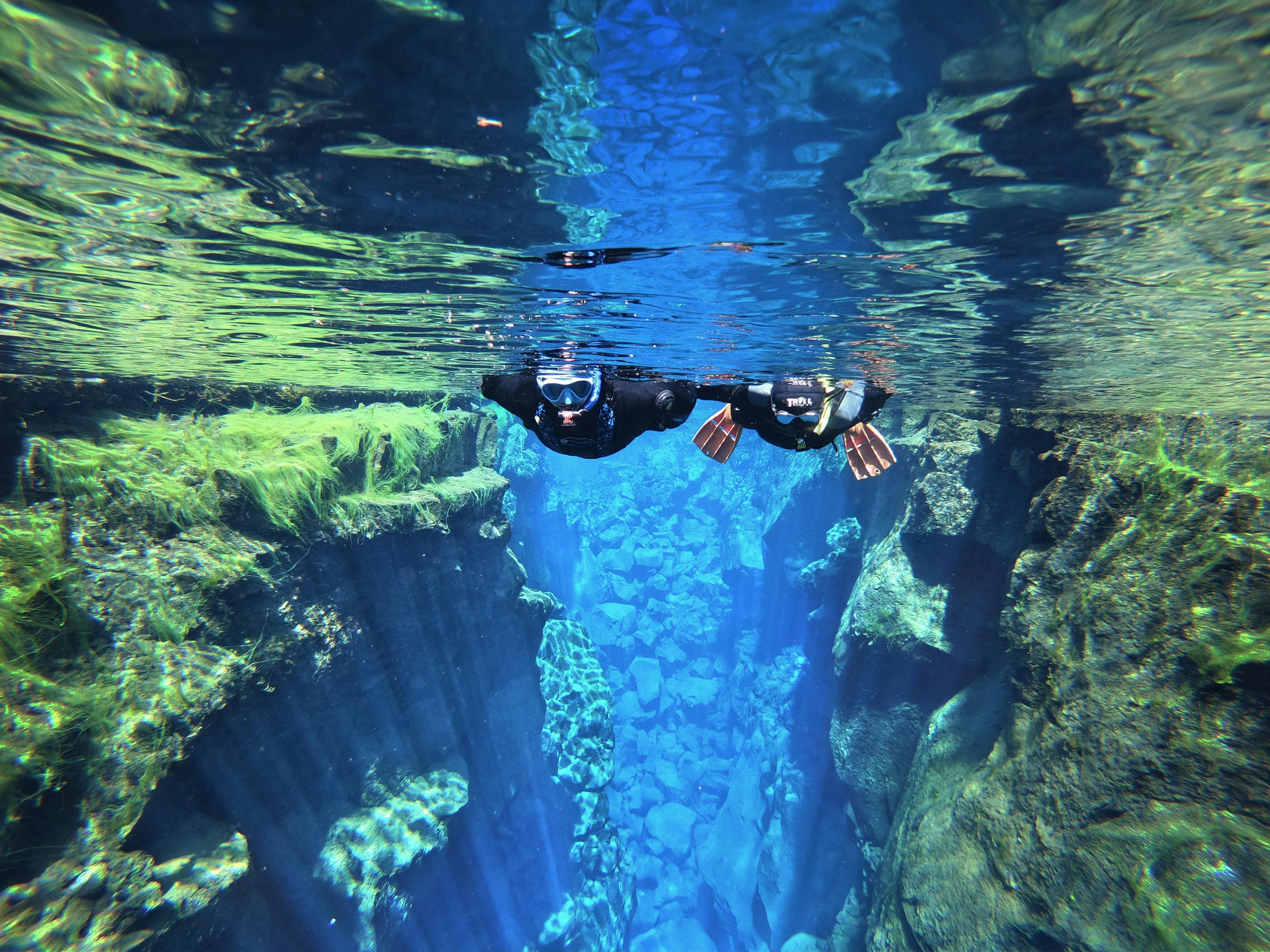 6 Reasons to go Snorkeling in Iceland
Iceland is located in the Arctic region and although it is known for its hot springs, it is seldomly associated with any other aquatic activities, except fishing. One reason might be that the country is surrounded by the North Atlantic and you either have to be quite brave or a seal to enjoy a swim in that one.
There is also plenty of fresh water. Big lakes and rivers, all of them created by numerous glaciers. Despite an occasional hot spring, that doesn't sound warm at all.
So how come, that a typical warm water activity like snorkeling has become that popular in Iceland?
1. You don't get wet nor cold in the water
Every snorkeler gets a thick, neoprene dry suit and a cosy, fleece undersuit. The dry suit keeps you completely dry inside and the fleece-undersuit keeps you warm. How cool is that? Can you imagine staying completely dry underwater? With this simple technology, it's possible.
2. The views are amazing
It seems like there is a whole other dimension hidden from us underwater. Words can't really give it justice but our snorkeling spot is famous among divers around the world due to its water boasting unparalleled clarity. In this crystal clear water, you can see things that are 100m away. Otherworldly stunning.
3. You only need to know how to swim
The requirements for snorkeling aren't high- you just have to fill out a medical form and know how to swim. You don't need to be extremely fit- the dry suit will keep you floating on the surface. You are not going to have to exert yourself physically.
4. It is absolutely safe
The groups are small, it is hard to get lost and most importantly, you will always be floating next to one of our professional divemasters.
5. We guarantee, you will bring back incredible pictures and memories
Our divemaster will take wonderful underwater pictures of you as our guides have a GoPro camera with them throughout the tour. You will get these Instagram-worthy pictures completely free of charge along with a cup of hot chocolate after the tour.
6. Silfra is the only place where you can snorkel between two continents
It truly is a special feeling to snorkel between the North American and Eurasian tectonic plate, which are drifting apart about 2cm each year. Especially when realizing that there is no other place in the world where you can snorkel in a rift between continents.
If you're looking for an ultimate underwater adventure in Iceland, check out these tours: